Listen to the Podcast!
An Interview With David Ostlund, Chef's Pass Food Tours, Puerto Vallarta, Mexico
To Book a Chef's Pass Puerto Vallarta Tour, Click Here!
Hello fellow travelers, welcome to this episode of the Puerto Vallarta Travel show, I am your host Barry Kessler and I am just so happy to be  to introducing you to my favorite vacation destination, and maybe even yours, Puerto Vallarta Mexico.
That music you were just listing to is performed by Alberto Perez, the owner of the La Palapa group of restaurants,  La Palapa Restaurant is on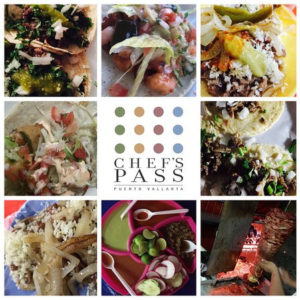 the southside of town, right down on the beach in Puerto Vallarta. It's so romantic, the view of the Los Muerto Pier all lit up toes in the sand right at the oceans edge. And if you play your cards right, you can hear Alberto play his beautiful music and enjoy songs like Samba de Puerto Vallarta when you enjoy dinner at La Palapa. Just saying an added bonus to a great romantic meal on the beach.
Today I'm going to be talking with Dave Ostlund from my apartment in Puerto Vallarta where unlike my studio at home, there's tile floors, lots of echo and while I'm in Mexico, there is a lot of that. Also you will hear the occasional sounds of squealing breaks. The apartment is up in the El Cerro part of town about 4 blocks above the Inglesia de Nuestra Senora de Guadalupe, you know, that famous crowned church you see in all the advertisements about Vallarta? Yeah, that one. Just be ready for a little annoying noise and without any further adeau, let's join Dave Ostlund, President of Chef's Pass Puerto Vallarta Food Tours…

Our listeners want to know about the different types of tours you offer.

First of all, you take people of food tours that include taco stands? Are they safe to eat at?

How do you know if a taco stand is good? How can you protect yourself from picking up an intestinal ailment?

Tell us about the Adventurous Pallet Food Crawl Tour?

How about the ride, don't walk daytime Taco Tour?

The Eat where the locals eat tour sounds really interesting…tell us about that.

How about the Best of El Centro Progressive Dinner…First of all, for those who don't know, what is a progressive dinner?

What are the guides like? Are they locals or expats?

Of all of the food tours, which is the most popular?

How do you choose the restaurants? There are so many here in town, how do you go about making the cut?

Do you always go to the same restaurants and taco stands, or do you mix up the locations?

If you are coming in on a cruise ship, how should you go about booking the tour, and how do you meet up with the tour group?

If you are planning a trip to PV, how far in advance should the person book the tour?

Chef's Pass Food Tours Puerto Vallarta,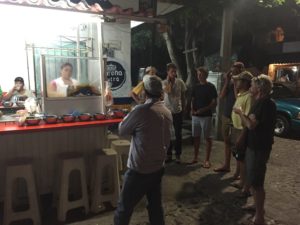 I want you all to know that The very next evening I took that Best of El Centro Tour, the one where you start off at El Panorama for the sunset, then across to Barcelona Tapas for more great food and more sunset, then over to Si Senor for more assorted dishes and ending at Melissa's for incredible Mango Margaritas and a mango red snapper and a shrimp burrito that all were so, so good. An adult beverage was served with every course and the food was varied and filling. Can't say a bad thing about it but the big surprise was, how much fun all of the people on the tour had interacting with one another. Just added to the experience. Nice job Dave. I highly recommend the tour. We'll worth the price and the guides were really nice and knowledgeable.
That should do it for this episode of the Puerto Vallarta Travel Show.
Again you will find all of the show notes to this podcast and others to come including the links to JR's site and to the website where you can purchase the fantastic music of Alberto Perez who we will listen to as we play out this episode at www.puertovallartatravelshow.com,
 Remember that this show is an interactive one. I need your participation by sending me emails with questions for JR that you would like to hear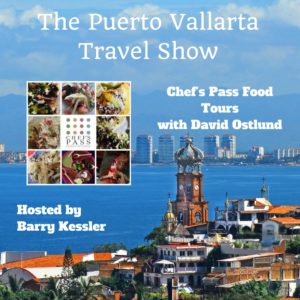 him answer on air with me. And please Email me your suggestions for show topics that you think  I should be talking about by clicking on the contact us tab on my website at the top of the home page at Puerto  www.Puertovallartatravelshow.com
And remember, if you are considering booking any type of tour while you are in Puerto Vallarta, you must go to www.Vallartainfo.com, JR's website and reserve your tour through him, right from his website. Remember the value for value proposition. His experience and on the ground knowledge of everything Puerto Vallarta in exchange for your making a purchase of a tour that you would do anyway, you're just doing it through him as a way of saying thank you. It costs no more than if you were to use someone else so do it. Really. And when you do take one of these tours, email me about your experiences. Maybe you can come on-board and share with others what you liked or didn't like about the tour. Again, Hit the contact us tab and send us a message. Just takes a little of your time.
And one more favor please, if you like this podcast, please take the time and give me a good review on iTunes if you would. It would be so appreciated if you would just take the extra time to do that for me. That way we can get the word out to more and more people about the magic of this place.
So, thanks to you for listening all the way through this is Barry Kessler signing off with a wish for you all to slow down, be kind and live the Vallarta lifestyle.
Nos Vemos amigos!
Food TourProgressive DinnerPuerto VallartaTaco CartTaco Tour