An Interview with Bob Price, Founder and Curator of the Vallarta Botanical Garden, Hillary Abrams, Wedding and Event Coordinator and Neil Gerlowski, Executive Director of the Vallarta Botanical Garden and the dedication of  Cheryl L. Wheeler International Peace Garden.
Listen to the Podcast
The Puerto Vallarta Travel Show, an Interview at the Vallarta Botanical Garden
This interview was sparked by Hillary Abrams, she is the wedding coordinator of the Vallarta Botanical Gardens and she answered a call I put out for wedding coordinators here in Puerto Vallarta. Remember, in the first episode I promised to interview wedding planners and photographers, and caterers and bakers? Well, she invited me to come out to the Vallarta Botanical Garden to show me what they have to offer to the bride and groom. Of course I jumped at the chance to have an opportunity to see the gardens and possibly do two interviews at the same time. Sweet!
 Little did I realize at the time what a wonderful opportunity this would turn out to be.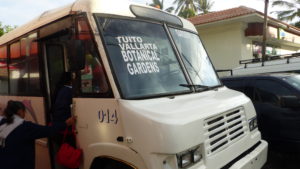 I had an appointment to meet Hillary at 10:00 AM at the garden so I walked out of my apartment up in the El Cerro area, next to Gringo Gulch, and walked down to the Emilio Zapata neighborhood, crossing the bridge over the Rio Cuale, passing the watchmaker who changes batteries, sizes watch bands and more, right there in the shade of a tree. The guy does a brisk business.  I grab a quick doughnut from a tienda, a orange drink and then hoof it the rest of the way to the corner of Agaucate and Carranza where waiting there it the bus for the Botanical Gardens and El Tuito, waiting there at 9:00 AM. Good deal. I love it when a plan falls in place. I board the bus and head towards the back. . The bus driver didn't want any money from me till after we reached our destination. So I picked a seat where I could plop my backpack with my audio recording equipment, microphones and cables and all that stuff, my camera rig too, right in a seat right next to me. I was soon joined in the back by a character of sorts. He was worn from what I assumed was a lifetime of just a little too much to drink. I figured he was about my age. He was jovial and had a couple of friends who came on the bus as it sat, waiting to leave for the gardens. They were friendly and very talkative. It made for an entertaining trip, my eavesdropping on the conversation. I like to listen in while not always letting on that I actually do understand what they are saying.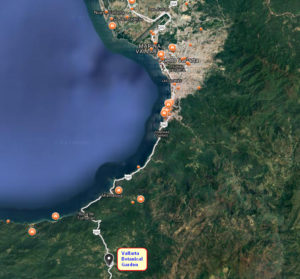 The bus soon had its fill of passengers and took off for the garden. For those familiar with Puerto Vallarta and have taken the bus south of town to Mismaloya or Boca de Tomatlan, you will be familiar with this road. It travels along the coast winding past large estates, beautiful hotels and resorts and condos situated right on the ocean. There are beautiful secluded beaches and private ones.  One of my favorite parts of this route are the speed bumps placed strategically in front of the bigger complexes. The bus will slow way down to accommodate these bumps. The second thump, the rear axle going over is always the best for your back. Especially if you happen to be standing in the bus.  The bus stops at Mismaloya and Boca but then continues up along the The Horcones River that empties into the Boca de Tomatlan, up into the mountains towards the old town of El Tuito. The bus stops at the entrance of the Gardens and the driver asks for 26 pesos. Cheap like $1.25 each way. He will give you change if you don't have exact change.
Other Transportation to the Vallarta Botanical Garden
 If you don't want to take a public bus to the Garden, you can always hire a cab. Or try Vallarta Superior Tours.
The garden entrance is beautiful. You check in at the front reception area where you buy admission, you can also purchase insect repellent right at the ticket counter so if you forget yours, no problem.
 As I walk towards the restaurant and gift shop area, I pass planter beds and plant displays along the pathway. Such a wonderful setting, in the jungle with fresh air and birds chirping away.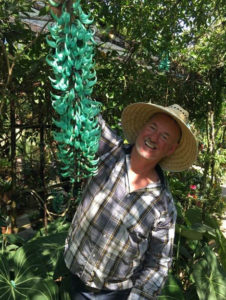 When I reach the restaurant I recognize Bob Price from a picture I saw of him. Big tall strong guy, seemed  like a very good natured guy. I asked where I could set up the microphones and recording equipment and he motioned for me to set up anywhere I wanted. As I was doing the quick build of my mobile recording studio right in the middle of this Hall of Flowers restaurant area adjacent to the gift store and the kitchen, breakfast was being served to the workers. At the table where I was setting up, Bob Price, Neil Gerlowski, and a young Mexican National were sitting, eating breakfast. They were all speaking both in English and Spanish. I realized it was a job interview. The three interviewers were peppering the applicant with questions. He was fielding them with great skill in English. I was impressed with the background and knowledge and experience of this young man. I could tell he would have the job by the end of the day. I was wrong by the way, he was hired before the end of breakfast. What impressed me the most was the intelligent questioning of the man, and the kind and might I say humane manner in which they interacted with this new hire. It was really cool to see these guys in action. So Bob swung around and asked if I was ready to interview him and here's how that went….
Bob Price is the  founder and Director of the Vallarta Botanical Gardens
You can ride a bus or taxi to go to Vallarta Botanical Gardens but bus is more preferred. It costs 25 pesos each way.  You'll pass by a little town after Boca De Tomatlán called Las Juntas y los Veranos which means the things that come together during the summer. Las Juntas signifies where things come together and Veranos means the summer.


Vallarta Botanical Gardens History

Gardens founded in 2005, this November 15 it will turn 12 years old. Its concept is to create a world class botanical garden showcase where people can learn about Mexican plants. The garden has lots of collections of different native plants and exotic plants. Plants that are native to highland rain forest of Southeast Asia, they are only botanical garden in Mexico that exhibits those. They have a tropical plant house which includes the famous Philippine Jade Vines. Native plant house which is native Mexican plants. The area is a total of 55 acres but only 6 acres are under their cultivation. The rest is wild forest.
Things To Do
Other than the beautiful gardens, there are lots of other things you can do at the Vallarta Botanical Garden. They have hiking trails

Rio los Horcones

where you can see nature, trees, orchids etc. There is also a clear river for swimming, Rio Los Horcones is one of the highlights.

It is recommended that you wear insect repellent or bring bug spray since it is in the middle of a forest insects like no-see-um or sand fly aremost likely always there.
They also have a laboratory, it is a micro propagation laboratory for growing orchids invitro meaning grow them under sterile condition and test tubes. As they become older, they will be taken out in test tubes and pot them up when strong enough for outside condition.
It costs 150 pesos, approximately to get in, $6. They are a non profit organization with some 450 members of different levels that support the garden.  They have generous donors that keep the garden running.   Donate to The Vallarta Botanical Garden.

Hall of Flowers Restaurant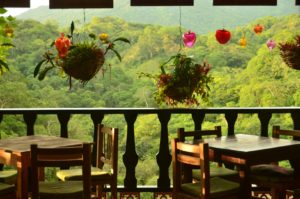 They also have a restaurant, an authentic Mexican restaurant La Hacienda de Oro, that serves authentic Mexican food. Also, they have a wood burning brick oven to cook home made pizzas.
Recently, they have been making chocolate and  creating chocolate from scratch. They have an orchard of cacao. The plan is to be making chocolate at the Garden! Chocolate is native to Mexico so it is a perfect fit.
They have an annual flower show which is the most attended event of the year. It will be from February 17 – 27.
Best part of Bob's job?
 Working with plants, greeting people. Visit Trip Adviser and search on Puerto Vallarta. The Vallarta Botanical Garden is number 3. It is third out of 167 things to do.
Weddings and Celebrations at the Vallarta Botanical Garden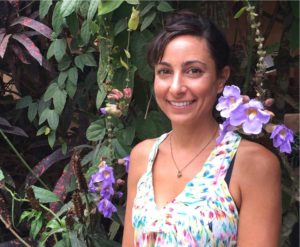 My next interview was Hillary Abrams, as I mentioned earlier, she was the reason I came to the garden in the first place. She was excited to show off the new chapel at the garden and the International Peace Garden of Mexico, soon to be dedicated, right in front of this beautiful chapel. I came to find out about weddings at the Garden so let's get to that interview.
Hilary Abrams. She is the  wedding coordinator at Puerto Vallarta Botanical Gardens.Her parents retired to a Small beach town Mayto . From New York, she came to visit here and just fell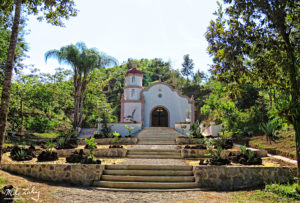 in love with it. She was able to meet Robert Price, founder and director of the gardens and found a new life and path planning weddings and she's been here for over a year. She used to organize large scale volunteer events for one of biggest social service agencies in New York so she has a history of organizing people, transportation, food, venues. Her parents are member of Botanical Garden. She went down here and she saw the chapel and Robert needed a wedding planner and things just fell into place. She is new to wedding organizing but all is going  well. The people that are getting married here are friends and family of members for the most part. These people send referrals. Visitors inquire as well. Even the website gets inquiries from visitors, and  expats are coming here like Canadians and Americans.
Wedding in Botanical Garden
The garden varies with every wedding, depending on couples specifics. It's not a rinse and repeat kind of thing. They have a new chapel and they are getting lots of inquiries.
When dealing with long distance clients – Skype calls, photos, Pinterest are their way of communication. The bride & groom will visit at least once and go through the menu, changes, walk through.
Estimate cost
 Every facility has a different rate but chapel rental is $2000 with couple of hours in morning with decorations of your choice.
Rental for hall of flowers is $2000 with buffet option, Latin, Italian, or international buffet. It is $38-$48 per person. They can also choose the style of how food will be served. It can be buffet, family style, or plated. option.
Drink options from house drink to international platinum. Different pricing per person depending on the beverages. There is an open bar for 4 hours that includes different types of alcohol, wine, and champagne.
They also have orchid conservatory and vanilla house open for rental.
Brunch wedding cost estimate  is $7,000 – $10,000
Large wedding on New Year's Eve – $30,000
In the US average cost is around $50,000
You can reach Hilary and Vallarta Botanical Garden at www.vbgardens.org that has photos and information about the packages. You can inquire there as well.
 My third interview was with Neil Gerlowski, the executive director of the Jardenas Botanicum de Vallarta and this guy just loves what he does! He is so pumped up about plants. So enthusiastic and I just got to really like this guy so let's get to the interview…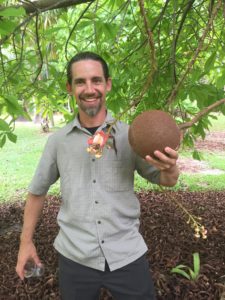 He grew up in New Hampshire. Became an English teacher as parents wanted. Then moved to Arizona as park ranger for 8 years. He fell in love with Mexico and Mexican girl, now living at Puerto Vallarta with 2 kids.
As executive director he does the program development and fundraising to continue the vision they have for the garden, outside the garden, and the community. His greatest satisfaction is to see people enjoy what they created. When family  or couple strolling around and he sees the connection between plants and communities. It is a great source of fulfillment.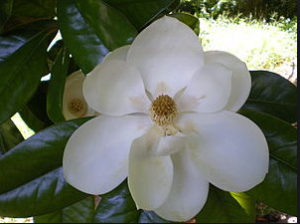 More exciting thing to do is when they have funds for research in the mountains. For example fund to research on Magnolia Vallartense discovered in 2012 by Ricardo Diaz Borioli who one of the first who noticed that the magnolias here looked different than Magnolia Pacifica. Together with researchers of the University of Guadalajara including Dr.Antonio Vazquez Garcia, Dr. Miguel Angel Munoz Castro, Ana Nunez Rubio and several others investigated this plant and turns out it is a distinct specie and name it Magnolia Vallartense  in honor of our city, Puerto Vallarta.  And the city selected this as their official tree.
A lot of their work is in collaboration with University of Guadalajara CUCBA campus and also CUC campus Central Univisidertado de la Costa , as well as funds from Magnolia Society International.
 You can go to www.vbgardens.org for the Puerto Vallarta Botanical Gardens website or go to  www.issuu.com/vallartabotanicalgardens for the online edition of the magazine.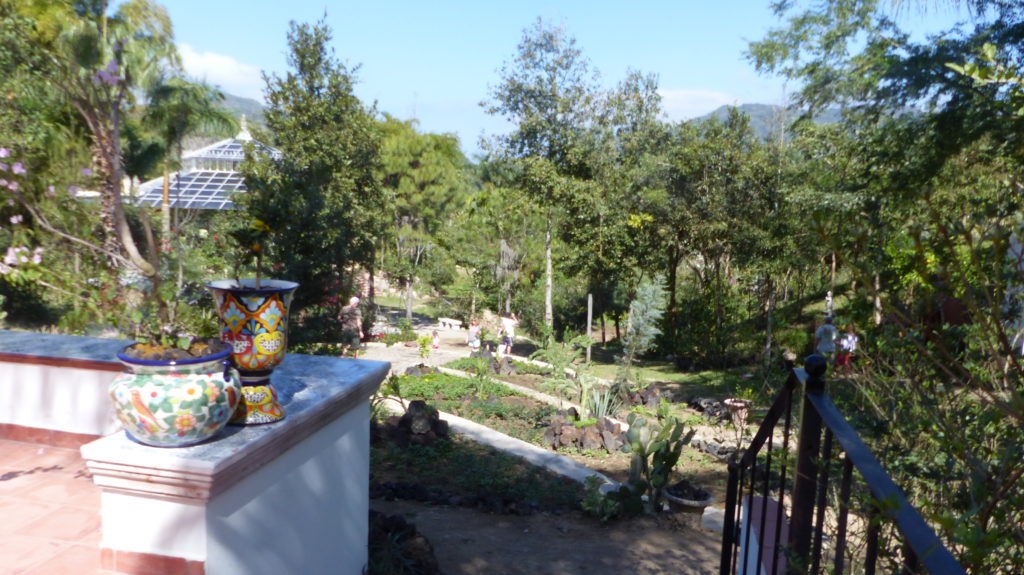 The Vallarta Botanical Gardens' Peace Garden will be announced as Mexico's International Peace Garden with approval of the Mayor of Puerto Vallarta, Arturo Peña Davalos, and The Mayor of Cabo Correntes, Oscar Castillón Romero and International Peace Garden Foundation on February 16, 2pm-4pm.And in honor of the dedication of the Cheryl L. Wheeler International Peace Garden of Mexico, on February 16th 2017,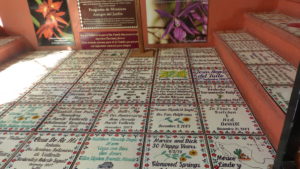 I produced this episodeof the Puerto Vallarta Travel Show to coincide with the week of the dedication so get out and see this fabulous addition to the Jardenas Botanicum de Vallarta, the Vallarta Botanical Garden. And after you visit, don't forget to give it a good review on Trip Advisor and see if we can make this place the #1 attraction in Puerto Vallarta. And don't forget the Botanical Garden for a party or a wedding or a renewal of your vows folks. I will have links to everything Vallarta Botanical Gardens in my shownotes at puertovallartatravelshow.com. so check it out, check them out and add the gardens to your trip next time you come to Vallarta.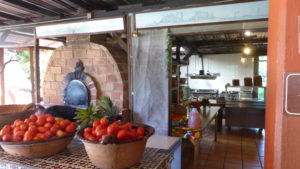 REFERENCES:
Puerto Vallarta Travel Show
Vallarta Botanical Gardens
Vallarta Botanical Gardens Magazine
That should do it for this episode of the Puerto Vallarta Travel Show.
Again you will find all of the show notes to this podcast and all of our previous podcasts including the links to JR's site and to the website where you can purchase the fantastic music of Alberto Perez who we will listen to as we play out this episode at www.puertovallartatravelshow.com,
Remember that this show is an interactive one. I need your participation by sending me emails with questions for JR that you would like to hear him answer on air with me. And please Email me your suggestions for show topics that you think  I should be talking about by clicking on the contact us tab on my website at the top of the home page at puertovallartatravelshow.com.
And remember, if you are considering booking any type of tour while you are in Puerto Vallarta, you must go to Vallartainfo.com, JR's website and reserve your tour through him, right from his website. Remember the value for value proposition. His experience and on the ground knowledge of everything Puerto Vallarta in exchange for your making a purchase of a tour that you would do anyway, you're just doing it through him as a way of saying thank you. It costs no more than if you were to use someone else so do it. Really. And when you do take one of these tours, email me about your experiences. Maybe you can come onboard and share with others what you liked or didn't like about the tour. Again, Hit the contact us tab and send us a message. Just takes a little of your time.
And one more favor please, if you like this podcast, please take the time and give me a good review on iTunes if you would. It would be so appreciated if you would just take the extra time to do that for me. That way we can get the word out to more and more people about the magic of this place.
So, thanks to you for listening all the way through. Thank you Bob Price, Neil Gerlowski, JR and especially Hillary Abrams for inviting me to the Vallarta Botanical Garden, this is Barry Kessler signing off with a wish for you all to slow down, be kind and live the Vallarta lifestyle. Relax, Manana.
Nos Vemos amigos!
BotanicalGardensinterviewJR in PVPodcastThe Puerto Vallarta Travel ShowtipsTravelVallarta