There are so many things to do in Puerto Vallarta. Within minutes you can be having an adventure. Brad and Tami Salzwedel from Wisconsin join me on the show and share with us their Puerto Vallarta Travel Tips.
Listen to The Podcast!

Hello fellow travelers and welcome to The Puerto Vallarta Travel Show. I am your host Barry Kessler and I am so happy to be introducing you to my favorite place on the planet, I sure would like to make it your favorite vacation destination and that is Puerto Vallarta Mexico! I've said this before and I'll say it again, every episode I look forward to doing this podcast just so I can listen to Alberto Perez sing The Somba de Puerto Vallarta. Really!  Alberto is the owner of the La Palapa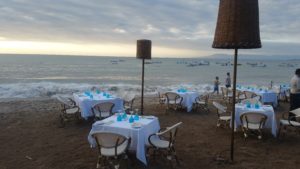 Group of restaurants in Puerto Vallarta Mexico. You will find La Palapa, the Vista Grill and the El Dorado restaurants on the Southside of the Rio Cuale, right on the beach just south of the famous Los Muertos Pier. The one that looks like a sail? Yeah that's the one. Get on down to La Palapa and Enjoy breakfast, lunch or dinner, toes in the sand right at the water's edge. It's so Puerto Vallarta mis amigos. Come on down, Really. The people of Puerto Vallarta Await you Mis Amigos.
Today I have two really great guest to share with you but first, let's look at what's happening in Puerto Vallarta this week, The 1st of May, 2017.
The City is all abuzz with a downhill BMX bike exhibition. It's called Down Puerto Vallarta 2017. And what it is is a downhill race, slalom from the Cross way up above the town of Puerto Vallarta, and these BMX style bicylles ridden by the best bike riders in the world, go down stairs, off road, then back down stairs, cobblestone streets of Puerto Vallarta with banks, jumps and all types of thrills for the hundreds of spectators watching along the route. The race ended on the Malecon at the Rotunda Del Mar Statues. This was really cool and it's just another sign that Puerto Vallarta is on the map, when it comes to international events coming to town. It was two days of competition and lots of preparation building ramps and banks and marking the path. Then there were the street closures and such but…it was Great for Puerto Vallarta. I have all kinds of links and YouTube videos of the event right on my website at puertovallartatravelshow.com. Check it out!
Restaurant week is coming, May 15 to the 31st
It's a great time to sample menus from the best in Puerto Vallarta for a very reasonable price. I will be joining Gary Beck and Gary's Groupies on the 15th at Barcelona Tapas. I'm really looking forward to talking with all the groupies and Bill Carballo, the owner of Barcelona Tapas at this event.  That will be a fun time and I promise to report back to all of you. Hopefully with some good audio.
Meet-Up With Open Microphone
Finally, I plan on announcing the date and location of the open microphone meetup this coming Friday May 12th or Saturday May 13th , But stay tuned for that announcement. I'll make it on next Sunday's show.
Speaking about next Sunday's show. Originally I had promised you a talk about Reicilla  with JR, and than an interview with Edwin Garcia at Una Familia, but I need some photos and a couple of other items before I air that show, so that will wait till Late Sunday Evening the 7th of May. The same show I make the announcement about the meetup.
So this week, I have two people you are going to really like, Tami and Brad Salzwedel from Sauk City Wisconsin.  Brad sent me an email and said he had experiences and stories to share with all of you about his and Tami's travels to Puerto Vallarta over the last 24 years. I brought them on because they have had a wide range of experiences and I think we can all learn a lot from this couple so let's go to Sauk City Wisconsin, and talk with Tami and Brad.
I have all of the links to the places we talked about at the website in the show notes for this episode of the show, episode 17 at www.puertovallartatravelshow.com.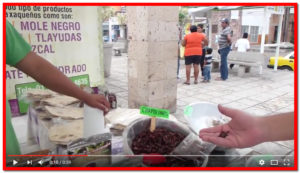 Cool YouTube videos and even the one with Brad eating Crickets. Check them out.
Brad and Tami started off coming to Puerto Vallarta with their 6 year old child so they used the All Inclusive Resorts because they had activities for kids and adults too. Baby sitting was also available so they could feel assured their son was safe with a sitter while they hit the town.
They stayed at the……..
Brad and Tami have for some time been unable to scuba dive and snorkel due to physical limitations. The scuba tanks are heavy and arthritis has taken it's toll over the years so they have currently limited themselves to less strenuous activities, but are willing to share their past experiences with all of us.
Watch Brad Eat Crickets in Pittial
Well we are through for today. I hope you enjoyed our talk with Brad and Tami Saltzwedel all about their experiences in Puerto Vallarta.  Next week stay tuned for more on the ground reports from Puerto Vallarta Mexico and other surprises and Puerto Vallarta Travel tips and ideas.  Until then, remember, this is an interactive show where I depend on your questions and suggestions about all things Puerto Vallarta. If you think of something I should be talking about, please reach out to me, Just like Tami and Brad did, by clicking on the Contact us tab and sending us your message. And just like that, Brad and Tami are on the show. That could be you too. So don't be shy, send me an email.  And remember, if you are considering booking any type of tour while you are in Puerto Vallarta, you must go to Vallartainfo.com, JR's website and reserve your tour through him, right from his website. Remember the value for value proposition. His experience and on the ground knowledge of everything Puerto Vallarta in exchange for your making a purchase of a tour that you would do anyway, you're just doing it through him as a way of saying thank you. It costs no more than if you were to use someone else so do it. Really. And when you do take one of these tours, email me about your experiences. Maybe you can come on-board and share with others what you liked or didn't like about the tour. Again contact me by clicking on the Contact us tab and sending off a message.
And once again, if you like this podcast, please take the time and subscribe and give me a good review on iTunes if you would. That way we can get the word out to more and more people about the magic of this place.
So, thanks to Brad and Tami. Check out all the great places they talked about at www.puertovallartatravelshow.com episode 17.
And thanks to all of you for listening all the way through this episode of the Puerto Vallarta Travel Show. This is Barry Kessler signing off with a wish for you all to slow down, be kind and live the Vallarta lifestyle. Nos Vemos amigos!