An Interview With Gabriela Castillon Perez of Gaby's Restaurant Bar in Puerto Vallarta
Also a Visit with Adrian Takano in Santa Barbara at the I Madonnari Festival;  and New Rules on Bringing your Dog or Cat to Puerto Vallarta, Mexico
Listen to the Podcast

Hello fellow travelers, welcome this episode of the Puerto Vallarta Travel show. I am your host Barry Kessler and I am just so happy to be to introducing you to my favorite vacation destination, and maybe even yours, Puerto Vallarta Mexico.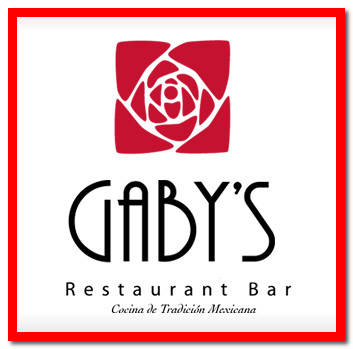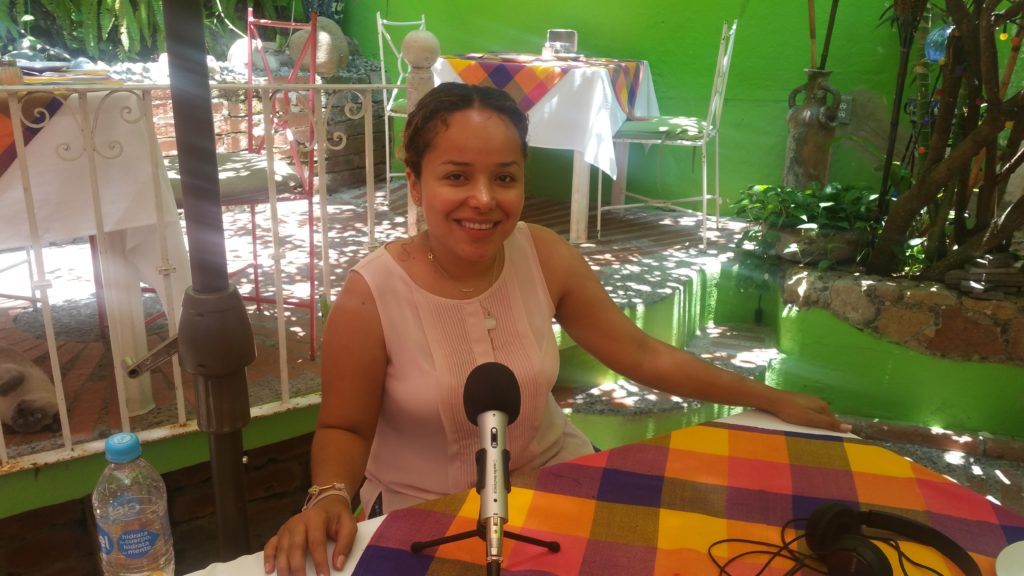 That music you were just listing to is performed by Alberto Perez, the owner of the La Palapa Group of Restaurants. Those are La Palapa, The El Dorado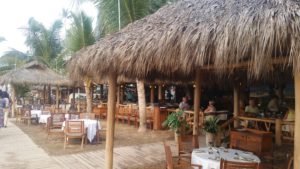 Restaurant, and now, at night for dinner The El Dorado transforms into The Vista Grill. That's the Vista Grill that used to be up on the hill. Well now it has a new vista and that is right on the beach where You get the same Vista Grill Menu, and the fantastic Vista Grill service and what's best, is it's right there on the beach. You can enjoy dinner under the stars, with your toes in the sand right at the water's edge. ! It's so romantic, it's so Puerto Vallarta my friends!
Today I have a very special guest but first, what's happening in Puerto Vallarta this week, the 29th of May, 2017.
Pride week is just wrapping up. You can catch what goes on during Gay Pride Week in the last episode of the show, Check it out!
New Requirements for Bringing Your Pet into Mexico
The new requirements require  you to obtain a valid Health Certificate. And In addition to the Rabies Vaccination certification, the vet must now certify (provide proof of) two additional health conditions:
The dog (or cat) is free from internal parasites (worms) and has been treated for these within 6 months of the date of travel.
The dog (or cat) is free from external parasites (fleas/ticks) and has been treated for these within 6 months of the date of travel.
These  new rules went into effect this February so just be aware of the changes if you plan to bring Fido or Tigger with you on your journey to paradise. You can find out more about what you will need by going to
https://www.aphis.usda.gov/aphis/pet-travel/by-country/pettravel-mexico
or google search United States Department of Agriculture Animal and Plant Health Inspection Service Or better yet, go to my website at www.puertovallartatravelshow.com, and go to the show notes of this episode, episode 20.
A couple of episodes back I interviewed Adrian Takano, a very talented artist and muralist here I Puerto Vallarta. Well Adrian was up in my neck of the woods. He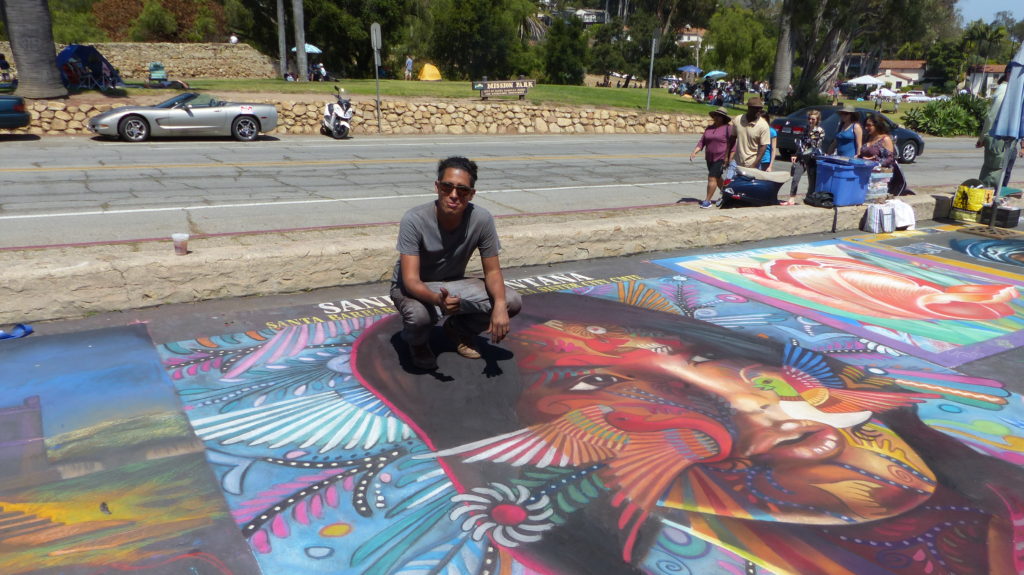 was sent to Santa Barbara to participate in the Madonnari Italian Street Art Festival, held at the beautiful and iconic Santa Barbara Mission in Santa Barbara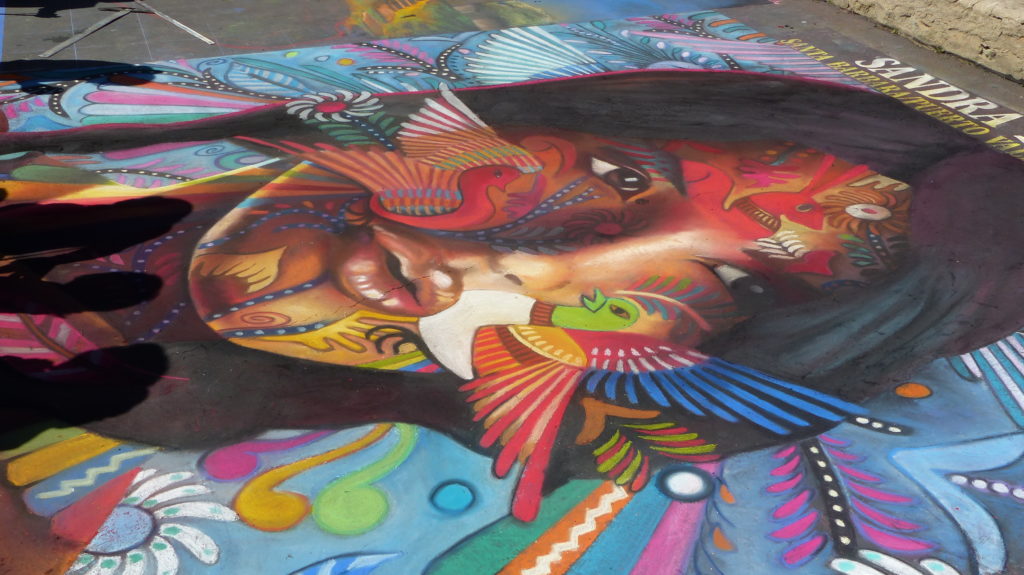 California. He won the trip by placing first in Puerto Vallarta's Madonnari 2016 festival held on the Malecon. If you want to hear that interview and see some of the murals he has around Vallarta, go to episode 18 of the show and check out the shownotes. I have some of his finest murals around town on the site at www.puertovallartatravelshow.com.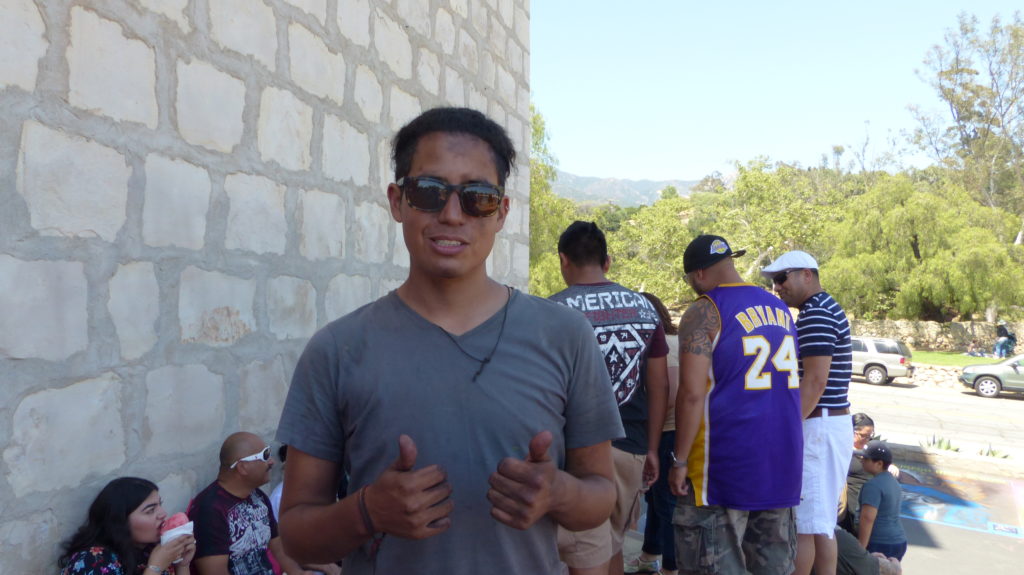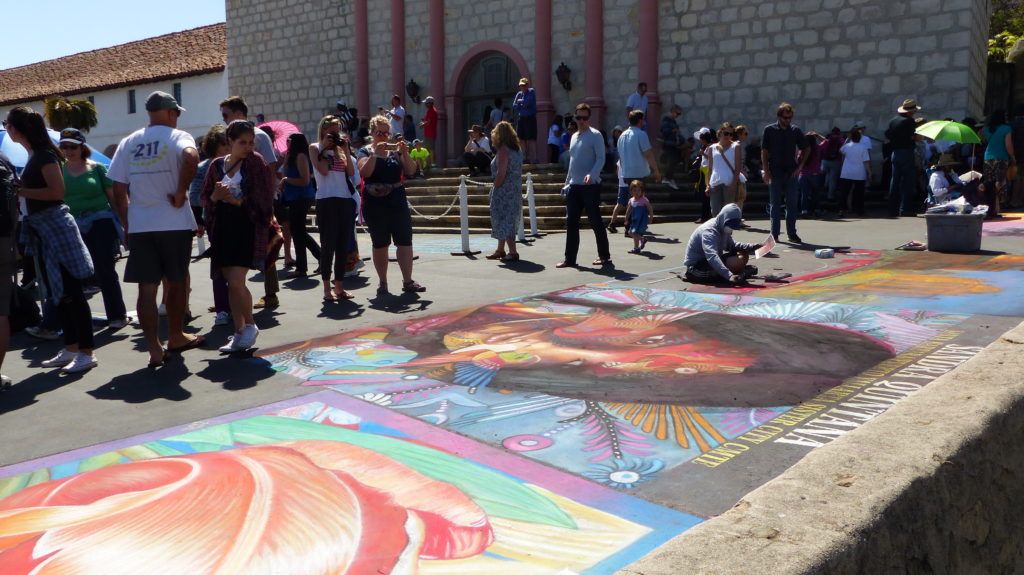 Well, his work was exceptional, as always and you can see his entry in the shownotes to this podcast, episode 21 of the Puerto Vallarta Travel Show at www.puertovallartatravelshow.com. I had a chance to interview him just as he put the final touches on the mural and let's get to that interview right now….
Listen to the Podcast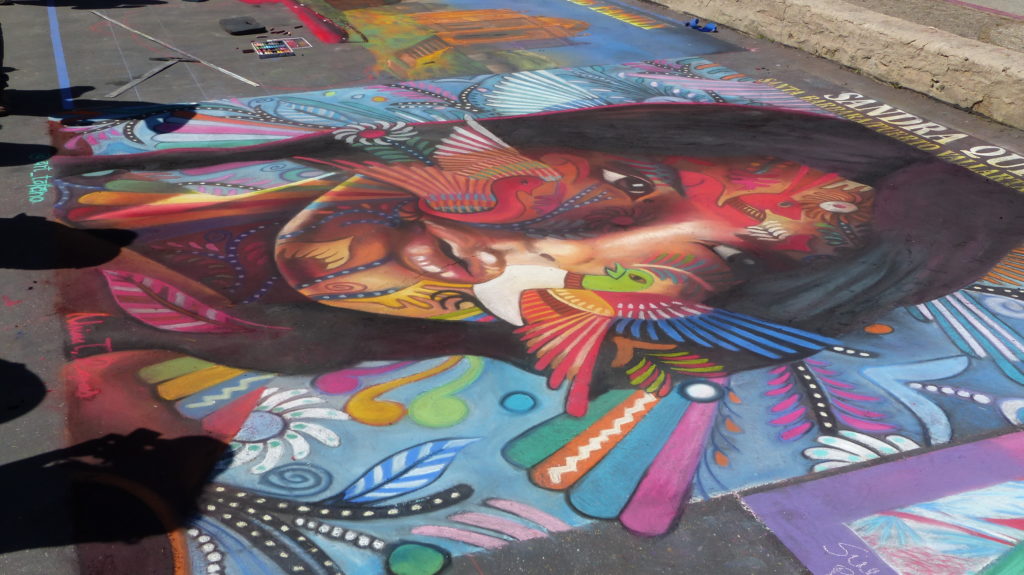 This was Adrian's first visit to the States and Santa Barbara isn't too shabby a place to get your toes wet here in the states. His work was truly outstanding when
compared to many of the entries there. It was a great event for Adrian, and a wonderful way to introduce Puerto Vallarta to   the attendees of the festival. And there are thousands and thousands of people who attend over the three day event. Kudos to you Adrian! You did Vallarta Proud. You can reach out to Adrian and hire him to create a mural for you and your home. North or south of the border. I have the links to his contact info in these show notes and the show notes for episode 19.
Follow Adrian Through
Instagram at ArtTakano
Restaurant week is coming to a close this week so I thought I would feature one of my favorite restaurants in Puerto Vallarta for you.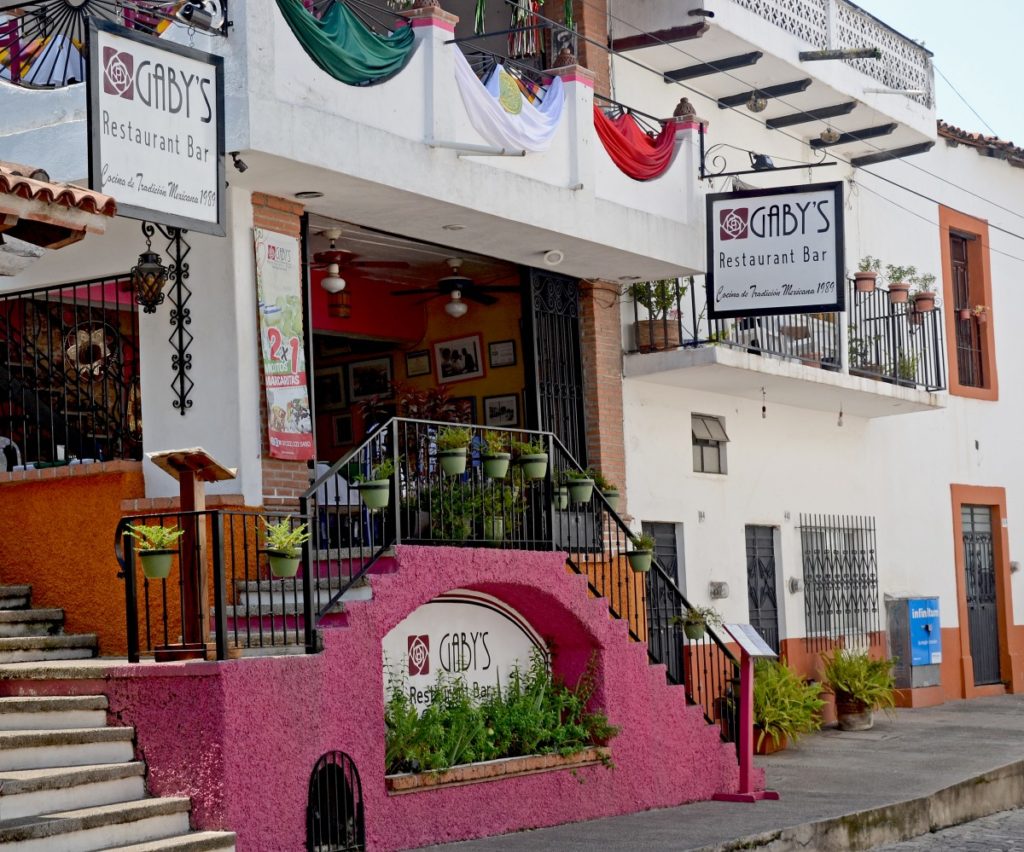 Today I am going to introduce you to Gabriela Castillon Perez, Gabby from Gaby's Restaurant in Puerto Vallarta.
I love this restaurant. They serve traditional Mexican dishes with passion and class. They are located very close to the Famous Church in Vallarta and during the interview you will hear the church bells ringing.
When I first met Gabby and her brother Julio who is a chef and conducts cooking classes, I was taken aback by their youth. They are full of youthful energy and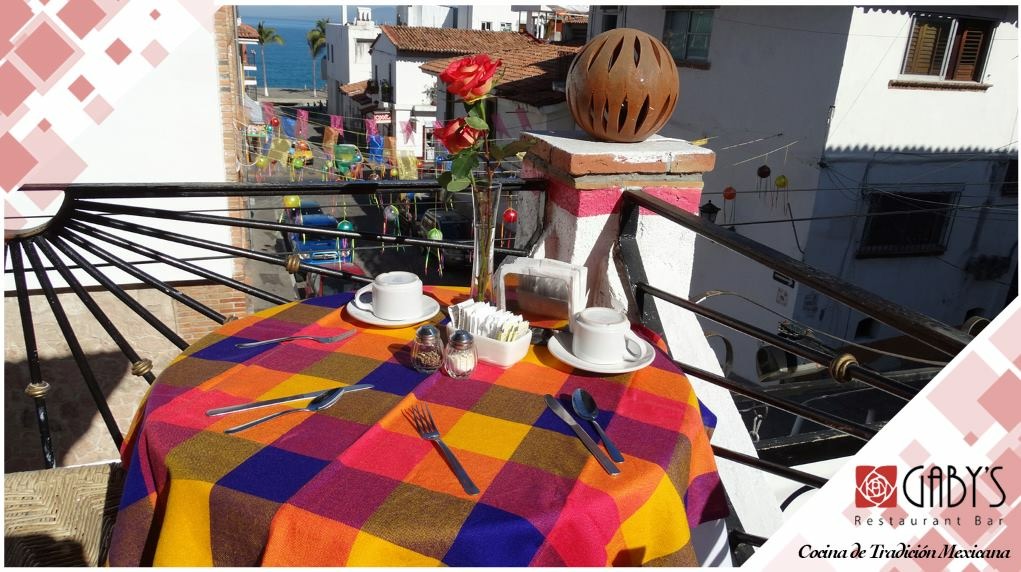 imaginative wherewithal and still stick to the traditional methods, dishes and recipes.
I know that you will find this story of this Restaurants journey, from a StreetSide Fonda, to the beautiful inviting multi-tiered restaurant that it is today, as interesting as I did.
Let's get to the interview with Gabriela at Gaby's Restaurant, in Puerto Vallarta Mexico.
Listen to the Podcast

Things We Talked About….
The History of the Restaurant

Molcajete-Volcanic Rock

How to Use a Molcajete instead of a blender
Teaches how to make Tortillas, Mole, Stone Soup and Tortilla Soup
Raicilla Tasting
Lunch Specials
Traditional Cooking
Entertainment
Julio's Cooking Class  

CLICK HERE
Gaby's Breakfast Menu

CLICK HERE
Reservations at Gaby's Restaurant 

CLICK HERE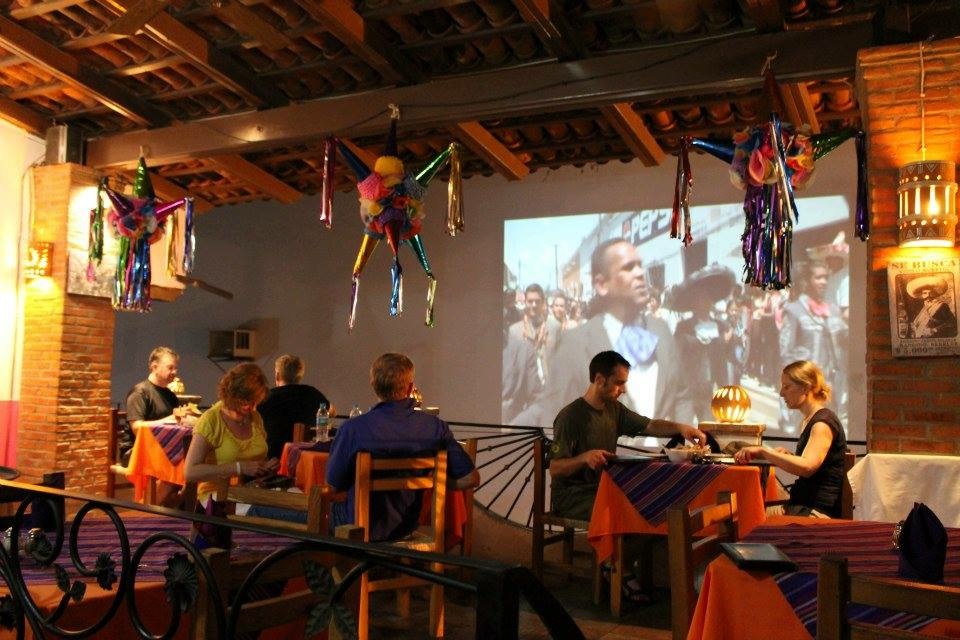 Gabby was so wonderful to talk with. And that dish Walla de Coco, she brought me a slice of it and it was amazing! It was chilled a slice about a ¼ inch thick and had
a custard texture with coconut bits, a cinnamon back taste, just so delicious. It was nothing like I had ever tasted that's for sure.
And her 94 year old grandmother, so sweet you guys.
So go and check out this restaurant while you are in Puerto Vallarta. Breakfast, lunch or dinner, you will be treated to real fine Mexican cooking.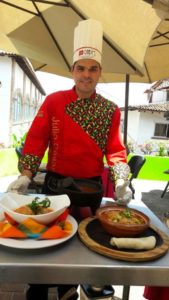 Well, that should do it for this episode of the show. . I hope you enjoyed out talk with Gabby from Gaby's Restaurant.  Next week stay tuned for more on the ground reports from Puerto Vallarta.  Until then, remember, this is an interactive show where I depend on your questions and suggestions about all things Puerto Vallarta. If you think of something I should be talking about, please reach out to me by clicking on the Contact us tab and sending us your message.
And remember, if you are considering booking any type of tour while you are in Puerto Vallarta, you must go to Vallartainfo.com, JR's website and reserve your tour through him, right from his website. Remember the value for value proposition. His experience and on the ground knowledge of everything Puerto Vallarta in exchange for your making a purchase of a tour that you would do anyway, you're just doing it through him as a way of saying thank you. It costs no more than if you were to use someone else so do it. Really. And when you do take one of these tours, email me about your experiences. Maybe you can come on-board and share with others what you liked or didn't like about the tour. Again contact me by clicking on the Contact us tab and sending off a message.
And once again, if you like this podcast, please take the time and subscribe and give me a good review on iTunes if you would. That way we can get the word out to more and more people about the magic of this place.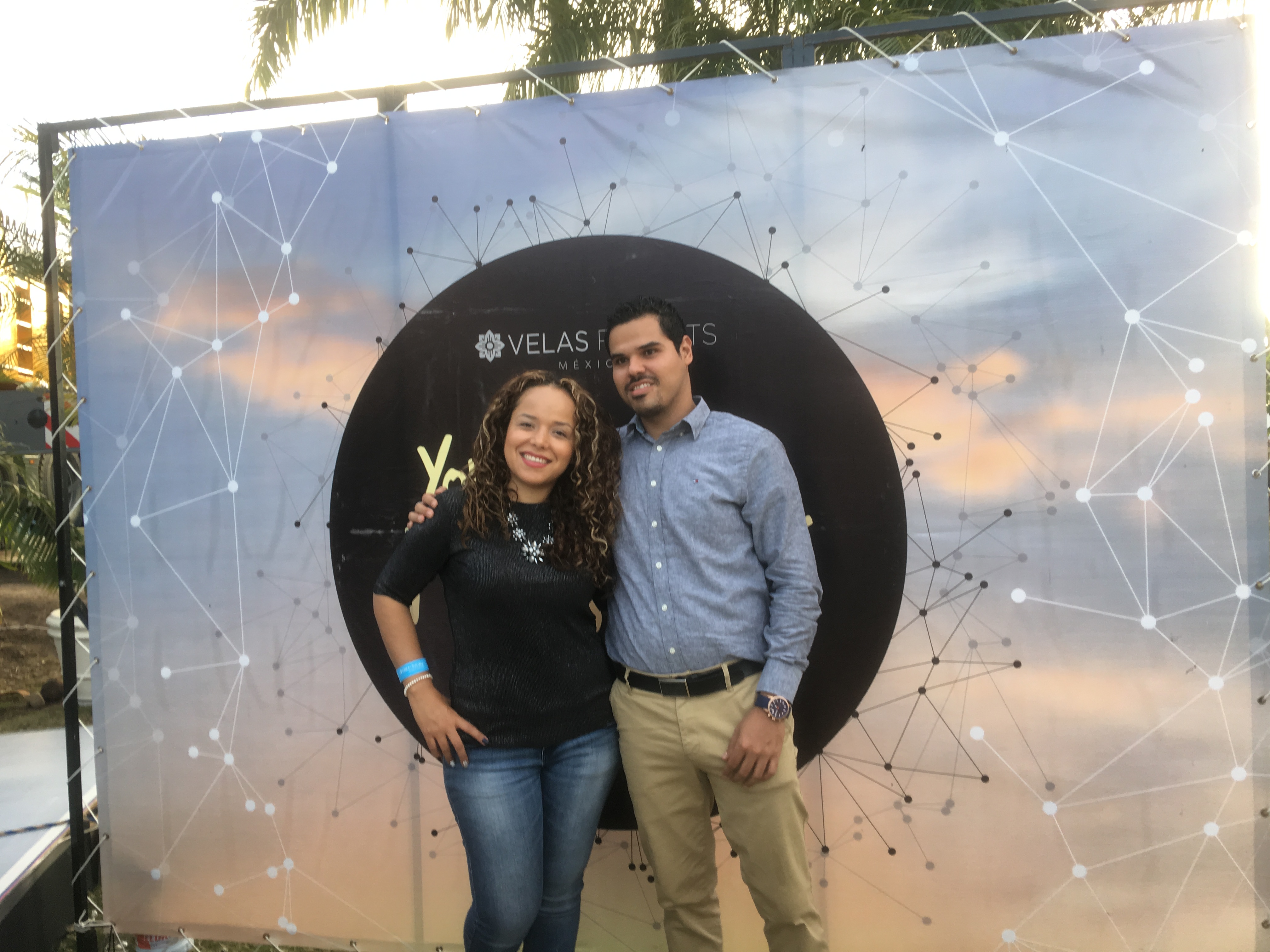 So, thanks to Gabriela Castillon Perez, Gabby. You will find the links to Gaby's Restaurant in my shownotes at www.puertovallartatravelshow.com.  Also don't forget to check out Adrian Takano's work in the shownotes as well and his contact information as well. And thanks to all of you for listening all the way through this episode of the Puerto Vallarta Travel Show. This is Barry Kessler signing off with a wish for you all to slow down, be kind and live the Vallarta lifestyle. Nos Vemos amigos!