An Interview With Gabino Sandoval; The Pull-Tab Purse Maker on The Malecon in Puerto Vallarta, Mexico.
Listen to The Podcast
Hello fellow travelers, welcome this episode of the Puerto Vallarta Travel show. I am your host Barry Kessler and I am just so happy to be to introducing you to my favorite vacation destination, and maybe even yours, Puerto Vallarta Mexico.
That music you were just listing to is performed by Alberto Perez, the owner of the La Palapa Group of Restaurants. Those are La Palapa, The El Dorado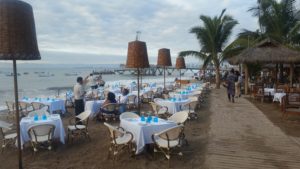 Restaurant, and at night for dinner The El Dorado transforms into The Vista Grill. That's The Vista Grill that used to be up on the hill overlooking the city?  Well now it has a new vista and that is right on the beach where you get the same Vista Grill Menu, and the fantastic Vista Grill service and it's right there on the beach with a dramatic view of the Los Muertos Pier all lit up at night in beautiful colors.
Of course at La Palapa you can enjoy breakfast, lunch or dinner, with your toes in the sand right at the water's edge. ! It's so romantic, it's so Puerto Vallarta my friends!
Today we have a special show but first, what's happening in Puerto Vallarta this week, the 18th of July, 2017.
It's hot and humid in paradise, but the tourists have not been discouraged. Vallarta is seeing really good numbers even during the off season this year. Looks like the word has gotten out about this town, and hey, there are a lot of great deals on lodging and airfare out there.  Just be ready for rain in the evenings and hot, humid days to lounge by the pool or sit on the beach and enjoy the tropical delights that await you. Sip on that umbrella drink or finish off a bucket of ice cold Pacifico Cerveca while munching on some fresh fish on a stick, or guacamole and chips. Its paradise guys.
Anyway, one of my listeners Jeff, is on the ground right now and he's in town for his first July stay in Puerto Vallarta, and he has offered to come on and talk with us about his adventures in paradise in a couple of weeks so stay tuned for that. I'm looking forward to talking with him because he is in the travel industry in the states, and it should be great to get his take.  He's staying on the Southside at the Los Arcos Suites so he will give us a review of the property and let us know how he did, and what he did in paradise in the July heat. That will be interesting and Jeff seems like a really fun guy so stay tuned.
Top Ten Most Unusual Things to do in Puerto Vallarta, Mexico
I'm preparing a show for later in the summer with the top ten most unusual things that you don't want to miss when visiting Puerto Vallarta, and I was hoping I could get a little feedback from you guys. What I'm looking for are not the obvious choices like walk on the Malecon, or stroll through Old Town or something obvious like that, and believe me, that show with the obvious top ten things to do  in Puerto Vallarta is coming up, probably in two or three weeks, but what I'm looking for is  an obscure little mentioned kinda unusual, more imaginative suggestion from you guys. So let's see if we can get that top ten most unusual don't miss this while you are in Puerto Vallarta list. Well, it will go something like that.  I'm depending on you to help me out here and I have to say that I have never been disappointed by you. So send me your suggestions by clicking on the Contact us tab at the top of the webpage, and sending me off a message. Let us know what we should tell fellow visitors the top ten unusual things to do in Puerto Vallarta are.
Customer Forced to Pay Merchant She Disparaged on Facebook
Have you ever gotten on the internet and just destroyed a restaurant or business that did you wrong? Have you ever gone out to Facebook and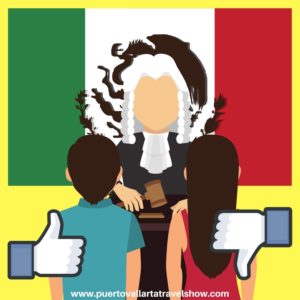 really laid into business on that platform?  Well…be careful when doing that in Mexico. Check out this article. It was shared with me by my friend Trisha and it's pretty interesting. It's from a publication called the Yucatan Expat Life, and the article written JULY 7, 2017 goes like this… Mérida, Yucatán —
For the first time in Yucatán, a customer who took a complaint to Facebook was found guilty of defamation.
Judge Suemy Lizama Sánchez sided with a swimsuit store who said her business was harmed because it was disparaged on social media.
The customer's bitter complaint over a delayed order went "viral," reports Milenio Novedades.
The delay, however, was reportedly beyond the control of the merchant, who had offered a refund before the ruinous post, which the judge agreed caused numerous cancellations from other customers. That cost the company close to 50,000 pesos.
The prosecutor does not intervene if a conflict is kept private, but once it's online, the injured party is entitled to demand proof that the comment is warranted, said Lizama Sánchez.
In the hearing, the unnamed customer agreed to pay 2,000 pesos compensation and issue a public apology on Facebook. If the settlement had not been reached, the case would have gone to trial with the defendant facing prison time ranging anywhere from three days to two years, and a fine equivalent of up to 200 days' minimum wage.
The merchant said the apology was the most important part of the settlement.
"You have to be careful and be responsible on social networks, especially when you share an image of someone who is accused of some situation like robbery, kidnapping, abuse, among others," the judge warned.
So let that be a warning to you before you start to spout off on social media on the facebags and the tweeters and I don't know if that will spill into the other review sites like Tripadvisor or YELP, but it sounds like possibly that may be a possibility. Careful before you spout off about a company in Mexico. A precedent has been set it seems. We'll see. I have a link to the article in the show notes for this episode, #28 of the Puerto Vallarta Travel Show.
http://yucatanexpatlife.com/yucatan-judge-applies-defamation-law-to-facebook-user/
Gabino Sandoval, The Pull-Tab Handbag Maker on The Malecon in Puerto Vallarta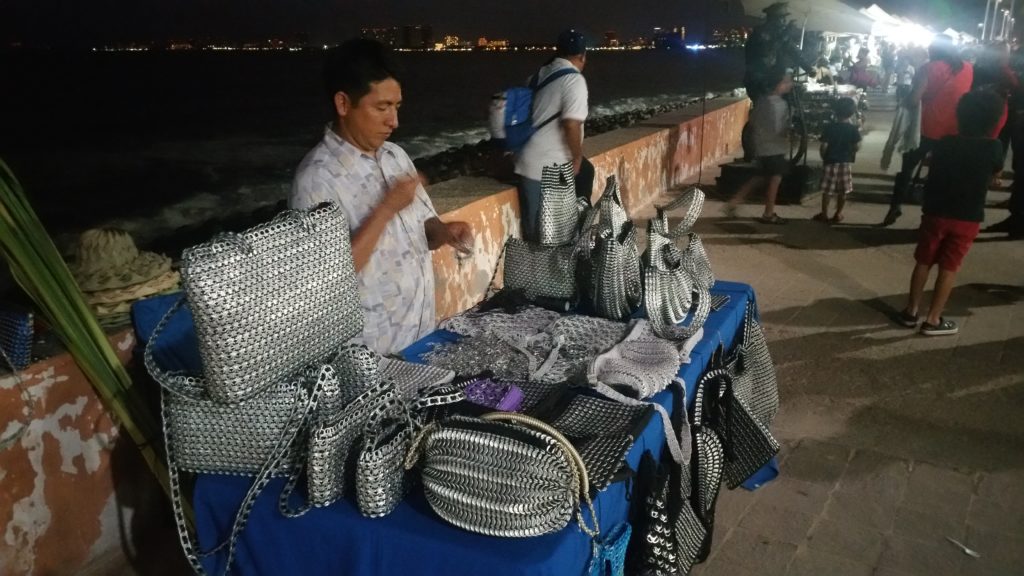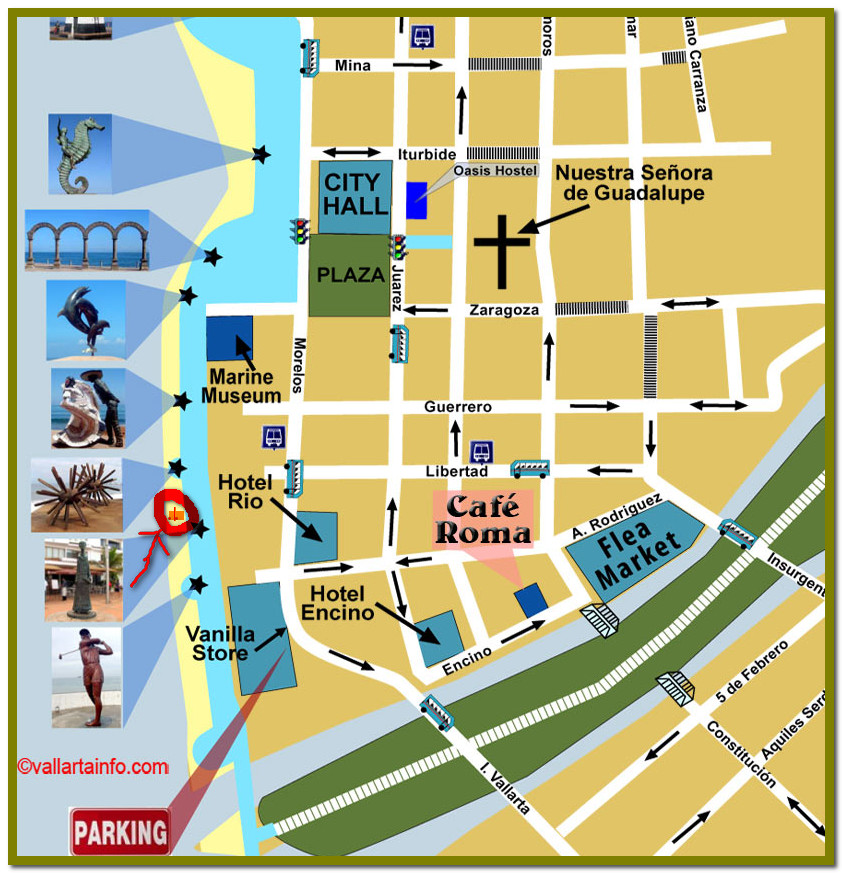 Okay, let's get on with the show. In the first episode of the show, and at the end of each show, I ask you listeners for suggestions for show topics
and my next guest came from one of your suggestions. My friend Constance from Nanaimo, British Colombia suggested I seek out Gabino.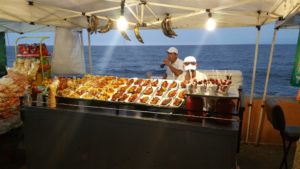 Gabino Sandoval is a guy who makes bags and purses from aluminum can pull-tab tops, and you can find him on the Malecon, just about every night where his table is set up, where he sells his unusual creations. Now for those of you who have never been to Puerto Vallarta, when they talk about The Malecon, they are referring to the boardwalk which in the case of the Malecon in Puerto Vallarta, runs from the Hotel Rosita on the north end, all the way down to La Palapa at the south end. Every night, along the Malecon, you will find street performers like singers, Dancers, Actors posing as, bronze statues like banditos, bicycle riders, swamp creatures, Pirates, there is an acting troupe that puts on quite a show for the Spanish speaking audience at the open air amphitheater under the aches, Los Arcos, right in the center of the Malecon area.  The Malecon is where it's happening at night in Puerto
Vallarta. They have food stands set up selling all sorts of treats for the locals and tourists too. Crape stands, dessert stands, corn on the cob, fried bananas, fruit waters, all sorts of eateries with the most interesting items. I have pictures of these in the blog-post for this episode.  As you walk along the Malecon you will also find artists painting and displaying their artwork, handicrafts  sellers and such, and that's where you will find Gabino.  Actually, you need to look really hard to find him because he's not in a naturally well lit area. His table is right across from Vitea Oceanfront Bistro, great food by the way, and  that's between the sculptures of the female golfer and the folkloric dancers right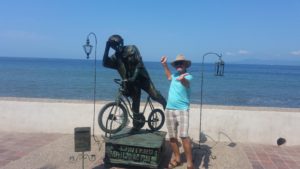 there on the Malecon. . People walk up to Gabino's table and do double takes. They need to make sure they are really seeing what they think they are seeing. Handbags, purses, belts, bracelets, all adorned with aluminum can pull tabs and they are incredibly unique and they look really cool.
Carefully Gabino explains to the customers who stop at his table, the process he uses to create these purses. He shows them the quality and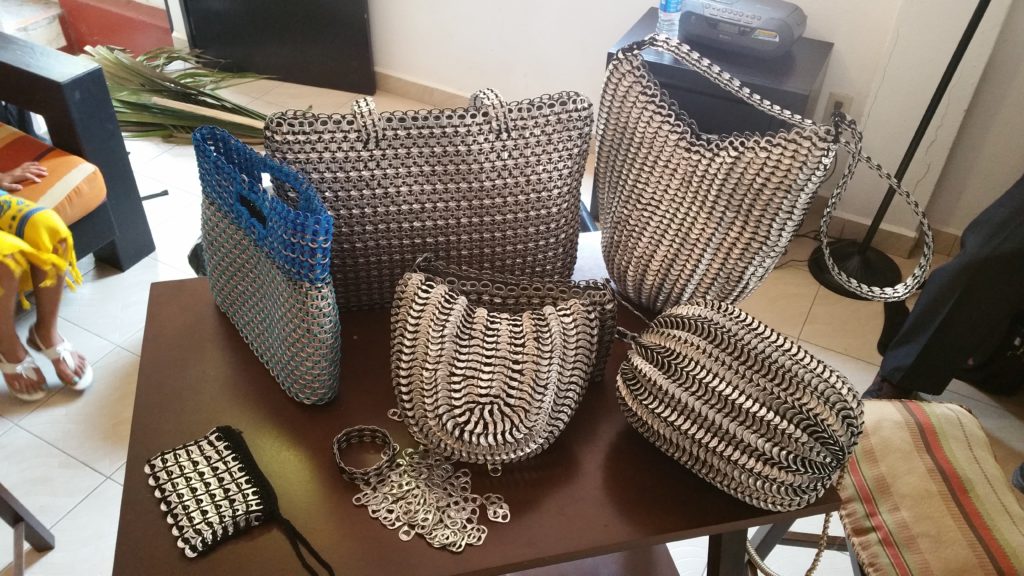 Below find the current Approximate Prices of Gabino's Bags and Accessories as of 07/20/2017
Purse/ Handbag Blue  Approximately 1,100 Pesos or $55 US
Large Beach Bags  approximately 1,700 pesos or about $85 US
Medium Sized Bags approximately 600 pesos or $30 US
Watermelon Bag approximately 1,500 pesos or $75 US
1/2 Watermelon Bag Approximately  1,100 pesos or $55 US
Bracelets 40 pesos
Coin Purse approximately 200 pesos
time and effort that he puts into each piece he makes. Gabino is cool headed; he hears everything that people say as they walk by. Many are amazed, others are amused. I personally am flabbergasted at the imagination and the great designs Gabino has developed . These are brilliant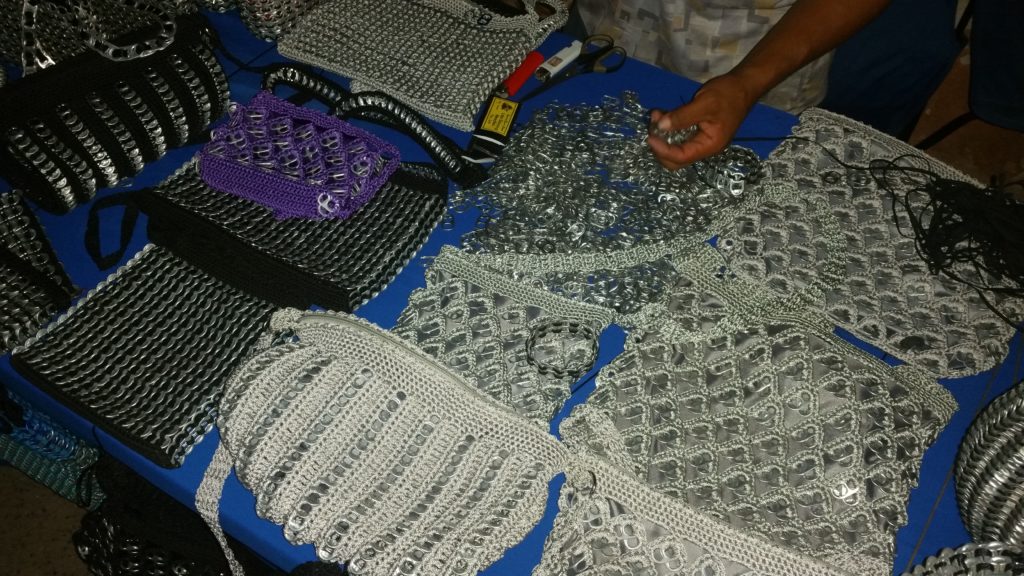 bags guys. They are beautiful and quite the conversation piece if you ask me. Just go to my website to see for yourselves at puertovallartatravelshow.com . So I asked Gabino if he will do an interview with me so I can introduce him and his work to you. So I invited him to the Airbnb apartment I was staying at in the Emiliano Zapata Neighborhood of Old Town, and he came with his wife and two beautiful children to my apartment, with a selection of bags and accessories all made with and adorned with these aluminum pull tab tops. Now if you haven't lived in a real Mexican neighborhood, you are really missing the real Mexico and you will see what I'm talking about as you will hear the sounds of roosters crowing, dogs barking and stuff and junk like that during the interview. And if you want to see a video of the apartment I stayed at, Casa Vizcardo, I will have a video of the place posted in the show-notes for this episode, #28, so check out my digs in the heart of Vallarta, and let me know if you don't agree, it's a pretty cool place. I rented it from the PV Kid, and we are going to have a conversation with Jeff Musto, the PV Kid, pretty soon so stay tuned for that one.
You are going to like Gabino. He took adversity by the horns, shook it up and down and all around, and turned it into a success story.
He is truly an inspiration and I can't wait to introduce him to you….
Listen to the Podcast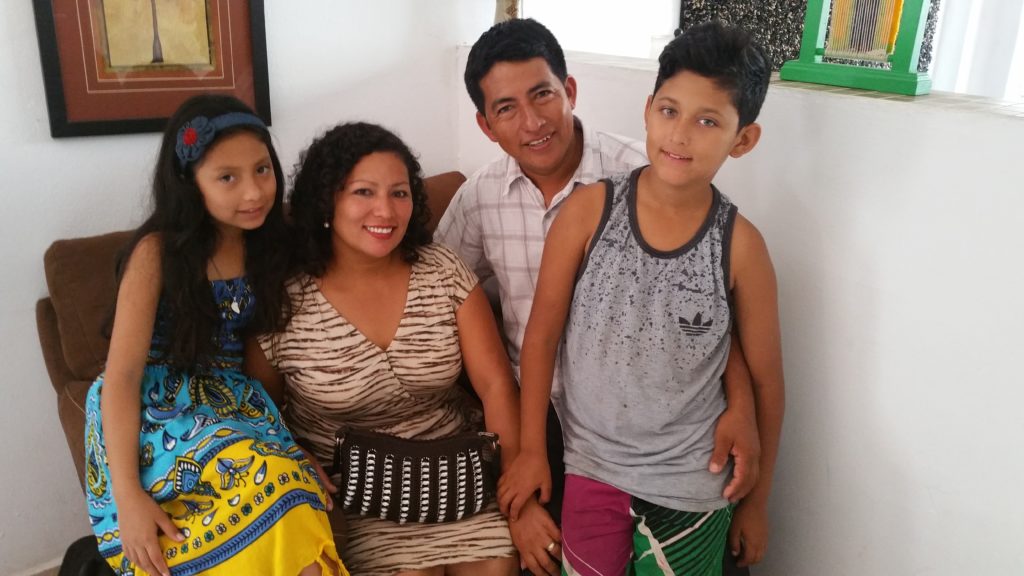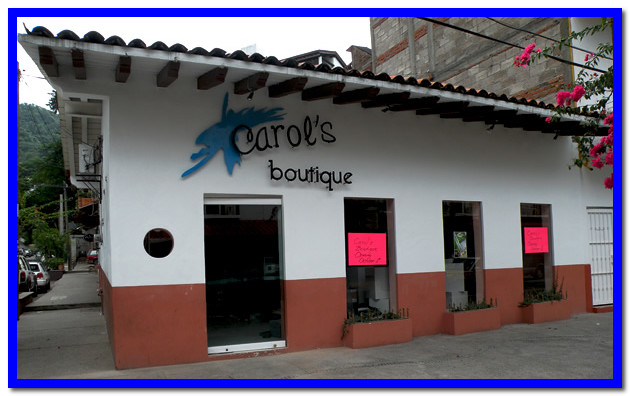 Basilio Badillo #250 Old Town | info@carolsboutiquepv.com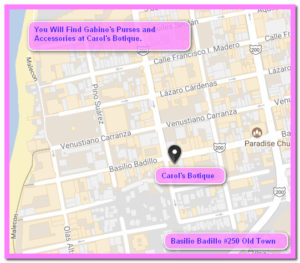 ---
Gabino's Favorite Restaurants
Restaurant Adobes  in Puerto Vallarta 
The Three Taco Stands Near the Farmacia Guadalajara
---
That is Gabino. I have pictures of him, his family, and his unusual purses and bags on my website in the show-notes for this episode, along with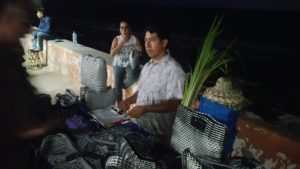 the prices of the different items, and when he does get that online store up and running, you will all be the first to know. Until that time, you need to get down to his spot on the Malecon and buy a beautiful bag to bring home. You will have a conversation piece as well as be saving the planet in a small way. When you do see Gabino, let him know that you heard his story on the Puerto Vallarta Travel Show. He will get a kick out of that. And by all means, buy something from him.
You will be able to locate his table by looking in my show-notes and I will even have a map for you.
Okay, that should do it for this week's episode of the Puerto Vallarta Travel Show.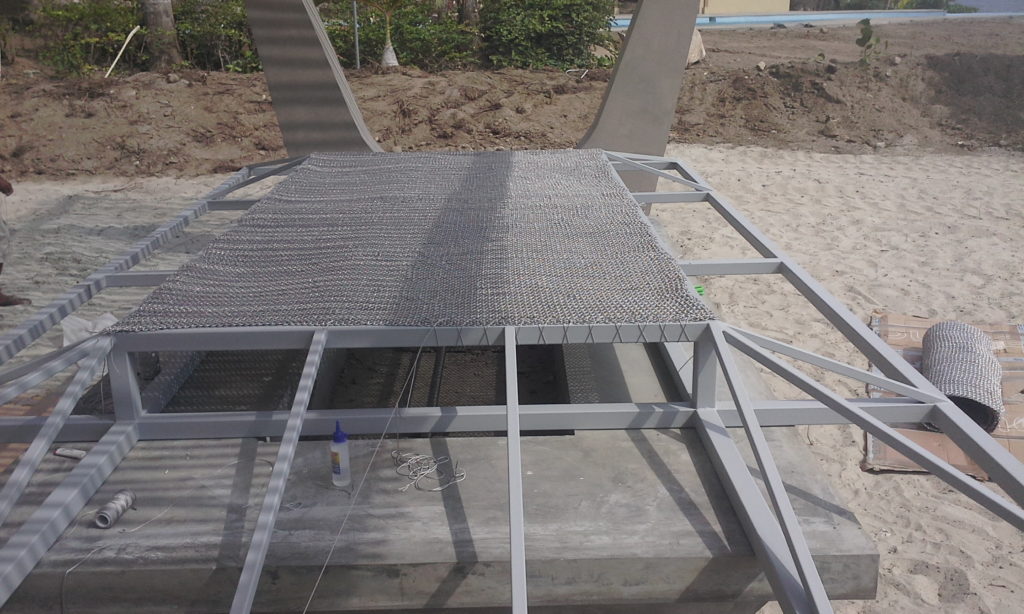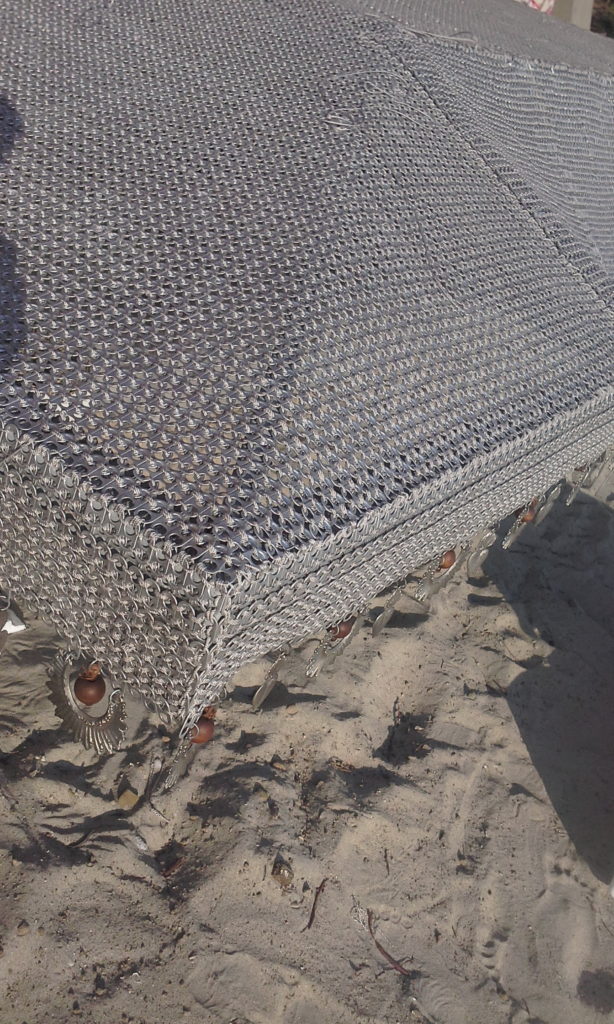 Next week stay tuned for more on the ground reports from Puerto Vallarta Mexico, with travel tips, great restaurant and excursion ideas and more.  Until then, remember, this is an interactive show where I depend on your questions and suggestions about all things Puerto Vallarta. If you think of something I should be talking about, please reach out to me by clicking on the Contact us tab and sending us your message.
And remember, if you are considering booking any type of tour while you are in Puerto Vallarta, you must go to Vallartainfo.com, JR's website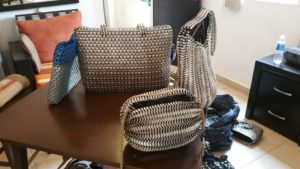 and reserve your tour through him, right from his website. Remember the value for value proposition. His experience and on the ground knowledge of everything Puerto Vallarta in exchange for your making a purchase of a tour that you would do anyway, you're just doing it through him as a way of saying thank you. It costs no more than if you were to use someone else so do it. Really. And when you do take one of these tours, email me about your experiences. Maybe you can come on-board and share with others what you liked or didn't like about the tour. Again contact me by clicking on the Contact us tab and sending off a message.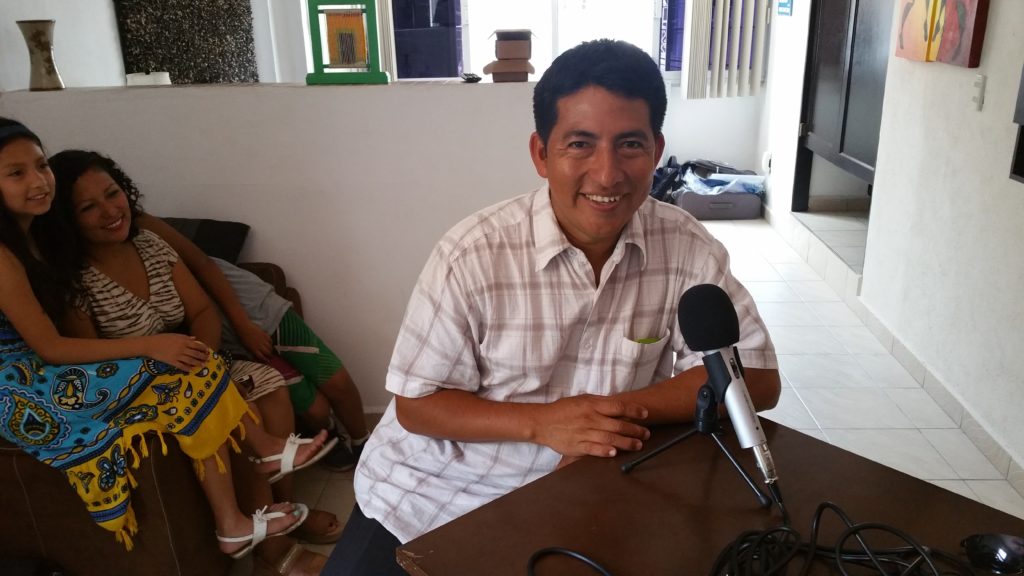 And once again, if you like this podcast, please take the time and subscribe and give me a good review on iTunes if you would. That way we can
get the word out to more and more people about the magic of this place. Puerto Vallarta, Mexico. Remember I made it easy for you to do just that with each episode I create. But if you haven't been to my website, you really need to have a look there.  I have the links to the places we talk about, interesting pictures and the more all right there in my blog-posts and show-notes for each episode of the show so check them out for sure if you haven't already all-right? All right.
So, thanks to Gabino Sandoval, the pull tab purse maker. I have all of the contact information in the show notes of this episode,  at www.puertovallartatravelshow.com episode 28. And thanks to all of you for listening all the way through this episode of the Puerto Vallarta Travel Show. This is Barry Kessler signing off with a wish for you all to slow down, be kind and live the Vallarta lifestyle. Nos Vemos amigos!