An Interview With Debbie Baker, The Property Girl, and Jeff Musto, The PV Kid about Rental Properties in Puerto Vallarta, Mexico. Also, Puerto Vallarta Celebrates Mexican Independence Day with a 4 Day Celebration.
Listen to The Podcast
Hello fellow travelers, welcome this episode of the Puerto Vallarta Travel show. I am your host Barry Kessler and I am just so happy to be introducing you to my favorite vacation destination, and maybe even yours, Puerto Vallarta Mexico.
That music you were just listing to is performed by Alberto Perez, the owner of the La Palapa Group of Restaurants. Those are La Palapa, The El Dorado Restaurant, and at night for dinner The El Dorado transforms into the ever so romantic Vista Grill with those dramatic views of the Los Muertos Pier all lit up at night in beautiful colors. Of course, at La Palapa you can enjoy that same view of the Los Muertos Pier all day long for breakfast, lunch or dinner, seated with your toes in the sand right at the water's edge. It's so romantic, it's so Puerto Vallarta my friends!
Today we will be talking with two great guests, both are involved in the property rental business here in Puerto Vallarta but first, what's happening this week September 12, 2017.
Puerto Vallarta Celebrates Mexican Independence Day
We will be celebrating Mexican Independence Day in Vallarta, and in true Mexican fashion, it's not just one day, we will be celebrating for four days!
Things start up Thursday, September 14, Day of the Charro, which is celebrated in many parts of Mexico.
Charros are regal horsemen and women who dress so stylishly, and ride so smoothly, they are the elegant Cowboys and Girls, on Mexico.
Charrería is a tradition, which runs in families just like Tía Maria's famous mole sauce or Don Raul's special pozole. In other words, it is passed from one generation to another. As soon as a tot can seat a horse by himself, he becomes a little charro, or if a girl, she becomes an Escaramuza. Don't miss this if you are in town.
The charro wears a special suit. There are five styles of charro outfits and each one is chosen for its own occasion to be worn. One can go from a working suit through dressy, formal, elegant and all the way to black tie. The color doesn't seem to be as important as the cut of the suit. The jacket is snug fitting and comes only to the waist. Some are heavily embroidered. The pants have slim, tight fitting legs; the dressier ones have gold or silver buttons running down the outside length of the leg. The suit is worn with a short boot, not the regular cowboy boot. A bow tie, white shirt, and the typical big brimmed, embroidered sombrero tops off this costume.
Vallarta's City Center will host a parade of associations of charros that ride on horseback through the main streets along the malecón as those along the route, applaud their horsemen and women parading through town in their fine outfits.
If you want to learn more about the traditions of these horsemen and women, The Charros, I have a link to an article written back in 2007 by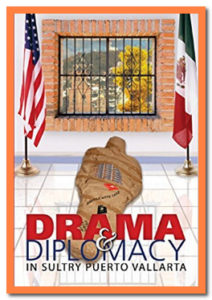 Jenny McGill, and if you have listened to my older podcasts, you would know that Jenny McGill and her husband Howard, moved to Puerto Vallarta in 1973, where she served as the U.S. Consular agent for 14 years. And she wrote the book, Drama and Diplomacy in Sultry Puerto Vallarta. A book all Vallarta lovers would really enjoy.
Interesting to note here, but Pamela Thompson of Healthcare Resources Puerto Vallarta, a friend of the show who talked with us about medical tourism in Puerto Vallarta in an earlier episode, does lots of the things that Jenny did back in the day. I bet Pamela could write a pretty juicy book herself, but she would probably have to move out of town forever. Never mind Pamela.
Anyway, Jenny is gone now but her writing lives on and I have that link to her article all about the Day of the Charro. No JR, not the day of the churro, That's every day in Mexico. That reminds me, one day I'll introduce you to the Churro guy in Emiliano Zapata. But I digress. Where were we? Oh Yeah!
http://www.mexconnect.com/articles/1579-september-14-day-of-the-charro
We continue with the celebrations. On the 15th, day before Independence Day, the Independence Day festivities will begin at 8:00 a.m. with a Commemoration of Independence at Plaza de Armas. Then in the evening, at 7:30 pm, the plaza will be hosting musical and dance performances until 10:00 p.m. At 11:00 p.m. the military protocol act of the Cry of Independence will take place at Presidential Plaza, followed by fireworks at midnight.
What is this Cry of Independence? The Cry of Dolores or in Spanish, Grito de Dolores,  is a historical event that happened in Mexico in the early morning of 16 September 1810. A Roman Catholic priest Miguel Hidalgo y Costilla rang the bell of his church and gave the this proclamation,  (call to arms) that triggered the Mexican War of Independence.
'My children: a new dispensation comes to us today. Will you receive it? Will you free yourselves? Will you recover the lands stolen three hundred years ago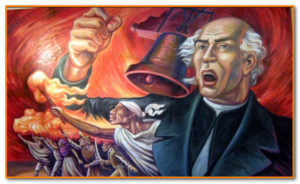 from your forefathers by the hated Spaniards? We must act at once… Will you defend your religion and your rights as true patriots? Long live Our Lady of Guadalupe! Death to bad government! Death to the Gachupines! or Native Spaniards.
This happened in the state of Guanajuato within the small town of Dolores, now known as Dolores Hidalgo.
And although we aren't sure of the exact words, they were never written down, they were pieced together by those assembled who could recollect the words.
Finally after years of struggle, In October of 1825, the 16th of September began to be observed as Mexico's Independence Day.
And every year on the eve of Independence Day, the President of Mexico actually re-enacts and recites the Grito from the balcony of the National Palace in Mexico City, while ringing the very same bell that the Catholic Priest Hidalgo rang in 1810. Pretty cool.
So you may want to catch that ceremony here in Vallarta. I'm guessing it's going to be pretty cool.
Next on the 16th, the official Independence Day, a parade will begin at 10:00 a.m. along Calle Morelos in downtown. Then, beginning at 8:00 p.m. at the Arches on The Malecon, you can catch musical performances by Gypsy Rumba a great group whom we've talked about with Gary Beck, Remember? And Valentina González. Fun times!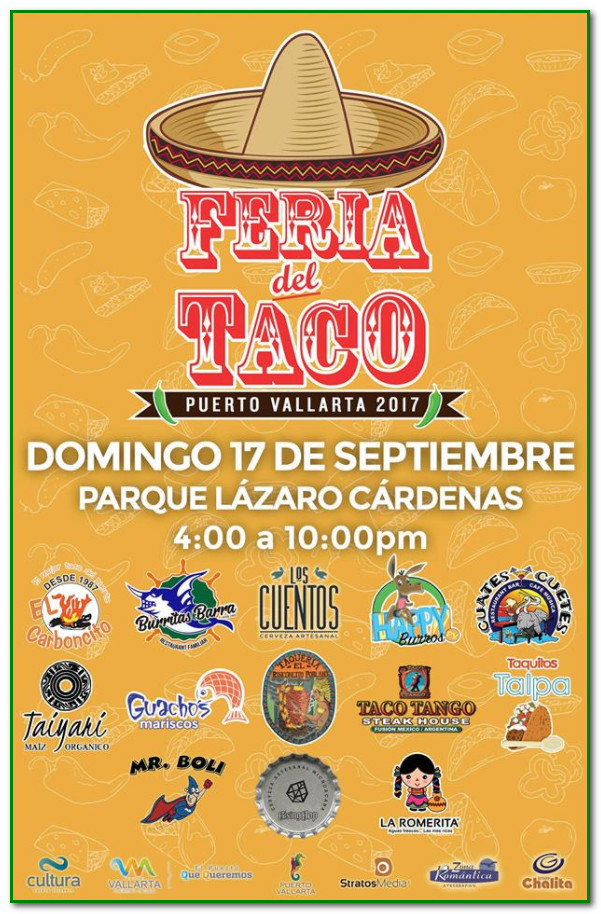 And finally, on the 17th, since you haven't had enough party, you can enjoy the Taco Fair in Lázaro Cárdenas Park, from 5 to 11 in the afternoon, they will be selling traditional tacos such as steak or pastor, or lobster and / or shrimp, and more. Just make sure you wear a broad rimmed hat and sun block cuz it's going to be hot boys and girls.
Got an email, no actually it was an iTunes review the other day from listener Polly MB in Mexico, and she writes, Can you talk about San Pancho Beach next time? That would be nice.
Well Polly, I have an episode planned with a day trip to San Pancho, and just because you asked, I'll put that together for you in three weeks. I have a couple of other episodes that I want to get out first, but that one is coming soon.
Speaking of mail and reviews, I got a surprise note that I thought I'd share with you. If you were listening last week, I was telling you a story about my buddy Debbie from Canadia. I referred to her, in a loving way of course as cheap Debbie. Remember? Check out this note from Tessa….
Hi Barry!!!! My mom sent me one of your podcasts to listen to, the one about the Uber in PV. Well…my mom is "Debbie G" aka "cheap Debbie" hahahahaha. I thought you might like to hear about something she did to me a couple years ago…
Oh..do tell Tessa!
My parents had been in PV for a couple of weeks and I flew in, they met me at the airport, we had some beers at the Oxxo as is our tradition, and then I was
expecting to go over the walking bridge and grab a yellow cab to the condo. Well, was I ever surprised when that didn't happen. My mom and dad thought instead of taking a cab to the condo, that taking the bus would be more "fun". Yes…"fun" is what they said. After a 4.5 hour flight and with a massive suitcase, they dragged me onto the bus because they thought it would be "fun". We take the bus a lot in PV and we love it, but after traveling all day, trying to adjust to the heat and humidity, and having a large suitcase in tow, I would not suggest anyone do this for "fun". Lol
So Debbie, I'm just so disappointed in you Deb, do you hate it when someone calls you Deb? Cuz my wife hates it when I call her Deb…Debbie, Debbie, Debbie G. I thought for just a moment that you were normal, cheap, well frugal with a strong sense of tradition, but normal. But no. At least I know that your husband is in on it too. Torturing your unsuspecting daughter?
Debbie!!!! You're  a poster girl for my pet peeve. But a Bus…From the airport?
Well, gotta say it's great that we can get the inside scoop on airport transportation of all sorts wouldn't you say?
Thank you Tessa and Debbie. You both made my day!!!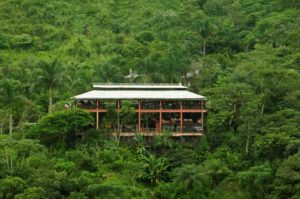 Now on a more serious note, the Vallarta Botanical Garden needs your help. It seems that Trip Advisor has removed the Garden from their Puerto Vallarta page and moved it to the Cabo Corrientes Page. This is no Bueno for The Gardens. Bob asked me to share this note with you…
Hola! For some unknown and very unfair reason, Trip Advisor has recently taken our Vallarta Jardin Botanico off their listing of attractions for Puerto Vallarta. The gardens have been open for 10 years now, and the management and staff have put a tremendous amount of work into making the gardens exceptionally beautiful, and making progress in protecting the natural beauty and heritage of this part of Mexico.
One reward of all this endless hard work has been gardens Trip Advisor listing as the third best experience to have while visiting PV. As we all know, the gardens are a wonderful place to spend an afternoon and the restaurant always offers wonderful meals… losing their place on the Puerto Vallarta top ten listing is going to be enormously detrimental to the garden's admissions and bottom line.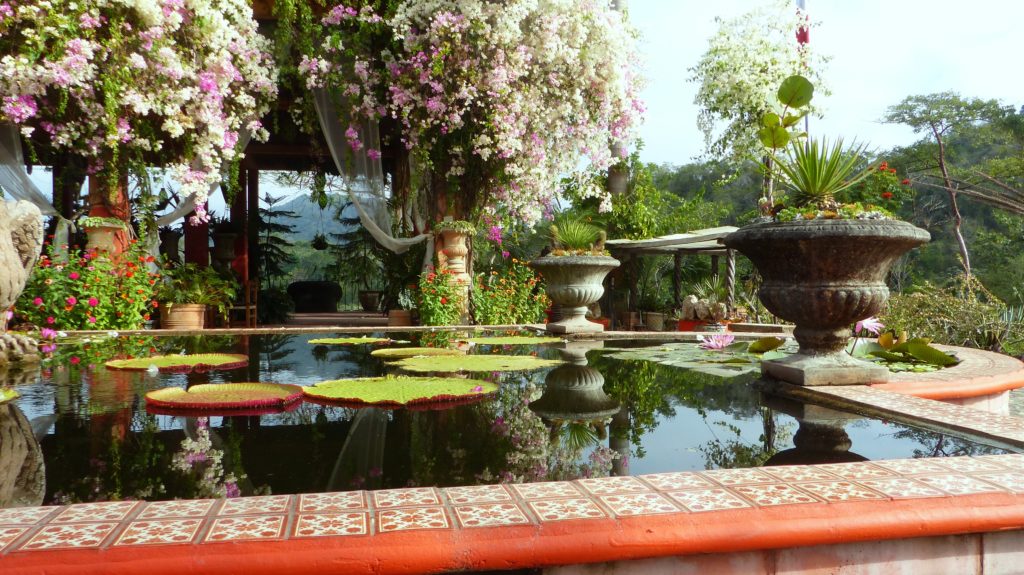 Trip Advisor made the decision to change the Vallarta Jardin Botanico's location to Cabo's
Corrientes for some sudden, arbitrary reason that they cannot even justify when other local excursions are still listed as being located in Vallarta, even though they are farther away than the gardens.
Please add your name to the petition linked below to support the Vallarta Jardin Botánico's efforts to get their listing back as a well loved Puerto Vallarta attraction…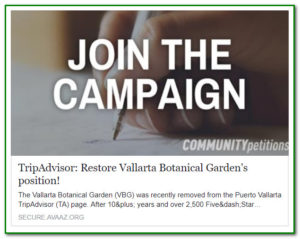 If you remember, back in February I interviewed Bob and we talked a little about Trip Advisor…Listen to the audio..
So I have a link to the petition in the show notes for this episode. If you haven't already done so, go there and sign it. It just takes less than a minute. Unless you type slow, then two minutes max. If you're drunk, I can't guarantee a time, just sober up and sign it already at puertovalartatravelshow.com.
Now, Sam, here's my picks for taco stands and local food in the Romantic Zone and Downtown Vallarta…
You need to go to the very north side of town, into the 5th of December neighborhood to get some great tacos. Pepe's Tacos, across the street from the Pemex Station is great for tacos al pastor. Very close to that, El Carboncito is the bomb! They make fantastic tacos al pastor, everything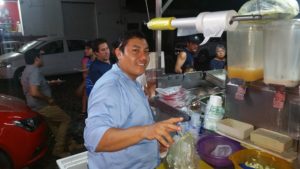 but they have a baked potato that you can have stuffed with meat and veggies. So good. Both of these establishments open at 5 and stay open till the wee hours of the morning. Also, in that same neighborhood, check out Lolitas for great home cooking. Also as you make your way south along the Malecon, on Libertad there is Una Familia, and they are also on the Malecon across from the lighthouse. Great view, and great cooking. Don't forget Burros Bar on the beach! That's a must Sam.
For wonderful comida Corrida, Dianitas, Adobes, and Cenaduria Celia, in the south side of Vallarta, in the Emiliano Zapata Neighborhood.
The three taco stands right next to the big Pharmicia Guadalajara are great. Any of them will do fine for you.
Also Cisneros Seafood, and oh there are so many. That's all for now Sam.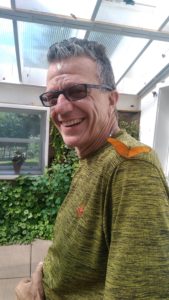 I'm gonna get a show with my favorite taco stands and restaurants together pretty soon. Hope that will keep you busy for now because we need to get to our guests, the kid and the girl. The PV Kid, Jeff Musto, and The Property Girl, Debbie Baker. No they don't work together you guys.
I had stumbled upon The PV Kid many times over the years as I searched for vacation digs in Vallarta, but never met him till my last visit, when I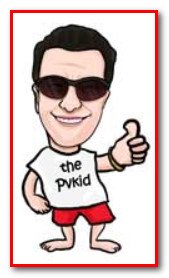 happened to rent an Airbnb from him. I was really glad he agreed to sit down with me for an interview.
Back in May, I did a meet and greet with listeners and my microphones at Kelly's Pour Favor Saloon and Cookhouse, and the interview I did with Jeff Musto, The PV Kid, was one of three interviews that I could keep, because, it was a drunken bunch. Welcome to PV guys.
Anyway, let's get right to the conversation I had with Jeff Musto, The PV Kid. Love Jeff, and love that dog.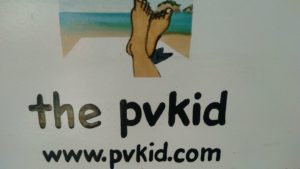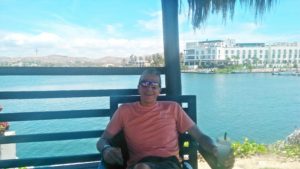 Now my next guest is also in the property rental and management business. You can pick out her place of business easily because she has a cute pink VW parked in front of her office, along with a large pink pump, A high Heel Shoe.
Debbie Baker is Known as The Property Girl, and you are going to meet her right now.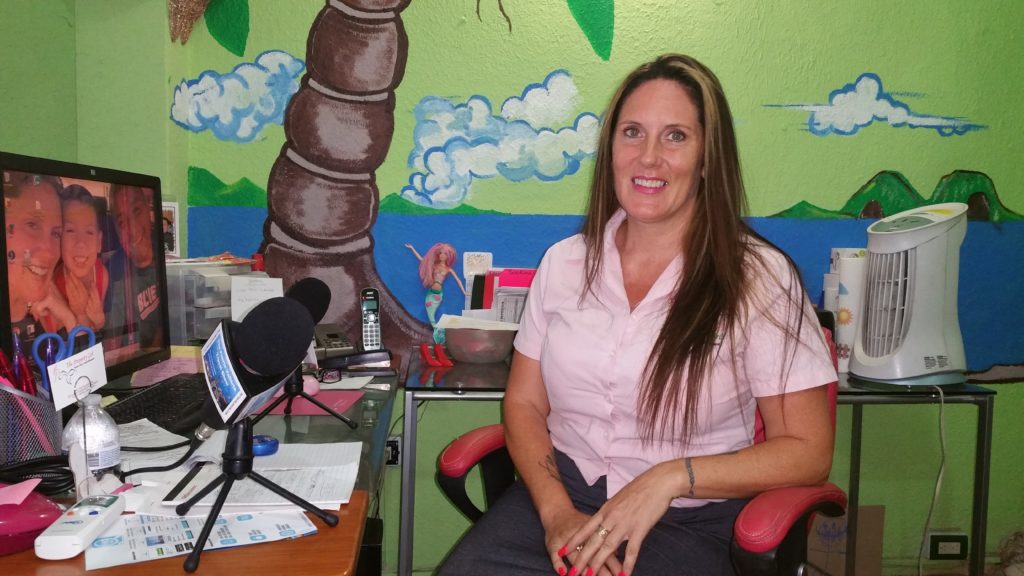 Listen To The Podcast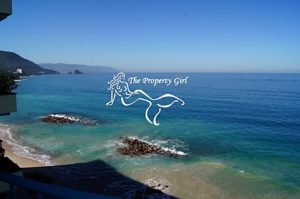 Well, that should do it for this episode of the Puerto Vallarta Travel Show.
Next week stay tuned for more on the ground reports from Puerto Vallarta Mexico, with travel tips, great restaurant and excursion ideas and more.  Until then, remember, this is an interactive show where I depend on your questions and suggestions about all things Puerto Vallarta. If you think of something I should be talking about, please reach out to me by clicking on the Contact us tab and sending us your message.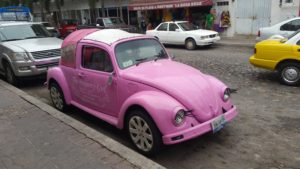 And remember, if you are considering booking any type of tour while you are in Puerto Vallarta, you must go to Vallartainfo.com, JR's website and reserve your tour through him, right from his website. Remember the value for value proposition. His experience and on the ground knowledge of everything Puerto Vallarta in exchange for your making a purchase of a tour that you would do anyway, you're just doing it through him as a way of saying thank you. It costs no more than if you were to use someone else so do it. Really. And when you do take one of these tours, email me about your experiences. Maybe you can come on-board and share with others what you liked or didn't like about the tour. Again, contact me by clicking on the Contact us tab and sending off a message.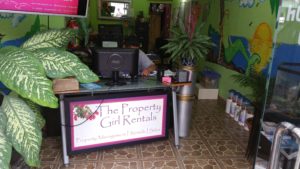 And once again, if you like this podcast, please take the time and subscribe and give me a good review on iTunes if you would. That way we can get the word out to more and more people about the magic of this place. Puerto Vallarta, Mexico. Remember I made it easy for you to do just that with each episode I create. But if you haven't been to my website, you really need to have a look there.  I have the links to the places we talk about, interesting pictures and the more all right there in my blog-posts and show-notes for each episode of the show so check them out for sure if you haven't already all-right? All right.
the pvkid: Helping Other People Live the Dream in Puerto Vallarta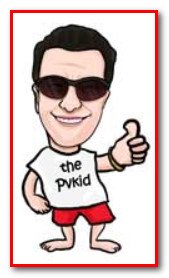 CALL US TODAY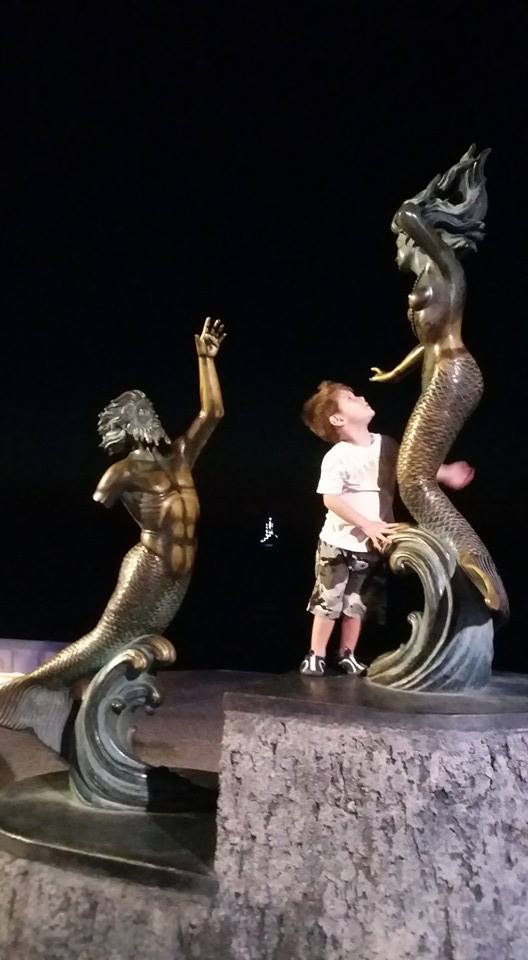 So, thanks to Jeff Musto, The PV Kid, and to you Debbie Baker, The Property Girl, I have all their contact information, photos and links to their websites where you will find some hot properties to rent or lease out for your stay, long term or short term, here in paradise. Puerto Vallarta.
You'll find all that info and more in the show notes of this episode, at www.puertovallartatravelshow.com.  And thanks to all of you for listening all the way through this episode of the Puerto Vallarta Travel Show. This is Barry Kessler signing off with a wish for you all to slow down, be kind and live the Vallarta lifestyle. Nos Vemos amigos!