Incanto – Cabaret, Piano Bar & Cafe in Puerto Vallarta, Mexico.  An interview with Owner of Incanto,  Tracy Parks. Also, Puerto Vallarta is having a Craft Beer Festival Nov. 18th and 19th at the Cuale Island, and the First Tiles are up at Tile Park PV.
Listen to The Podcast
Hello fellow travelers, welcome this episode of the Puerto Vallarta Travel show. I am your host Barry Kessler and I am just so happy to be introducing you to my favorite vacation destination, and maybe even yours, Puerto Vallarta Mexico.
That music you were just listing to is performed by Alberto Perez, the owner of the La Palapa Group of Restaurants. Those are La Palapa,The El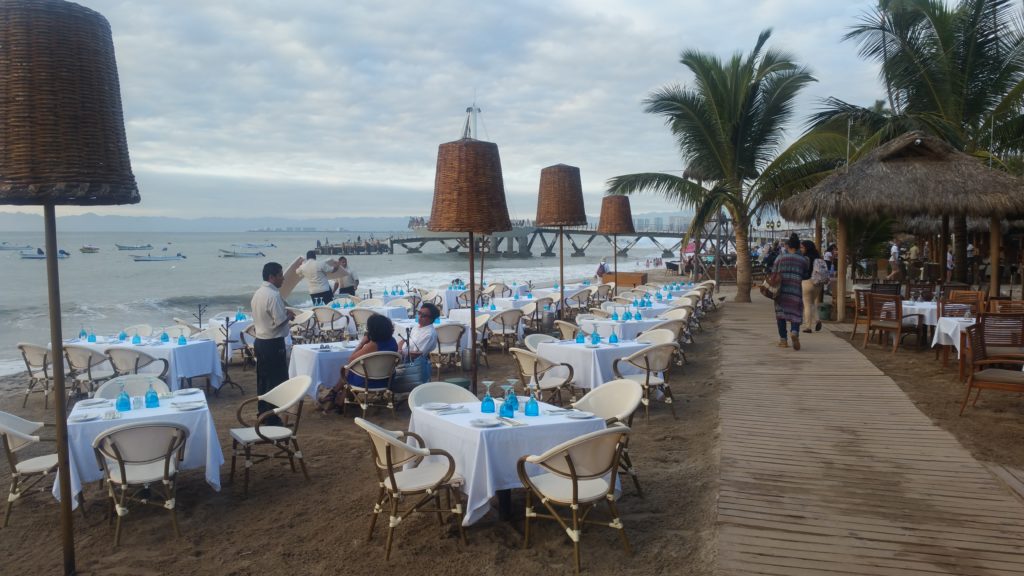 Dorado Restaurant, and at night for dinner The El Dorado transforms into the ever so romantic Vista Grill with those dramatic views of the Los Muertos Pier all lit up at night in beautiful colors. Of course, at La Palapa you can enjoy that same view of the Los Muertos Pier all day long for breakfast, lunch or dinner, seated with your toes in the sand right at the water's edge. It's so romantic, it's so Puerto Vallarta my friends!
This week I have a great interview with Tracy Parks, Tracy is the owner of Incanto, a wonderful Theater, Piano Bar and Restaurant Café that you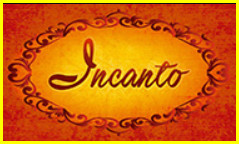 are just going to love, but first, let's get to what's happening in Puerto Vallarta this week, October 7 2017.
JR's Meet and Greet Time Change
JR's meet and greet changes time this time of year so as long as you are setting your clocks, make a note that the Meet and Greets at Kelly's Pour Favor Saloon and Cookhouse , begins at 5:30 instead of 6:30 in the afternoon. I plan to be at a couple of them the first two weeks in January so if you are going to be in town, I just might bring my microphones again and hear from you about what you love to do in Paradise. I'll be filling you in on that in the coming weeks.
Puerto Vallarta Craft Beer Festival
I got a text from my buddy Edgar Cisneros who wanted to tell me about an upcoming Craft Beer Festival he says…."I would like to let you know,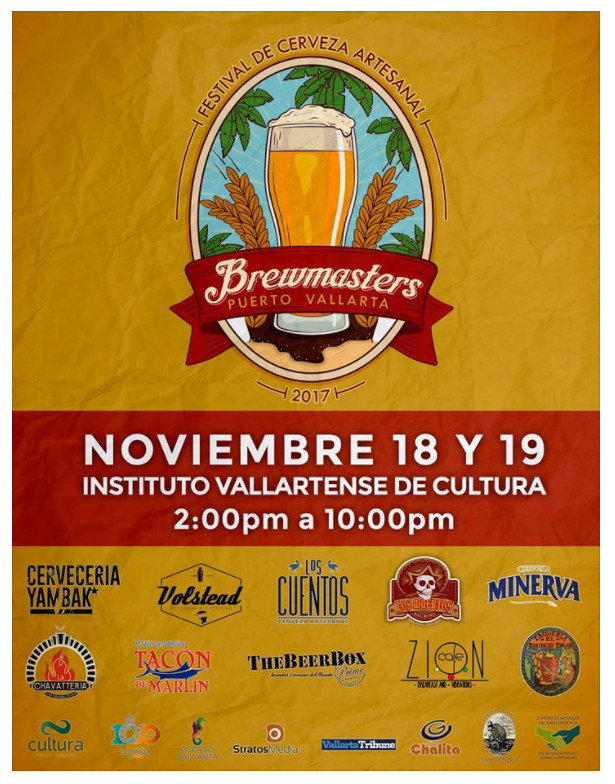 we´re doing another festival in PV and this time will be the @brew masters a craft beer festival for Nov. 18th and 19th at the Cuale Island.
Link to their Facebook page in the shownotes of this episode.
Brew Master Facebook Page https://www.facebook.com/brewmasterspv/
Last week's episode about Dia de Los Muertos seemed to hit a nerve with some of you. Funny how death and dying gets the attention of you guys.
I got an email from listener Dwight and I thought I would share it with you.
Wow, what a podcast!
I saw the description and was expecting info about the Dia de Los Muertos, which I got.  Then a completely unexpected turn to actually dying in Puerto Vallarta.  This was VERY informative and interesting and I had always wondered what happens if you die in paradise.  This was always in the back of my mind, ever since seeing the film "The Night of the Iguana".  At the end of the film, …Spoiler Alert Spoiler Alert….okay,,,,,ready? If you don't know the end turn down the volume or forward this 15 seconds okay? All right stand by 3, 2, 1.   ever since seeing the film "The Night of the Iguana".  At the end of the film the old grandfather recites his poem and promptly dies right there in Mismaloya overlooking the waves.  I thought "I wouldn't mind dying that way, in a beautiful place with family at your side". In the film, the locals said they would take care of burying the body.  But your podcast made it clear all the legal ramifications that one needs to be aware of.  Excellent episode!
The line of the year:  "For $1,050 dollars US you can make an ash of yourself in Puerto Vallarta".  I laughed out loud today on the 405!
Take care,
-Dwight
Now Dwight is a cool dude. He lives not too far from me in LA, and we have got to get together for some Mexican food here in town soon. But he is going to Lake Chapala and Vallarta in the next week or two, so I'm going to have dinner with him and pick his brain and maybe even get him to talk about his experiences in paradise and hopefully even a little bit about his take on Lake Chapala.
Also I got an email from my buddy Skip from Minnisocold he writes, amoung other things….…- a great job on Dia de Los Muertos. For $1000-1500 USD I told my wife that if I should die in Mexico, I am staying there. The $10K USD savings can buy our son and daughter a lot of airline tickets to visit dad's grave."
So Dwight, Skip, Thanks for the notes. I really enjoyed doing that episode and if you didn't catch it, check it out. Find out what happens when people die in paradise.
Listener Skip also sent me a long list of questions and they are really good questions, so I will take some time Skip, and answer them on the air next week because I am pretty sure my listeners have similar questions, so next week, I have some questions and answers coming to you.
Piano Bar Serves as a Happy Hour Area before and after the show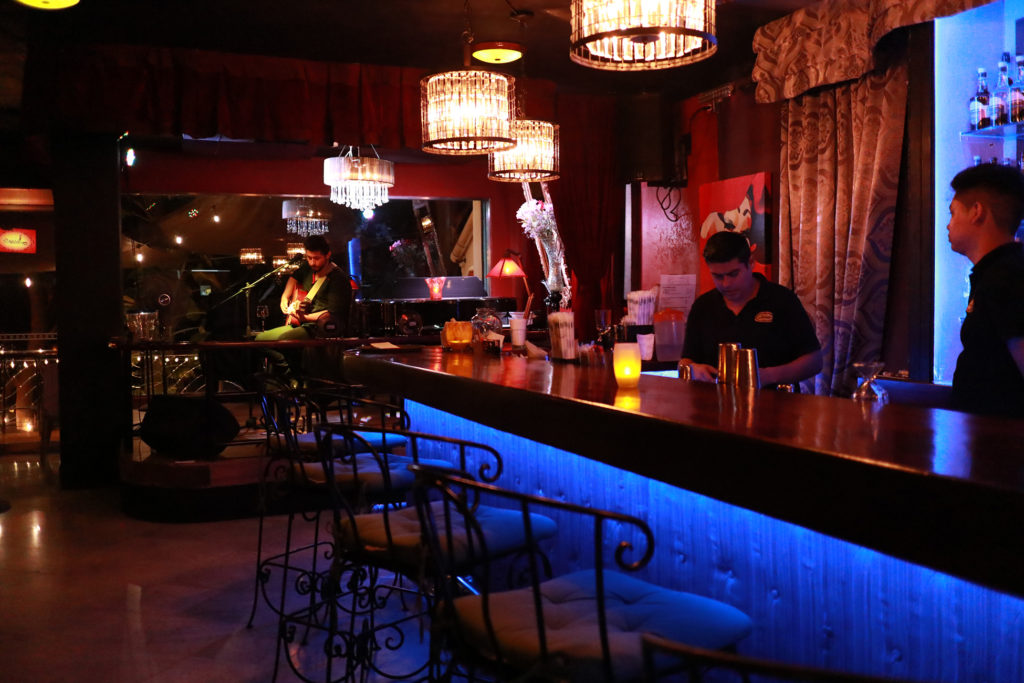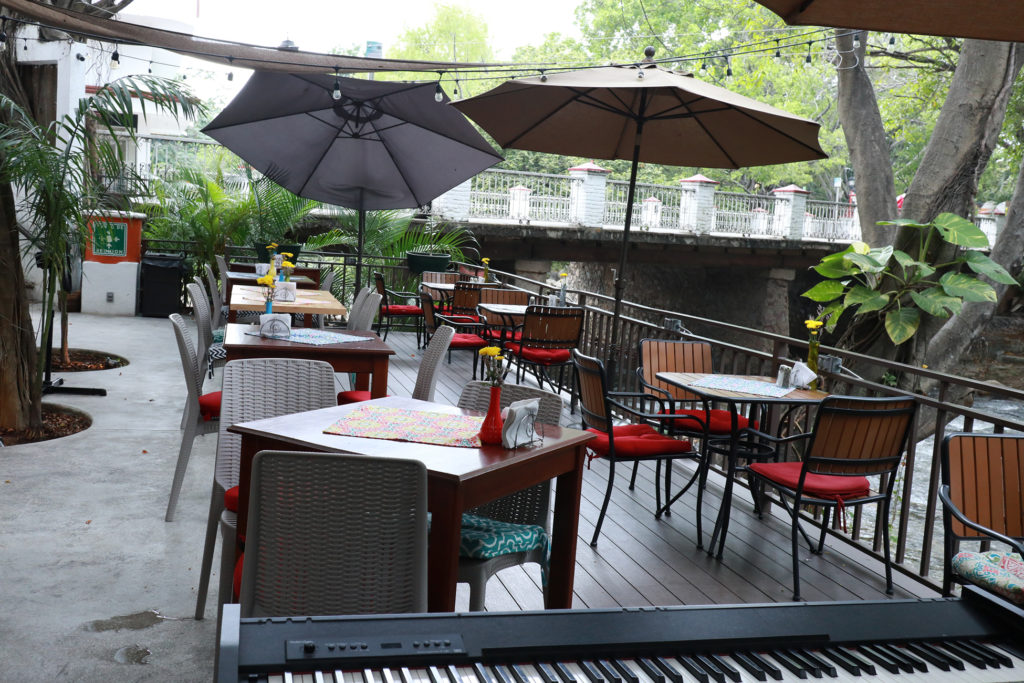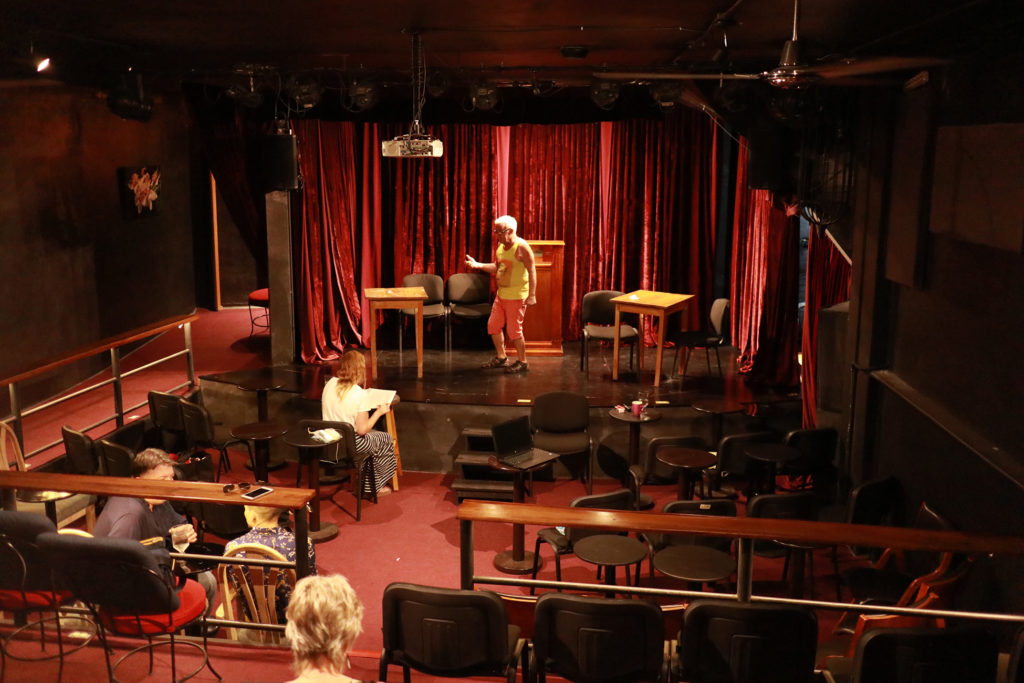 The First Tiles Are Set in Tile Park PV
Natasha Moraga has laid her first tiles in Lazaro Cardenas Park, so the project is under way, but she needs your support so Just reminding you that Christmas and the holidays are on the way and  there are still tiles available for you to purchase so go to www.tileparkpv.com, or go to my shownotes for this episode and you will find the links there. Remember to leave your mark, in Lazaro Cardenas Park, in Puerto Vallarta, Mexico.
Okay, there is so much going on in Puerto Vallarta right now as high season is kicking into gear, and I could make this a 2 hour episode if I wanted to, but hey, a Real Estate agent that you know….me ..needs to work and sell a couple of properties so I can afford to hop on a plane and bring to you, all the cool things happening in Paradise right? So, with that in mind, let's get to our guest.
Incanto – Cabaret, Piano Bar & Cafe in Puerto Vallarta, Mexico
Last October, I saw this long abandoned building along the Rio Cuale, just down the way from the watchmaker on the Bridge Mario Rosette, you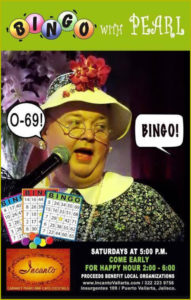 remember Mario. I spoke with him on the show about Mi Café Restaurant? Well just down the street from Mario's office and just up the street from the Belmar Hotel, was this large white building, long empty and waiting for a tenant and low and behold they were working on it, and the when I got back in January of this year, it looked like It was getting ready to open. I spoke briefly about it with Gary Beck in January when we were talking about the restaurants of Puerto Vallarta, and then once again in May, when we talked all about the theaters and entertainment here in this wonderful town.
The name of the place is Incanto. Incanto Cabaret, Piano Bar & Café. And it's all of those things and more, and I'm really excited to introduce this place to you, and the creator of this lovely, creative space, Tracy Parks. Let's go right now to Puerto Vallarta, Mexico, to Incanto Cabaret, Piano Bar & Café….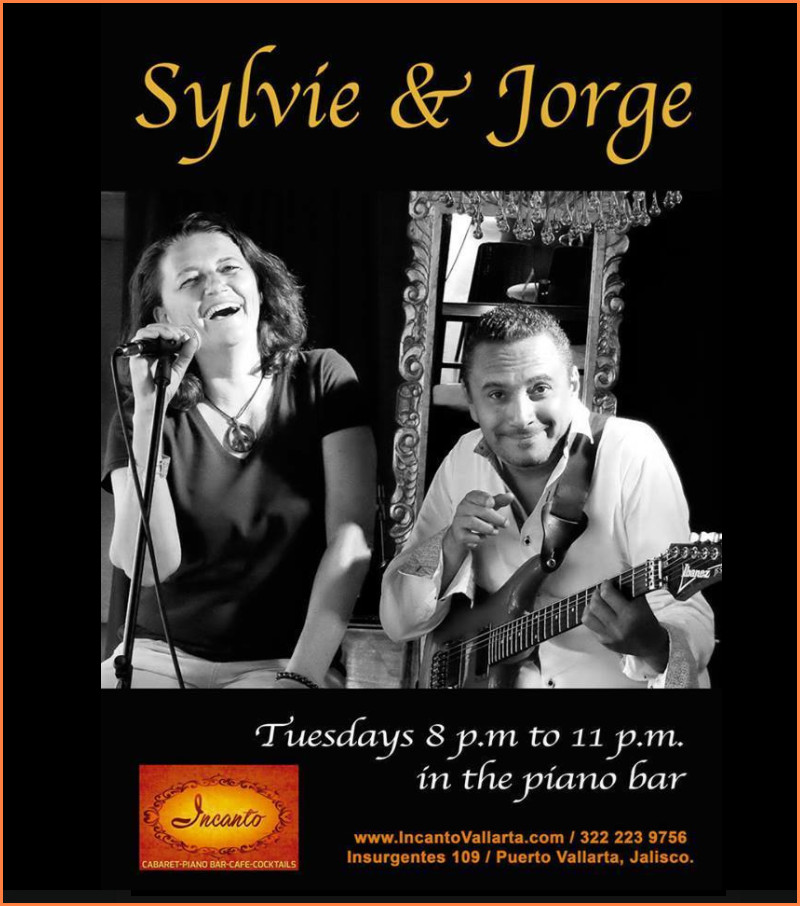 Listen to The Podcast
Acts to Come This Year
Gabriel Reyes
Comedian Sean Palasky
Théâtre Performances
Natalie Douglass Cabaret Mark Hartman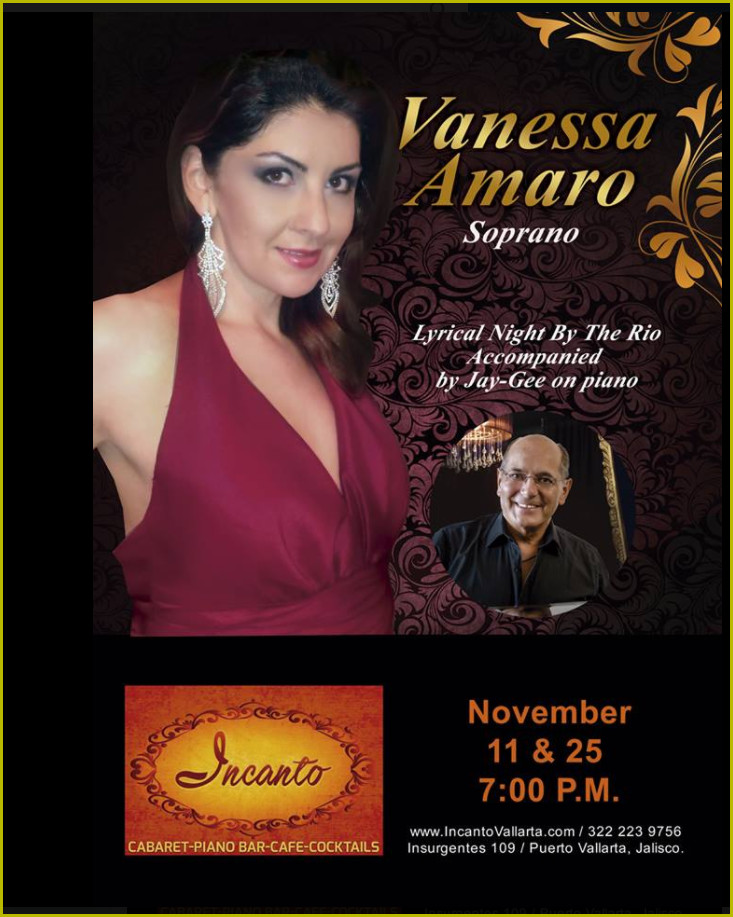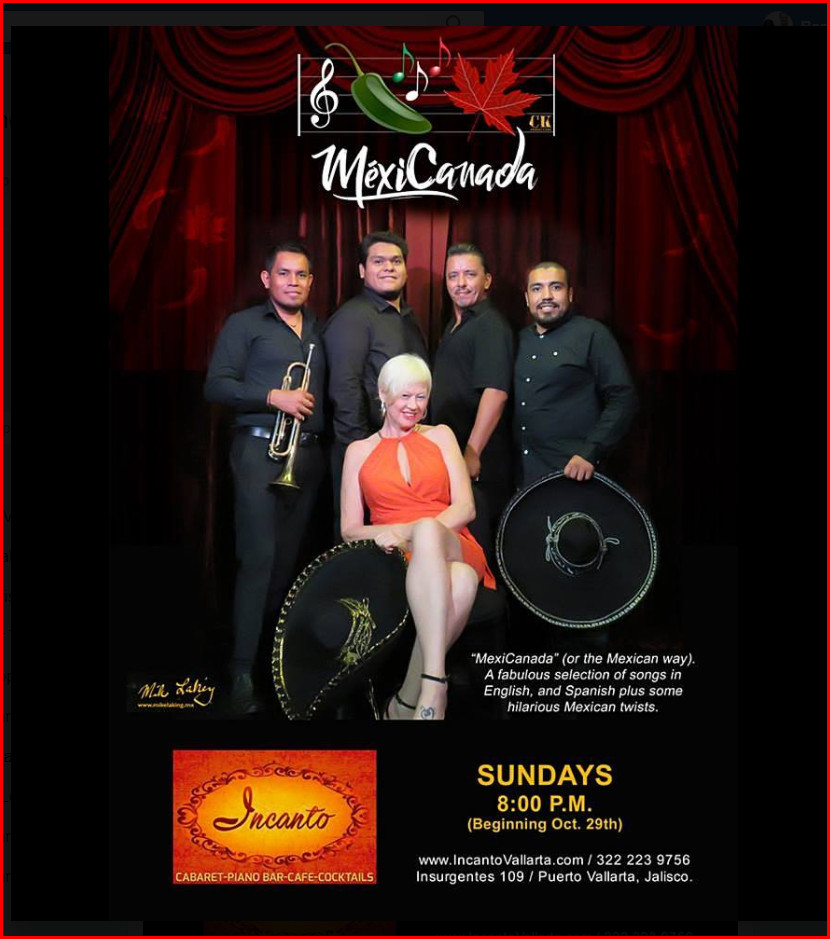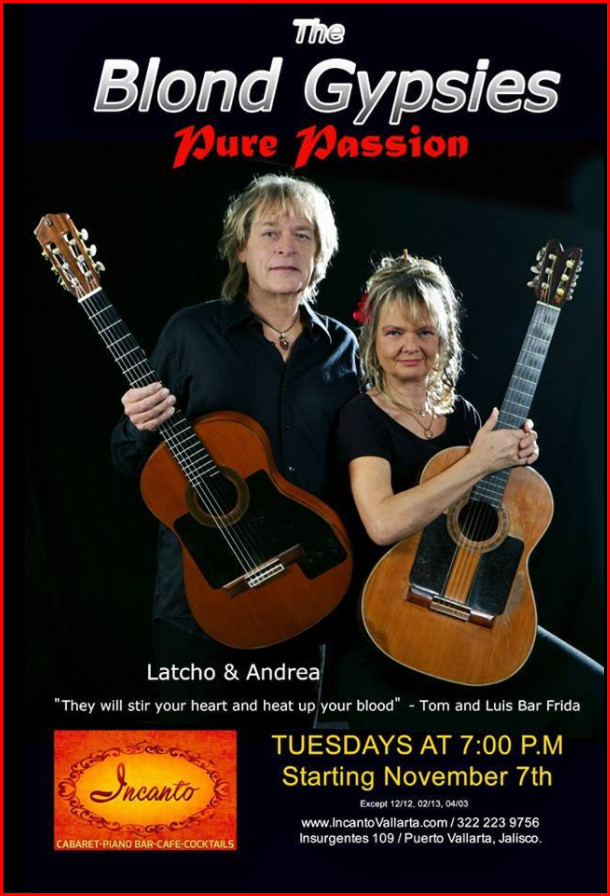 Sinnerman "Nina 2: More Songs of Nina Simone"

Seven-time MAC award winner Natalie Douglas sings with her Musical Director Mark Hartman & her band of Broadway All-Stars.On September 12, 2011 Natalie, Mark and her band brought her new show, "Nina 2: More Songs of Nina Simone" to the Birdland stage in front of a packed house.This clip is of Natalie, Mark and the rest of the band performing the traditional tune "Sinnerman" arranged by Dr. Nina Simone. Mark Hartman on piano, Saadi Zain on bass, Sean Harkness on guitar, Joe Choroszewski on drums & Brian Nash on keyboard.For more info on Natalie Douglas, visit her website: http://www.nataliedouglas.com

Posted by Natalie Douglas on Thursday, December 1, 2011
What Do You Like Best about Incanto?
Loves to hear positive responses. Likes to know that he has built a great space for people to enjoy paradise.
Favorite Get-a-Way
Favorite Restaurants
Advice to A First Time Visitor
Stop Worrying and don't Plan Everything
Take your time day by day
Vallarta Botanical Garden
Go to the beach and do nothing
Slow Down Get with the rhythm
Walk around and see how everything works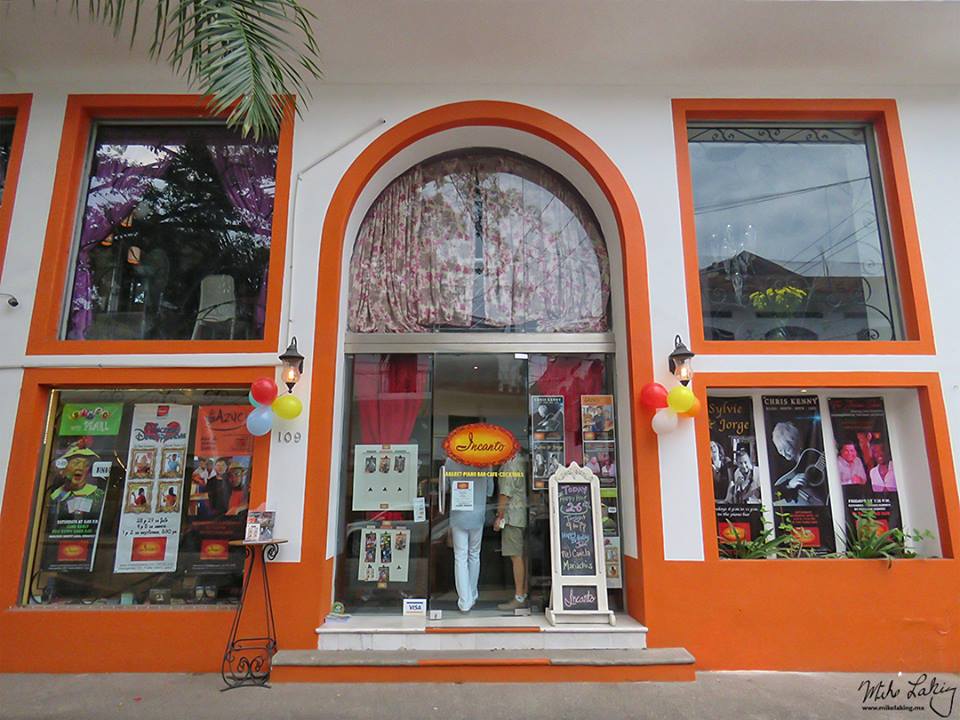 Located on The South Side of The Old Bridge on The Southside of Puerto Vallarta, Mexico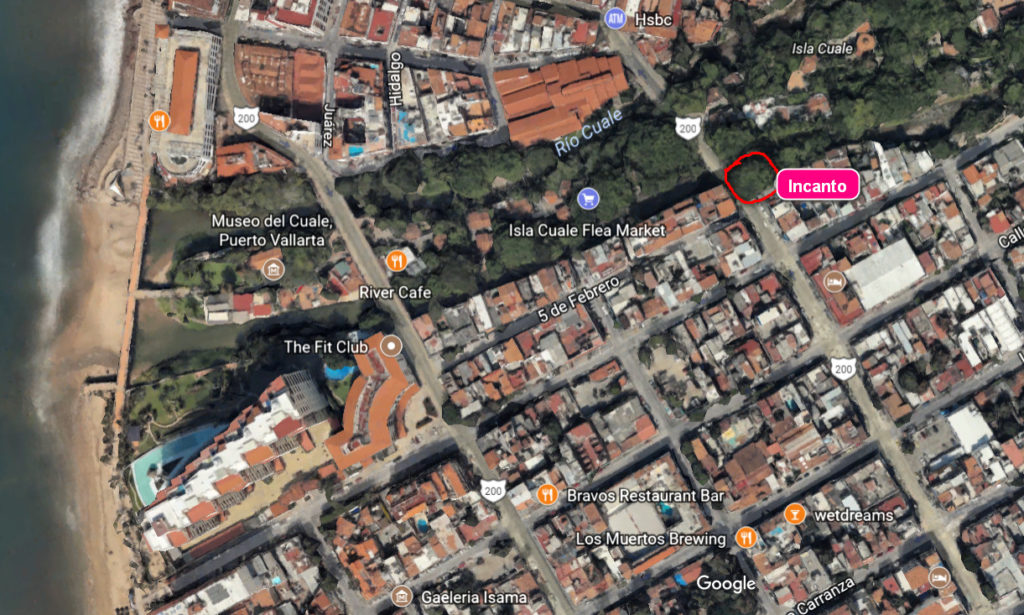 Buy Tickets online and in Advance
Hours: 9 AM-11:30 PM Daily
Phone: 322 223 9756  Email: pvmingo@gmail.com
109 Insurgentes, Old Town Puerto Vallarta, 322 223 9756
Facebook Page Incanto Puerto Vallarta
Wow, wow, wow, Tracy is a real pro and he has built an oasis right beside the Rio Cuale. You can sit there dining on a delectable breakfast while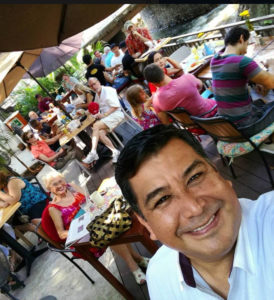 my buddy Salvatore Rodriguez, you remember Salvatore, the Liberace of Mexico, Salvatore may be there tinkling away at the ivories. So romantic, so Puerto Vallarta my friends. Really.
You know, I was getting ready to put together this podcast and the blogpost, and I realized, after looking through all the pictures I took on three different cameras, that my pictures for Incanto had disappeared. They were just gone. I know someday they will turn up, but I was so fortunate to have my buddy and listener Bob McCuaig, from Kamloops Canada in town, and I was watching his antics eating and drinking with JR, and Ray, and he was hanging out at Café Roma, and Bar La Playa, and giving tours of his economy digs at the Hotel Encino Downtown. He outcheaped me and Cheap Debbie, $34 US per night for a big room, right in the middle of town with a pool. Very economical Bob. A man after my own heart.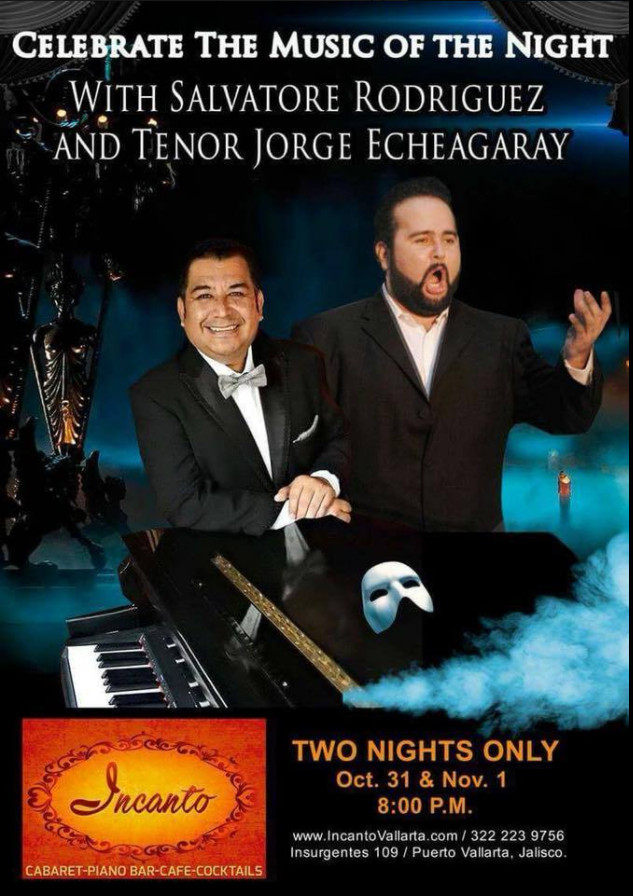 Thank you Bob for taking those pics of Incanto for me. You can see those pics when you go to the blogpost for this episode of the podcast at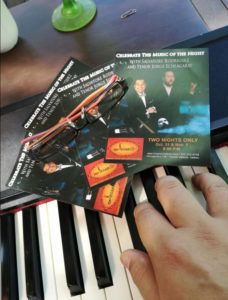 www.puertovallartatravelshow.com.
Well, that should do it for this episode of the Puerto Vallarta Travel Show.
Next week stay tuned for more on the ground reports from Puerto Vallarta Mexico, with travel tips, great restaurant and excursion ideas and more.  Until then, remember, this is an interactive show where I depend on your questions and suggestions about all things Puerto Vallarta. If you think of something I should be talking about, please reach out to me by clicking on the Contact us tab and sending us your message.
And remember, if you are considering booking any type of tour while you are in Puerto Vallarta, you must go to Vallartainfo.com, JR's website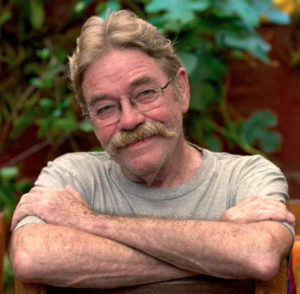 and reserve your tour through him, right from his website. Remember the value for value proposition. His experience and on the ground knowledge of everything Puerto Vallarta in exchange for your making a purchase of a tour that you would do anyway, you're just doing it through him as a way of saying thank you. It costs no more than if you were to use someone else so do it. Really. And when you do take one of these tours, email me about your experiences. Maybe you can come on-board and share with others what you liked or didn't like about the tour. Again, contact me by clicking on the Contact us tab and sending off a message.
And once again, if you like this podcast, please take the time and subscribe and give me a good review on iTunes if you would. That way we can get the word out to more and more people about the magic of this place. Puerto Vallarta, Mexico. Remember I made it easy for you to do just that with each episode I create. But if you haven't been to my website, you really need to have a look there.  I have the links to the places we talk about, interesting pictures and the more all right there in my blog-posts and show-notes for each episode of the show so check them out for sure if you haven't already all-right? All right.
So, thanks to Tracy Parks of Incanto in Puerto Vallarta, Mexico, you can get all of the links to everything we talked about as well as photos of Incanto, The Piano Bar and the patio and the theater. Thank you Bob McCuaig from Kamloops, British Colombia. You are the man for stepping in and getting the pictures that I managed to lose but you, you sir were there to save the day. So check out the pictures of Incanto taken my buddy Bob. I have a link to Bob's work and Photography studio in the shownotes of this episode of the Puerto Vallarta Travel Show so thanks again Bob. They are in the show notes of  this episode of the show at puertovallartatravelshow.com
So thanks to all of you for listening all the way through this episode of the Puerto Vallarta Travel Show. This is Barry Kessler signing off with a wish for you all to slow down, be kind and live the Vallarta lifestyle. Nos Vemos amigos!