Jose, The Muffin Man on The Malecon in Puerto Vallarta tells us about his job. Then an interview with Jose Luis Castellon Ramos, Known as The Most Honest Bandito on The Beach. He sells tours and has a great story. Also an interview with listener Ray D'Ascenzi from Chicago.
Listen To The Podcast
Hello fellow travelers, welcome this episode of the Puerto Vallarta Travel show. I am your host Barry Kessler and I am just so happy to be introducing you to my favorite vacation destination, and maybe even yours, Puerto Vallarta Mexico. That music you were just listening to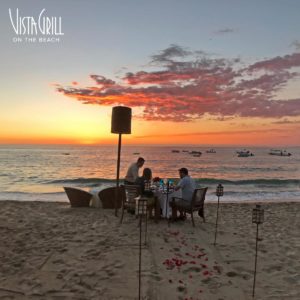 is performed by Alberto Perez, the owner of the La Palapa Group of Restaurants. Those are La Palapa, The El Dorado Restaurant, and at night for dinner The El Dorado transforms into the ever so romantic Vista Grill with those dramatic views of the Los Muertos Pier all lit up at night in beautiful colors. Of course, at La Palapa you can enjoy that same view of the Los Muertos Pier all day long for breakfast, lunch or dinner, seated with your toes in the sand right at the water's edge. It's so romantic, it's so Puerto Vallarta my friends!
This week, I have three people to share with you. Two interviews from the beach in front of Cuates y Cuetes, and one guy who works along the beach that I want you to meet, if you haven't met him already, but first, let's talk a little about my visit to paradise.
The Airbnb I chose is the same one I used last January. It's in the El Cero neighborhood, just above Hacienda San Angel, Richard Burton's old
Video of Airbnb $36.00 US per night
digs, and around the block from Casa Kimberly, Elizabeth Taylor's Villa. From here, I can drop into a number of different neighborhoods which is why I like it. It's pretty quiet, but here's the thing, it's on a really steep hill so I don't recommend it to those with mobility issues. I'll have pictures and I'll make a video too so look for it in the show notes, but if not yet, soon. Hey, I just got back from Mexico. So much to do at home.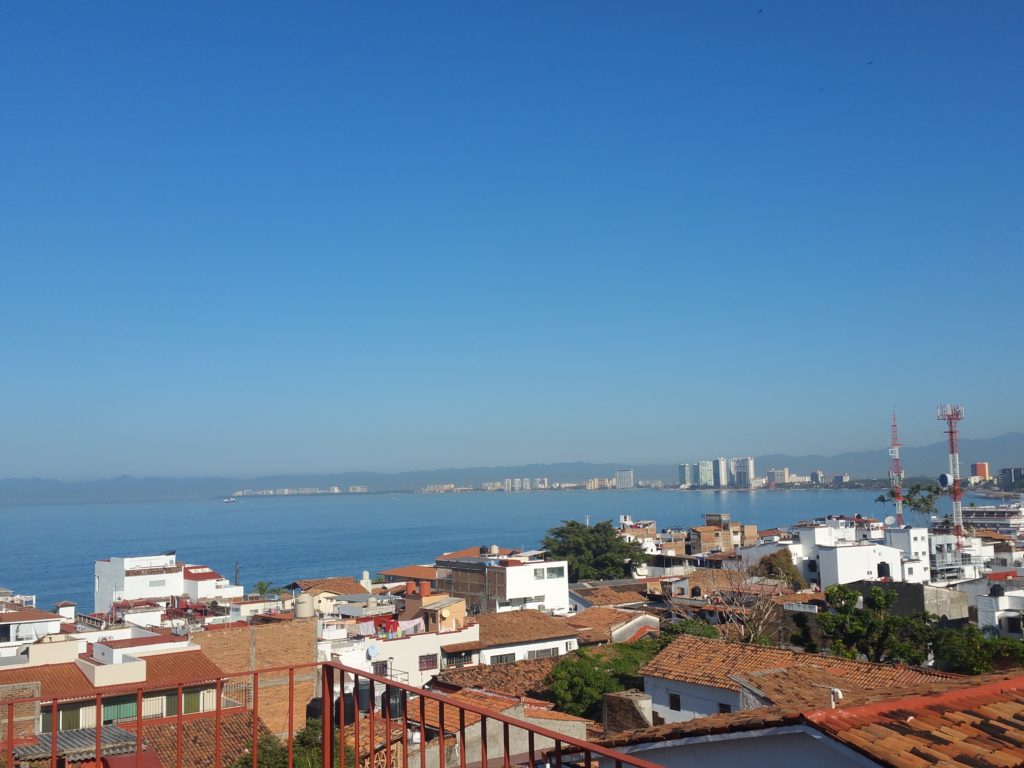 Then, I moved to another Airbnb for the last three days of the trip, and I liked it too so I'll see what I can dig up to share it with you too. It was just down the street from the other, totally different type of place, so I will get them into the show notes too.
Parque de Los Azulejos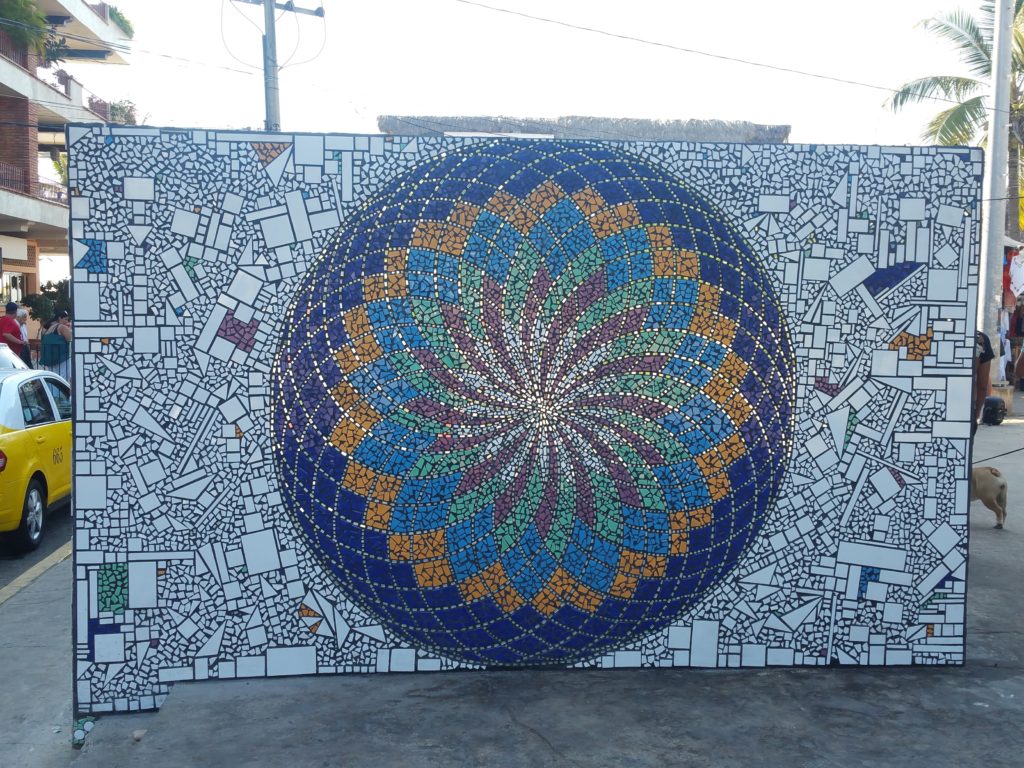 I also stopped by Lazaro Cardenas Park to check out the progress on Tile Park PV, Parque de Los Azulejos,and it is looking so cool! I purchased a tile, and if you haven't, do it! Also you can participate in workshops, you can make a donation, you can buy a bench. Do it. Be part of Puerto Vallarta History. There's a table set up every day in the park, and Nancy Page will be happy to help you out. Check out the progress in the pictures in the show notes for this episode and make your mark in Lazaro Cardenas Park!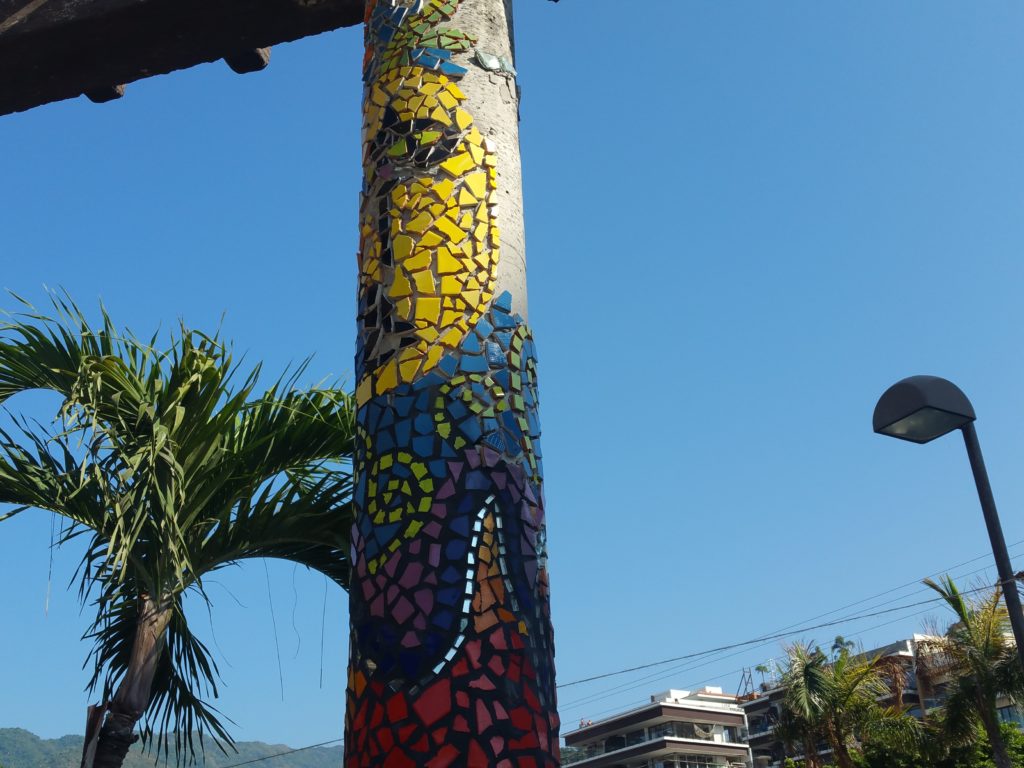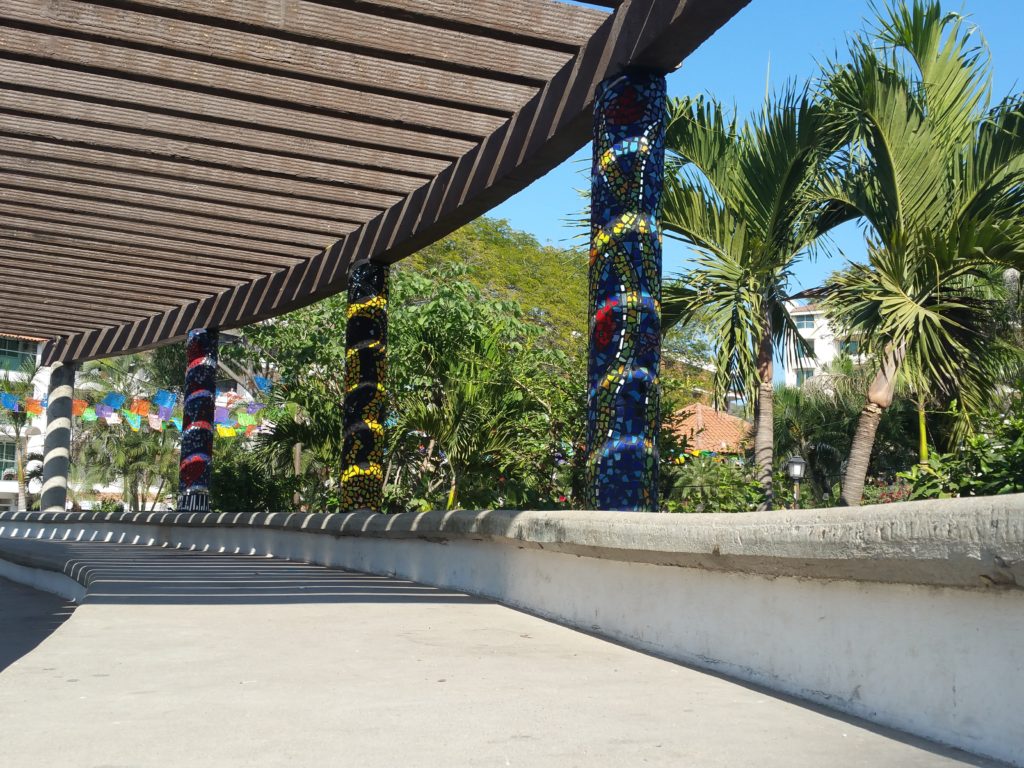 Okay let's get to the news of the last week or two and see what's happening in Puerto Vallarta Mexico in January, 2018.
Three Kings Day in Puerto Vallarta
January 6th was Three Kings Day in Mexico, or in Spanish, Día de Reyes.
What the heck is Día de Reyes?
It celebrates the visit of the Magi, the three kings to Jesus in the manger, after following the light of a star to the Christ child, and they showered him with gifts. The first recorded Baby Shower in History you know that? Me neither, I just made it up. Just couldn't help myself, sorry.
According to the Wikipedia Page, some of the popular customs include ….include singing, chalking the door, having one's house blessed, consuming Three Kings Cake, a cake with a plastic baby Jesus baked inside or placed on the bottom somehow. And if you happen to be the one who gets it in your cake, you will have certain privileges and obligations. Like to see the dentist for that cracked tooth. But I digress oh yeah, where was ,I okay other customs include Winter swimming, Burrr as well as attending church services. It is customary for Christians in many localities to remove their Christmas decorations on Three Kings Eve (Twelfth Night) although those in other Christian countries historically remove them on Candlemas, the conclusion of the Christmas Season. According to the first tradition, those who fail to remember to remove their Christmas decorations on Three Kings Eve must leave them untouched until Candlemas, which falls on February 2nd which is the second opportunity to remove them; failure to observe this custom is considered inauspicious.
You know, somebody's got to talk to my neighbor I'll tell you. He's positively inauspicious.
Okay just a couple quick announcements..
JR asked me to remind you that it's high season in Puerto Vallarta, and if you are looking to book a tour, through him of course, please try to book a couple of days early. Especially on the really popular ones like Rhythms of the Night. In fact, when you read the descriptions of the tours, he writes plainly if they book up fast, if they are popular, you know? So, book early, and book often with JR. He really appreciates your business and I have links to his website all over my website, or just why don't you go to Vallartainfo.com. and check out all his pages. He has many great things including Maps that you should be printing out, he has the Happy Hour Board, he has the local bands entertainment schedule so much more, so just check it out, and book early, not last minute.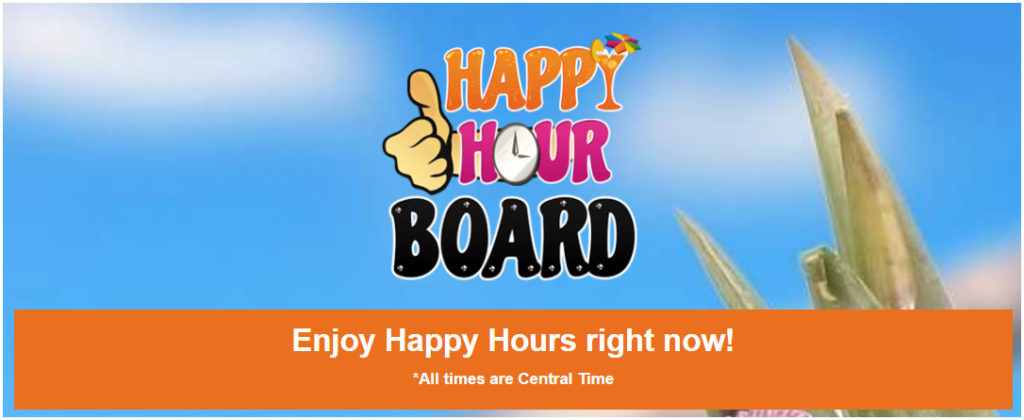 I've been doing lots of interviews and I'm pretty sure you are going to like this coming season. I did a day trip to El Tuito and Mayto and Tehuamixtle that I may have to break up into two episodes cuz I met this cab driver, Javier from Mayto who has a great story. You will hear from him, and you will learn all about El Tuito and Mayto and Tehuamixtle from my interviewees in the Town of El Tuito where they are having celebrations right now.
I have some letters and emails from you guys that I would like to share with you too, but I'm going to need to put that off for later too. There's just not enough time to get it all in today because I want to get to the three interviews.
The First interview you will hear is from a guy who has been selling his delicious pastries on the Malecon and on the beach for over 20 years. He is adored by many. His name is Jose, and he is known as The Muffin Man.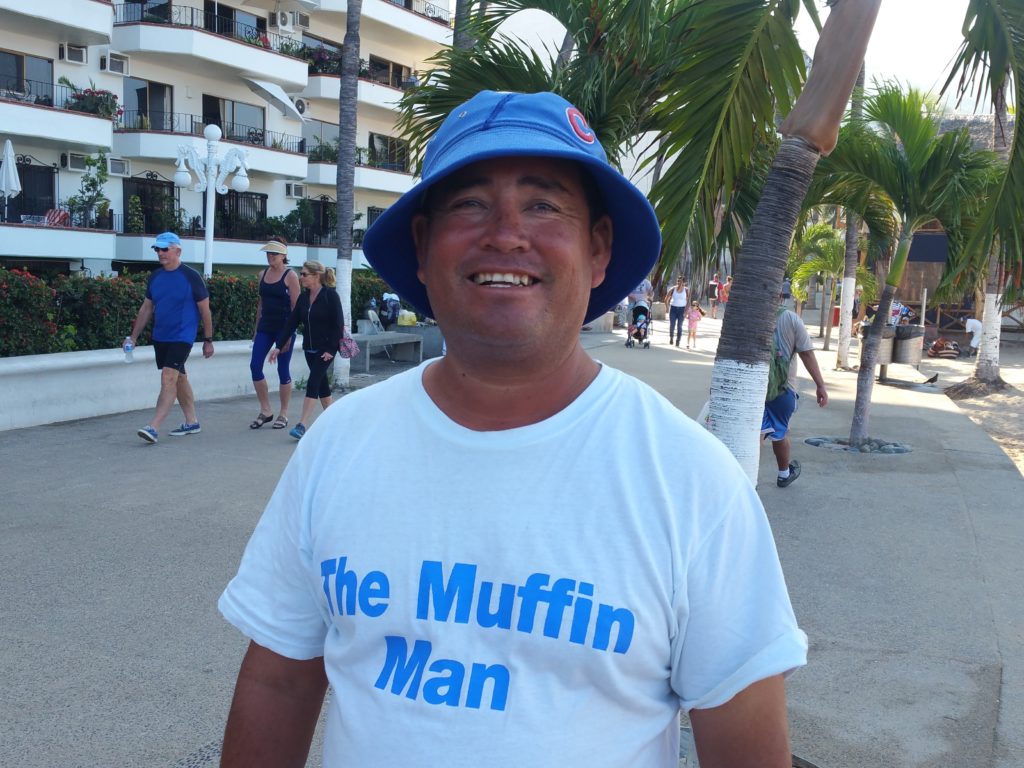 Jose always has a broad smile on his face and recognizes his clients who come visit him every year! He makes muffins of Banana, coconut, pineapple, Pina colada .Apple turnovers, strawberry cream pastries too. His brownies to die for. He makes these puff pastry gems, sandwiches with ham and cheese and jalapeno, Poblano chilis! So many to choose from!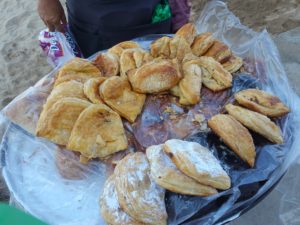 Let's talk to this man right now, Jose, the muffin man!
Listen to the Podcast
You can find Jose in front of the Sea Monkey, right in front of the Vista Del Sol Condos. I have a map and like he said, he starts there and camps out from 8:30 to 10, then he walks the beach, all the way down to the end of Los Muertos, then back again. So, you have no excuse to miss him. I buy at least one more than I can eat, and always save it for later. Just sayin. Check out the pictures I have of Jose, the muffin man.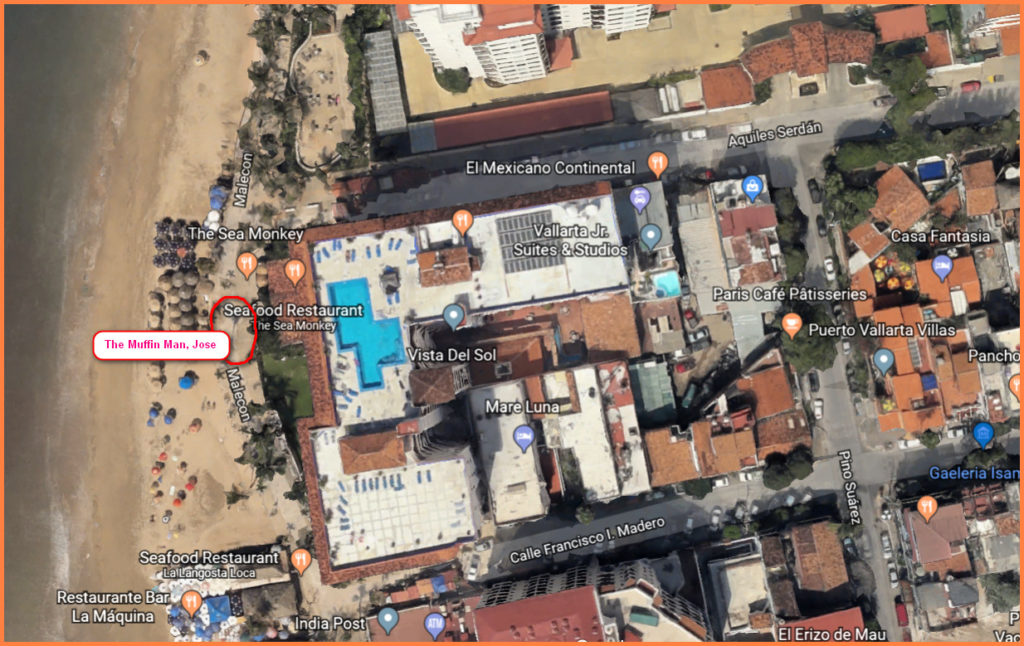 The second person you are going to hear from is a real character. His name is also Jose, Jose Luis Castellon Ramos and he is known as The Most Honest Bandito on the Beach…for now. Hey, that's how it reads on his business card, and this guy is a real card.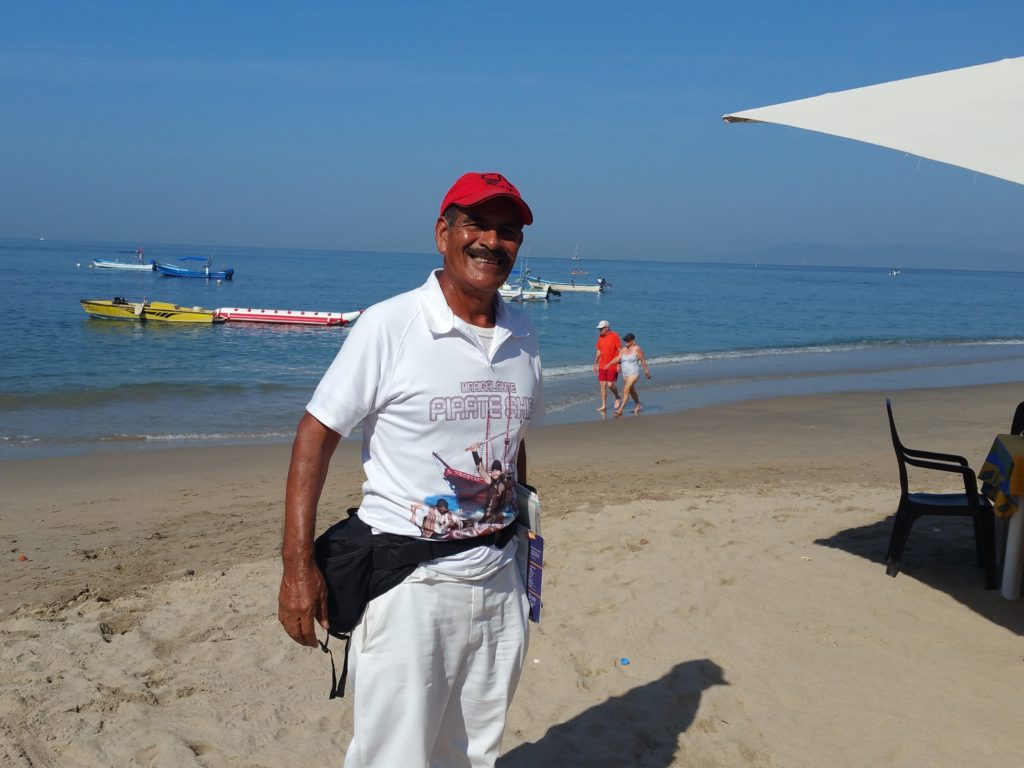 Jose was introduced by listener Cheryl who has a great story to tell too. But she brings up Jose and sits him down across the table from me and we had a conversation about what he does.
So let's go and hear from Jose Luis Castellon Ramos, The Honest Bandito …..
What did I tell you guys? A real character.
Jose's Information
Joseluicn@hotmail.com
Cell # 044-322-140-3926
The next interview is from a listener, Ray —- and Ray came up with a big group who sat down at two tables next to us, and he sat down right in front of me, and he proceeded to tell me his Puerto Vallarta Story. And it's a real good one. Both of these guys have good advice and very good stories, so lets go back to Los Muertos Beach, next to the Los Muertos Pier, in front to Cuates y Cuetes, with our toes in the sand, and the Coronas flowing…..
Thank you, Ray,! Thanks for listening and coming out it the open microphone, it means the world to me. After the interview I had to get a picture of Ray, and all of his wife's family. He was the only gringo in the house. I have pictures of both Jose and Ray, and Jose's contact information if you are thinking about jumping out of a plane. Just make sure you have travelers insurance with the return of human remains writer attached. Just saying. Ha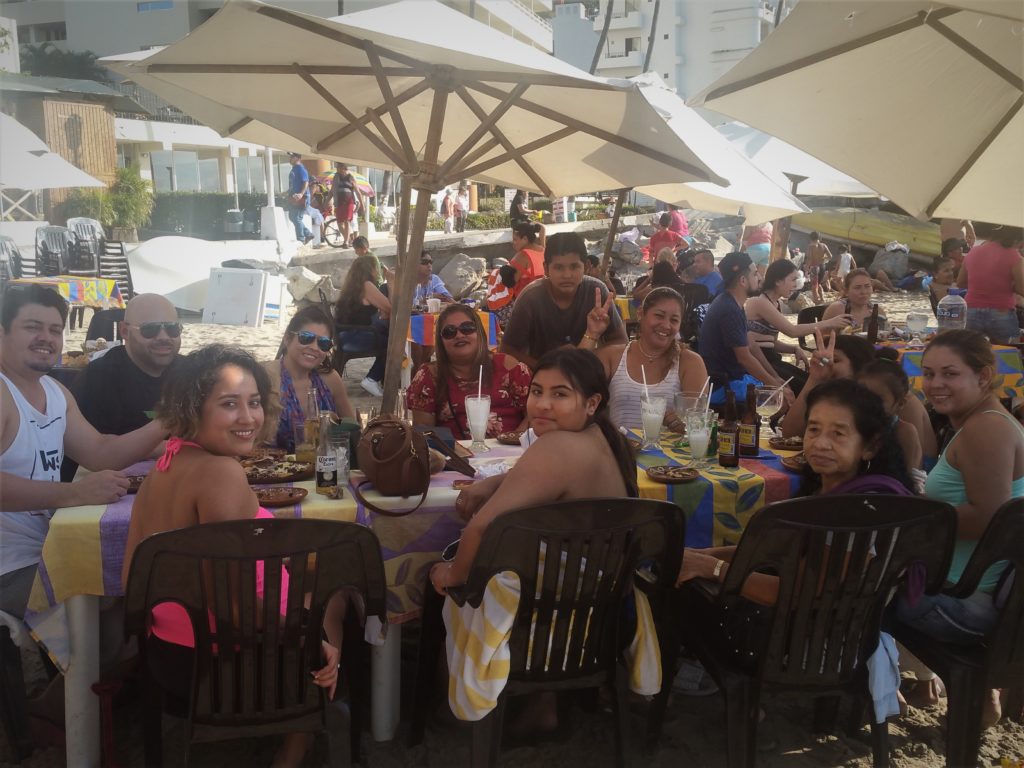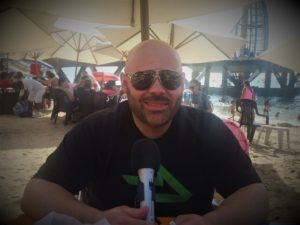 Well, that should do it for this episode of the Puerto Vallarta Travel Show. Next week stay tuned for more on the ground reports from Puerto Vallarta Mexico, with travel tips, great restaurant and excursion ideas and more.  Until then, remember, this is an interactive show where I depend on your questions and suggestions about all things Puerto Vallarta. If you think of something I should be talking about, please reach out to me by clicking on the Contact us tab and sending us your message.
And remember, if you are considering booking any type of tour while you are in Puerto Vallarta, you must go to Vallartainfo.com, JR's website and reserve your tour through him, right from his website. Remember the value for value proposition. His experience and on the ground knowledge of everything Puerto Vallarta in exchange for your making a purchase of a tour that you would do anyway, you're just doing it through him as a way of saying thank you. It costs no more than if you were to use someone else so do it. Really. And when you do take one of these tours, email me about your experiences. Maybe you can come on-board and share with others what you liked or didn't like about the tour. Again, contact me by clicking on the Contact us tab and sending off a message.
And once again, if you like this podcast, please take the time and subscribe and give me a good review on iTunes if you would. That way we can get the word out to more and more people about the magic of this place. Puerto Vallarta, Mexico. Remember I made it easy for you to do just that with each episode I create. But if you haven't been to my website, you really need to have a look there.  I have the links to the places we talk about, interesting pictures and the more all right there in my blog-posts and show-notes for each episode of the show so check them out for sure if you haven't already all-right? All right.
So, thanks to Jose, the Muffin Man, also to Jose Luis Ramos Castellon, and to you Ray, you have a great story man. I have pictures and links to Jose' information in the shownotes, as well as links to the places we talked about, in the show notes at, www.puertovallartatravelshow.com, and Thanks to all of you for listening all the way through this episode of the Puerto Vallarta Travel Show. This is Barry Kessler signing off with a wish for you all to slow down, be kind and live the Vallarta lifestyle. Nos Vemos amigos!