What you Need to Know About Buying Property in Puerto Vallarta, Mexico and Updates on Safety in Puerto Vallarta Mexico. How to Stay Safe and Not be a Statistic.
Listen to the Podcast Player Below!
Hello fellow travelers, welcome this episode of the Puerto Vallarta Travel show. I am your host Barry Kessler and I am just so happy to be to introducing you to my favorite vacation destination, and maybe even yours, Puerto Vallarta Mexico.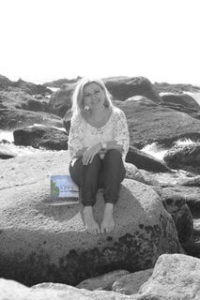 That music you were just listing to is performed by Alberto Perez, the owner of the La Palapa group of restaurants,  La Palapa and The Eldorado Restaurant on the Southside of town, right down on the beach in Puerto Vallarta and if you play your cards right you can catch Alberto Perez singing and playing the Somba de Puerto Vallarta just like I did the other night, while enjoying dinner under the stars, toes in the sand at the waters edge. So romantic, so Puerto Vallarta. I Just love Puerto Vallarta folks.
Today we are going to be talking about buying property in Puerto Vallarta, but first, let's see what is happening on the ground, This week in Puerto Vallarta Mexico, the week of March 20, 2017.
First an update on the Airport ATM machine situation. Remember, they are in the throes of airport renovation in Puerto Vallarta and the bank affiliated ATM machines located in the lobby of the airport where you buy your travel voucher for your taxi or van to your hotel or lodging, as of right now, not been reinstalled and put online yet, so you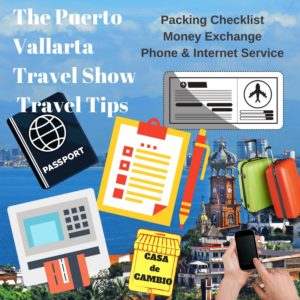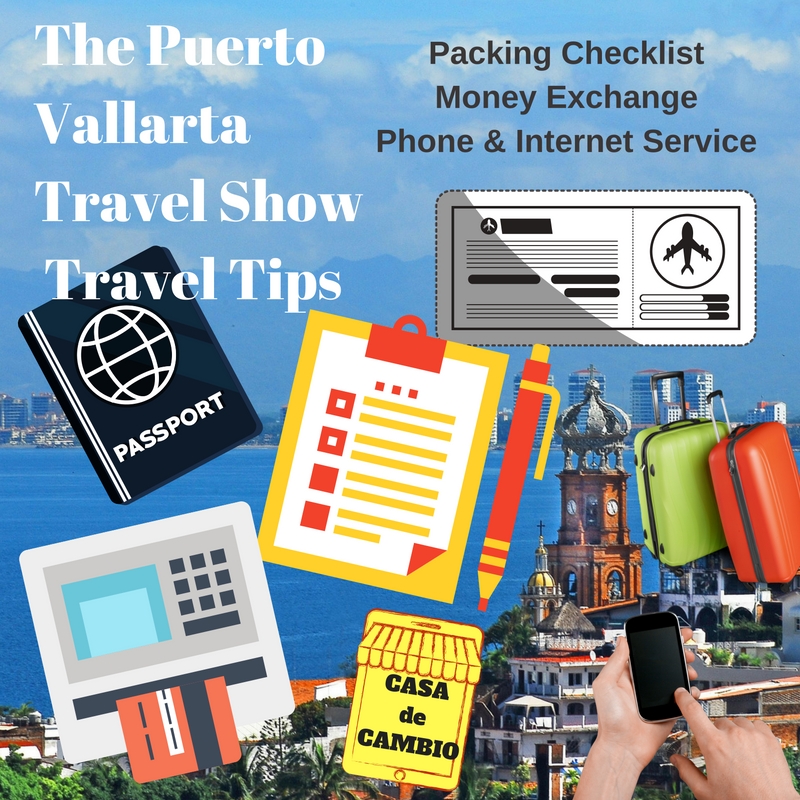 know what that means, it means that you need to buy some pesos at home and bring some with you, or you will need to exchange the bare minimum at the airport, till you can get to a bank attached and affiliated ATM machine once you have settled into your room and are ready to get into the swing of things. And if you don't, know what I'm talking about, you need to listen to my podcast episode  #2 packing tips, money exchange tips and airport arrival tips, and episode 3 what to expect when you arrive at the Puerto Vallarta airport.  You can listen to the podcasts or read my show notes, either way you can find all of that at www.Puertovallartatravelshow.com.
Puerto Vallarta Web Cams
And speaking of the website, Check out my webcam page. I watched a brilliant PV sunset last night from my iPad in Los Angeles. Really!  You can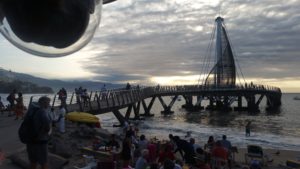 too. You just need to go to puertovallartatravelshow.com and click on the Puerto Vallarta Webcam tab at the top of the page, and check out all of the cool webcams I have listed there. I also have a link on the same page where you can check the time of the sunset in Puerto Vallarta. Scroll down to the Langostinos picture, click it, give it time to upload, and you will be rewarded by a beautiful, breathtaking Puerto Vallarta Sunset. Right from the comfort of your very own Barcalounger.  Pretty cool! Check it out and get your Puerto Vallarta Sunset, tonight!
Safety Tips For Puerto Vallarta
Now, just a quick word about safety in Puerto Vallarta. We have talked a little about keeping safe here in paradise, and this week, the US State Department issued a warning to Americans to avoid Easter break in some cities in Mexico due to the dangers of being in the crossfire of Mexican drug violence.
Here's the thing, I have never felt unsafe in Puerto Vallarta. Never. That being said, stuff happens. In any city on this planet you can encounter dangerous people. These are people who wake up in the morning, looking for trouble. Some are opportunists, some are drug addicts, some are just bad people, but you can encounter these types anywhere, all over the world. Now don't let me get you all paranoid and stuff, luckily, these bad people are few in numbers but they are out there. If you are planning on coming down for Spring Break, or just coming down any time to have a good time in Puerto Vallarta, here are some important tips to keep you safe.
Keep your valuable jewelry at home.
No fancy watches, no fancy gold chains.
Leave your diamond rings at home.
Buy a plain polished silver wedding band or something to put in place of that Rock of Gibraltar your sweetie bestowed upon you that memorable day. If you don't have a plain band, buy one in Mexico. On the beach. It will cost you less than $20. So leave your jewels and gold at home.
Don't leave your cell phone lying around on a bar or on your table. Thieves have been known to snatch or place items on top of the phone while trying to sell you something, and then lift it as they leave. Remember, your cell phone is a computer, it's your lifeline, it's your camera, your map your everything so keep an eye on it. And Speaking of maps, download and print all of JR's maps and you won't need your phone and you will find those at www.vallartainfo.com, JR's website.
Never leave your drink unattended. Be in control of your beverage ladies and gents. If you get up to dance, bring your drink with you. If you go to the head, finish it or bring it with you. If you can't keep an eye on your beverage, and it doesn't have to be alcoholic, you are putting yourself in some danger. There's people out there, bad duchy people who drop date rape drugs in drinks. Plain and simple. It happens all over the world and even here so be smart, watch your beverages, adult or otherwise.
If at all possible, avoid using credit cards to pay for meals, bar tabs, okay, just about everything with the exception of your hotel charges, and in that case, the resort or hotel has your number on file at the desk and does not get into the hands of the servers. Don't hand the servers your credit card. Folks, just listen to those other podcasts I talked about earlier and try to pay in pesos. And even though I tell you to carry pesos with you, keep the amount low. Bring just slightly more money that you think you will need for that night or day, and no more if at all possible.
Don't walk around intoxicated night or day folks, but especially at night. You will be a target for the bad element and the cops. And speaking of cops, there is occasionally a bad element thrown in that mix so try to stay off the streets late at night. Don't be withdrawing pesos from the ATM machine at 2 in the morning. You will be a target. And take cabs from the club to your hotel, please, just saying. It's cheap. Just do it.
Okay enough of this scary stuff. As I said earlier, I have never felt unsafe here in Puerto Vallarta and I suspect that if you follow these tips, you will feel exactly the same.
Now, on with the show..
Rhonda and Lic. Felix Zarate of Find Your Happy Home Realtors, Puerto Vallarta, Jalisco Mexico!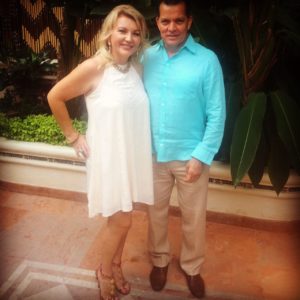 In the first episode of the Puerto Vallarta travel Show I forewarned you that my real job is that of a Real Estate Agent. That being said, I have an interest in how property is bought and sold all over the world and because I, like so many others who have visited paradise, have often wondered where I would live if I lived here in Puerto Vallarta, I went in search of agents who were like me and my wife. People who were dedicated to the craft, and to their clients. Agents who go that extra mile for you. Agents who are not only interested in the commission, but in the best results for their sellers and buyers.
So I went out and found 4 agents, all different styles and personalities but all dedicated to getting the

best for their client and understanding what the needs are and delivering each and every time.
You will be listening to Rhonda Zarate of Find Your Happy Home Realtors.  She is a Real Estate broker and works with her husband, Lic. Felix Zarate, who is an attorney and a great guy. No lawyer jokes please. So let's go to my apartment in Puerto Vallarta and listen to the interview we're going to be talking about buying property in Mexico, and especially in Puerto Vallarta.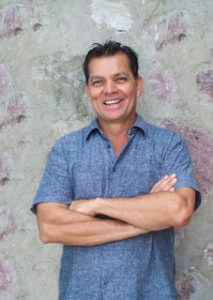 Outline to Follow…
Now you understand why I wanted you to meet these two people. If you would like me to introduce you to them personally, that is if you are looking to buy a home in PV, email me and I will hook you up. If you just want to make an appointment with them, just go to my show notes for this episode at www.puertovallartatravelshow.com, and I will have her contact information for you there. Let her know you found her on the Puerto Vallarta Travel Show. She will talk with you,  listen to your real estate needs, and she will set you up on a home search custom designed for you, and you will be that much closer to moving to paradise. And isn't that what we all really want? Paradise?
Well we are through for today. I hope you enjoyed our talk with Rhonda and Felix Zarate.  Next week stay tuned for more on the ground reports from Puerto Vallarta and my next show. Until then, remember, this is an interactive show where I depend on your questions and suggestions about all things Puerto Vallarta. If you think of something I should be talking about, please reach out to me by clicking on the Contact us tab and sending us your message.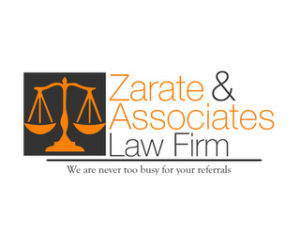 And remember, if you are considering booking any type of tour while you are in Puerto Vallarta, you must go to Vallartainfo.com, JR's website and reserve your tour through him, right from his website. Remember the value for value proposition. His experience and on the ground knowledge of everything Puerto Vallarta in exchange for your making a purchase of a tour that you would do anyway, you're just doing it through him as a way of saying thank you. It costs no more than if you were to use someone else so do it. Really. And when you do take one of these tours, email me about your experiences. Maybe you can come onboard and share with others what you liked or didn't like about the tour. Again contact me by clicking on the Contact us tab and sending off a message.
And once again, if you like this podcast, please take the time and subscribe and give me a good review on iTunes if you would. That way we can get the word out to more and more people about the magic of this place.
So, thanks to Rhonda and Felix Zarate, check out their photos and contact information in my show notes at www.puertovallartatravelshow.com.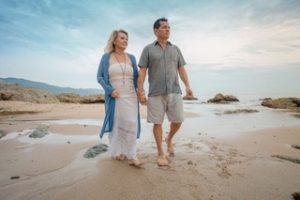 And thanks to all of you for listening all the way through this episode of the Puerto Vallarta Travel Show. This is Barry Kessler signing off with a wish for you all to slow down, be kind and live the Vallarta lifestyle. Nos Vemos amigos!
Vallartatribune Find your Happy