The Rock and Roll Scene in Puerto Vallarta and Great Day Trip Ideas Inside and Outside of Puerto Vallarta. Musician and Drummer for Tequila Rush, Steven Tenney Joins the show today.
Listen to the Podcast 

Hello fellow travelers, welcome this episode of the Puerto Vallarta Travel show. I am your host Barry Kessler and I am just so happy to be to introducing you to my favorite vacation destination, and maybe even yours, Puerto Vallarta Mexico.
That music you were just listing to is performed by Alberto Perez, the owner of the La Palapa group of restaurants,  La Palapa and The on the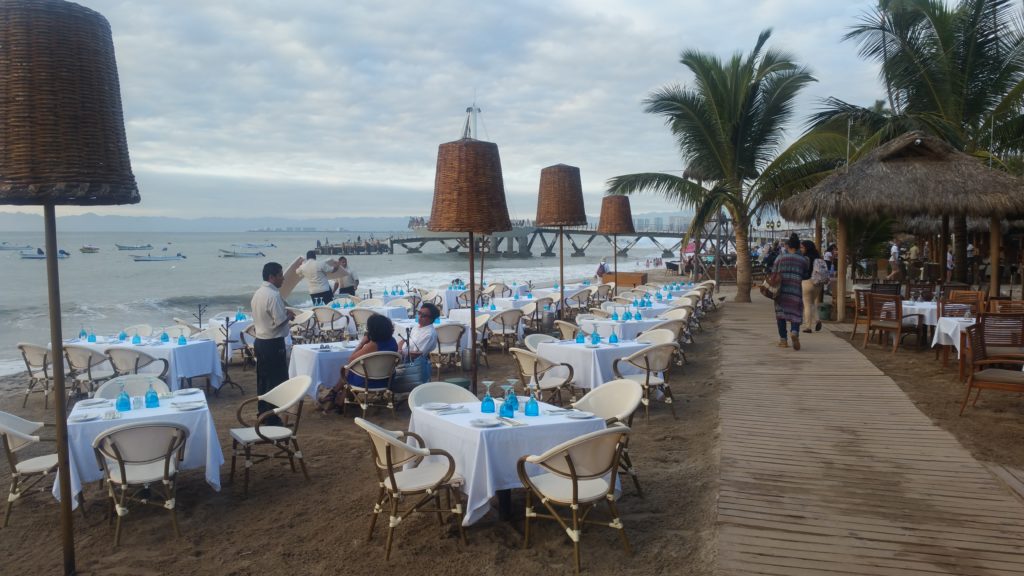 Southside of town, right down on the beach in Puerto Vallarta La Palapa is one of Vallarta's oldest and most loved restaurants with that toes in the sand experience right at the water's edge. Breakfast, lunch or dinner, a great location and a great time awaits you. It's so romantic, so Puerto Vallarta. If you haven't been here yet, take my advice and get your selves down here. The people of Vallarta await you with open arms. Take my word for it.
This week I have a real treat for you guys but before I get to my guest, let's see what's happening in Puerto Vallarta this week, the 9th of April, 2017.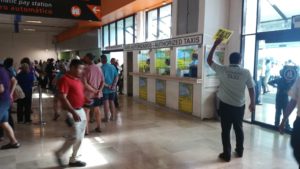 As you may or may not know, the Puerto Vallarta Airport is going through a remodeling process but my man on the ground Yael who works at the airport tells me that there are two of the Mexican Bank Affiliated ATM Machines up and running now in the airport lobby where you buy your travel voucher for your taxi or van to your hotel or lodging.
That gonna make it easier to get your pesos when you land at the airport with your ATM debit card. For more information about money exchange and cell plans and what to expect when you arrive at the Puerto Vallarta Airport, you should listen to episodes 2 and 3 of the Puerto Vallarta Travel Show where we talk about all of those important items and more so listen to the podcasts or read my shownotes to those shows.
Now you listeners are really coming through with your great suggestions, your stories and questions all about Puerto Vallarta and I just want to say thanks! Thank you for reaching out to me with your positive feedback and really thoughtful suggestions.
First, another great review on iTunes. Those reviews really help me get to word out about Puerto Vallarta so please keep them coming in.
I got an email from John who is coming in June with his Fiance and he wanted to know what to expect. I talked with our next guest about that subject so John, if you are listening, I have an answer for you coming up soon from our guest, and let's get to him right now.

You know that I'm always asking you my listeners for your suggestions and stories right? Well our next guest did just that. He reached out to me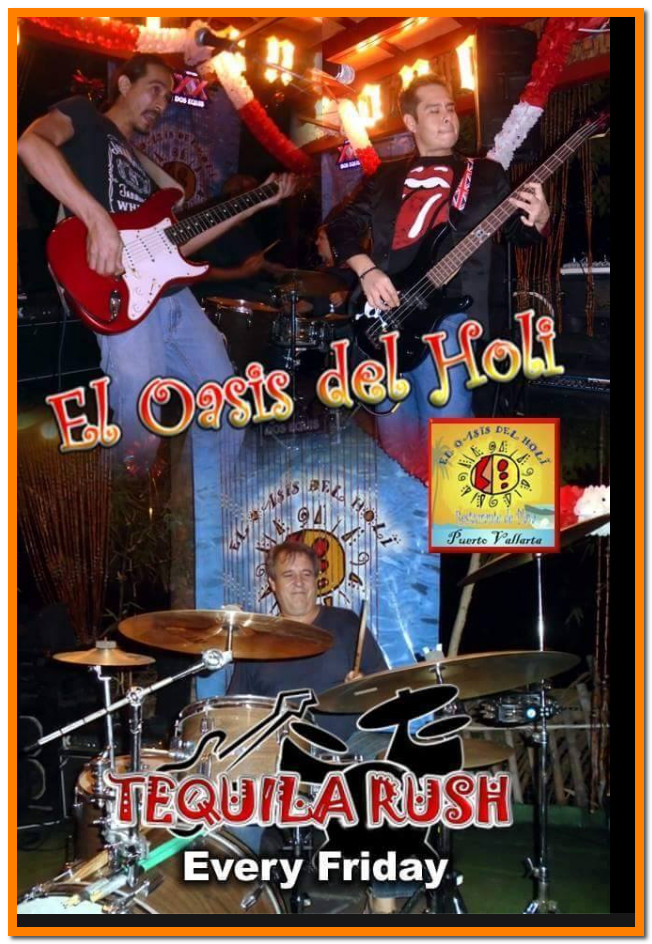 and told me his story and I just had to bring him to you. His name is Steven Tenney and he is from New Jersey. Just love his accent I gotta say. Steven is a musician, he is a drummer for the Group Tequila Rush. Now the Group Tequila Rush   was created in 2015 by Carlos Urrea and Carlos came up with the name, he is the band leader, plays guitar and sings and  Danny Hermosillo who plays the bass and sings as well and Steven rounds out the trio. The group was created  as a trio for clubs and private parties around the bay area and they play year round. They don't stop for the summer months. They play classic, and contemporary rock as well as wide selection of Spanish lyric Rock to cater to a domestic audience as too. They like to think of themselves as a "Music of your life" kind of group.
Both Carlos and Danny are from Guadalajara and live in Puerto Vallarta and although I didn't get a chance to talk with them, I hope to sit with them when I get into town next month and hear from them what they like to do in and around Puerto Vallarta.  Now Steven is going to come on and tell us a little about some places to go dancing and listen to music and party all along the Bahia de Banderas. And he is going to tell us about some places I didn't know even existed. I mean, alligator sanctuaries, and fresh water lakes for fishing in Nayarit, near the capitol of Tepic, maybe about 2 hours from Puerto Vallarta.  Many of my listeners have asked for suggestions of places outside of Vallarta, and you will be getting your wish today. Let's get to the conversation with Steven Tenney, drummer for Tequila Rush, in Puerto Vallarta, Mexico!
Listen to the Podcast
Stories on a personal or what made Mexico great for me:
1) The hard working clean welcoming people,
2) They are smart and productive …when I got here there was no Marina, Nuevo Vallarta was a gov't project in its infancy, No condos towers, few hotels along beaches.  Now look.  When I got here people were still on a list to get a landline, few neighborhoods small stores had a refrigerator…as recent as 1985 all as changed dramatically to US standards for construction, cell phone and Wi-Fi, Smart folks…Clean folks – It's a beach town, we have sand so does NJ shore to Florida coast.   But people very clean and hardworking (gloves on to exchange money at street venders).
3)What always impressed me was seeing a young woman exit a simple home always with whitest clothes and neatest hair to go out or to work.
 4)SMART – They hedged oil price decline Gov't recently hedged and bought their peso currency and it's rallied 15%.
NATURAL BEAUTY AND GREAT FOOD AND THE FRUIT TASTES LIKE IT DID WHEN I WAS A KID.
LAKES, SANCTUARIES AND CLUBS FOR ENTERTAINMENT
Great Entertainment Venues
Oasis (Del Holi)      on Beach by new La Isla Mall
In the Jungle in Paso Ancho
Entertainment in The Marina Vallarta
Route 66     live music on weekends –
In Puerto Vallarta Southside
Incanto – part of new scene of cool theater clubs
Jazz Foundation on The Malecon
Appearing at Incanto will be – Jackie Bristow coming 4/20-22
Jackie Bristow is currently touring with Bonnie Raitt – then PV then Opening for Olivia Newton-John in US in May.
 La Cruz (La Cruz de Huanacoxtle) –
La Cruz has it's own Marina area, It's a more  suburb feel –
Clubs like …
(Bryan Savage)  and across the Street, great Sunday open market.  Also a place called El Brujo Zona Dorado – a fine entertainer Zoe Wood playing there  now,
Bucerias –
mostly condos and of course homes, mostly known for it's markets and restaurants…and casual feel and not a long drive from Vallarta. La Cruz just 2 more exits north.
Crocodile Sanctuary
In between Bucerias and La Cruz is Flamingo's Golf course and residences. ON the side of the highway heading to PV ON south side.  RIGHT NEXT TO FLAMINGOS GOLF COURSE is Santuario de Cocodrilos El Cora.  you need to be looking for it. small dirt road and small sign. It's about a mile drive in but what a cool natural sanctuary it is…  more than just crocs…it's a natural zoo and estuary too. educational tour available.
That was a great conversation and you will find all of the information that Steven gave us in my shownotes for this episode of the Puerto Vallarta Travel Show, episode 14 at www.puertovallartatravelshow.com.
And it is there where you will find all of my podcasts as well as some great webcams where you can watch a real Puerto Vallarta Sunset, live. Check it out at puertovallartatravelshow.com. Click on the Webcam tab at the top of the page and watch the sunset from your Barcalounger at home.
Remember, this is an interactive podcast as you have found by listening to our last guest, Steven Tenney.
I depend on your questions and suggestions about all things Puerto Vallarta. If you think of something I should be talking about, please reach out to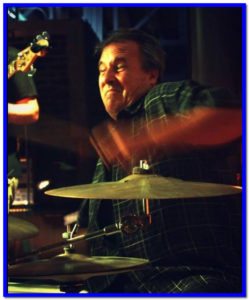 me by clicking on the Contact us tab and sending us your message.
And remember, if you are considering booking any type of tour while you are in Puerto Vallarta, you must go to Vallartainfo.com, JR's website and reserve your tour through him, right from his website. Remember the value for value proposition. His experience and on the ground knowledge of everything Puerto Vallarta in exchange for your making a purchase of a tour that you would do anyway, you're just doing it through him as a way of saying thank you. It costs no more than if you were to use someone else so do it. Really. And when you do take one of these tours, email me about your experiences. Maybe you can come on-board and share with others what you liked or didn't like about the tour. Again contact me by clicking on the Contact us tab and sending off a message.
And once again, if you like this podcast, subscribe and give me a good review on iTunes if you would. That way we can get the word out to more and more people about the magic of this place.
So, thanks to Steven Tenney for coming on and talking with us, check out their Facebook page  Tequila Rush and Friends.
Also the Puerto Vallarta Live Music and Entertainment Facebook Page.
And thanks to all of you for listening all the way through this episode of the Puerto Vallarta Travel Show. This is Barry Kessler signing off with a wish for you all to slow down, be kind and live the Vallarta lifestyle. Nos Vemos amigos!