An Interview with Adalberto Garcia Perez, owner of Mi Cafe, Cafe and Deli in Puerto Vallarta. Also Mario Rosete, the Watchmaker on the Bridge on the Southside of PV and Uber coming to Vallarta.
Listen to The Podcast!
Hello fellow travelers, welcome this episode of the Puerto Vallarta Travel show. I am your host Barry Kessler and I am just so happy to be to introducing you to my favorite vacation destination, and maybe even yours, Puerto Vallarta Mexico.
That music you were just listing to is performed by Alberto Perez, the owner of the La Palapa Group of Restaurants. Those are La Palapa, The El Dorado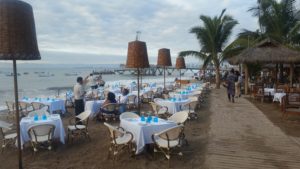 Restaurant, and now, at night for dinner The El Dorado transforms into The Vista Grill. That's the Vista Grill that used to be up on the hill. Well now it has a new vista and that is right on the beach where you get the same Vista Grill Menu, and the fantastic Vista Grill service and what's best, is it's right there on the beach with a dramatic view of the Los Muertos Pier. You'll recognize the pier with its stunning sail like structure, all lit up at night with beautiful colors. You can enjoy dinner under the stars, with your toes in the sand right at the water's edge. ! It's so romantic, it's so Puerto Vallarta my friends!
Today we have a special show but first, what's happening in Puerto Vallarta this week, the 27th of June, 2017.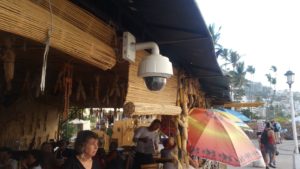 The rains have arrived as I said last week, and this Sunday was a real gully washer. There was a brilliant lightning storm lasting at least 3 hours. I watched some of the storm on the Cuates y Cuetes webcam,  right from my smartphone on my webcam page from my website at www.puertovallartatravelshow.com, but I have to tell you, that camera has been touch and go the last week or so. I did get a great show Sunday night on my cellphone however.
Those of you who are planning a trip this summer should be aware of the distinct possibility of rain late in the afternoon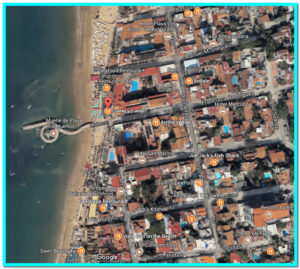 till late evenings. Not a cold rain, but a warm downpour most likely. During the day, it's unlikely you will see rain so go ahead and make plans to go out and sightsee, but remember we are getting into the hot and muggy season in the tropics. As I said last week, things are greening up in paradise.
Watch this PV Sunset Below From the Cuates y Cuetes Web Cam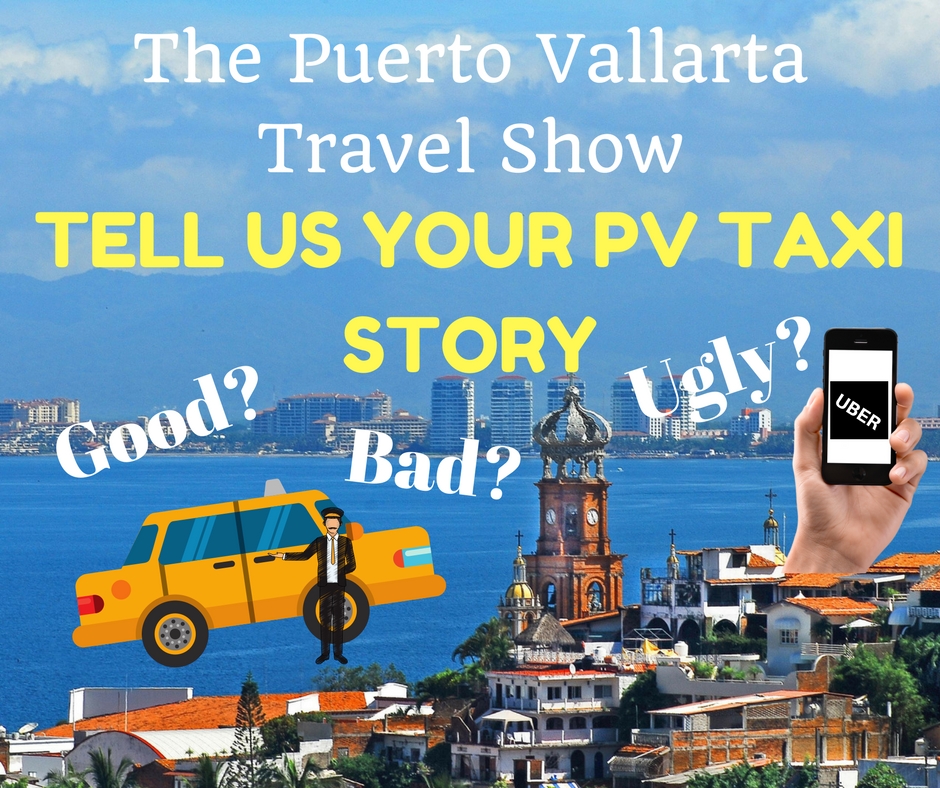 Uber in Puerto Vallarta, Mexico
Last week we were talking about the distinct possibility of Uber coming into Puerto Vallarta, and guess what, mark your calendars folks because as of today, Uber is operating in Puerto Vallarta. Now I just went to the Uber website for Vallarta, and I have the link to it in the show notes for this episode of the show, episode 25, and they are up and running.
Last week we also discussed the opposition of this Uber invasion by the taxi unions and well, there are like 3,000 or 4,000 taxi drivers here in Vallarta and they have vowed to fight the introduction of Uber drivers here.
I asked you last week to give me your taxi stories and I have collected some really good thoughts from you guys. I need to start by saying that I have always liked the taxi service in Vallarta and when I first heard about the Uber deal I thought to myself, why? Why in Vallarta? It will never work.
But I have gotten input from both sides so let's see what you all think of these.
Dan Chun says I love those taxis. Hard to think why I would want to Uber in PV. My story: first trip to PV, staying in Southside. Wanted to take daughter to zoo. It was 10 in the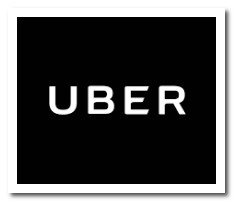 morning and I Looked around for old driver in old car (presuming he needed the fare most). 'yes, yes' so my ..17 yr. old Daughter,  wife and I jump in. Drive about half block and he pulls up behind few taxis and starts talking to them – another driver walks back and after a bit of discussion, decide it is the 'zoological' that we want to go to. (my charades of animals probably didn't help). Later that night we are walking the Malecon and discovered why he was confused when we see the 'Zoo' night club.
So that was a very positive experience. Now another note from my friend Helen. Helen has lived here a long time and she writes… As a full timer here and fluent in Spanish, what puts me off is that I can never get the same price for the same ride. Have to negotiate all the time and it's not a question of 20 pesos, can vary from 60 to 100 pesos difference from one cab to another. Also when you are downtown, much easier to get a cab at night than when you live in Colonia's further away from Centro. Try and get a cab at 1.00 am in Versalles, nearly impossible and when you do it's very expensive. Some of the cabs are dirty and some taxistas when they see you negotiate the price just miff you off.
Also seen taxis past buy a pregnant Mexican woman to get tourists customer just down the street, then I was really miffed. Welcome Uber! Same price, no discrimination, no hassling!
Okay so here is a local who welcomes Uber.
Here's another story from Pat and she says….. I spend my winter in PV, my friends visiting from a cruise ship for the day wanted to return to the ship from the flea market at Rio Quale the taxi wanted $10 US and would not budge or take pesos thinking none of us knew any better because of the destination, we walked away but the next 2 taxis wanted the same $US, and got quite belligerent when we argued. Rip off tourist! I personally bus it, if I can, and avoid taking a taxi because every ride to the same place is a hassle over the price…..welcome Uber!
My Buddy David Ostlund writes.. Carry with you a zone map of the current rates (rates recently changed). Do not negotiate with the taxi when you get in. Know where you
are going and how much it costs. Make sure you have exact change to pay according to the zone you are going to and give the driver that amount (and tip if you feel that you

need to do that). Do not ask questions. Don't negotiate. Get in. Get out. Pay the rate. If they "fight," take a photo of the cab number and show them the rate map. Done. They'll leave mad, but nobody got ripped off or stiffed. Recently I had to go to the airport which is $150 from where I stay (It's a scam but I deal with it). I made the mistake of only having a $500 on me and asked if the driver had change for $500 and confirmed the rate was $150. I gave him the $500 and he gave me $200 back, keeping an extra $150. He said that it took him longer than expected, and I said we had agreed on the price. I tried to reach for my $150 and he pulled it away. I walked around to the driver door and sat in the driver seat. He threw the $150 on the curb. Later I realized it was a driver who has pulled this me before. I won't forget his face the next time.
So I'm not sure if David will welcome Uber or not. By the way, I have an interview with David who is the man in charge of Chef's Pass Puerto Vallarta and you can
hear him talk about his ties to Puerto Vallarta in an earlier episode of the show.
My buddy Connie writes … Will only use the taxis in Pv love them. The one night we had an older guy and he sung for us on the trip, what an amazing voice. Another time in the evening the driver said such a beautiful evening let me take you to a beautiful spot to see the lights of the city. This is why we love PV and the people and the taxi drivers – they are the best. Never had a bad experience.
Wow Connie, that is a great experience.
And Bill Nicholas writes… Been going to PV for years no bad experience with cabs just never agreed with prices from the airport.
I talked with my friend Eduardo who says that the guys he hangs with the technology are really looking forward to Uber, and the Taxi Drivers and their families are not happy at all.
We will see as the saga continues. Let me say this one thing. I understand both sides, but for you first timers out there, I don't want this discussion to make you
fearful of taking cabs. The taxis are safe and if you follow those rules that David was talking about, you will be okay. If you prefer to use Uber, stay tuned, I will keep you posted.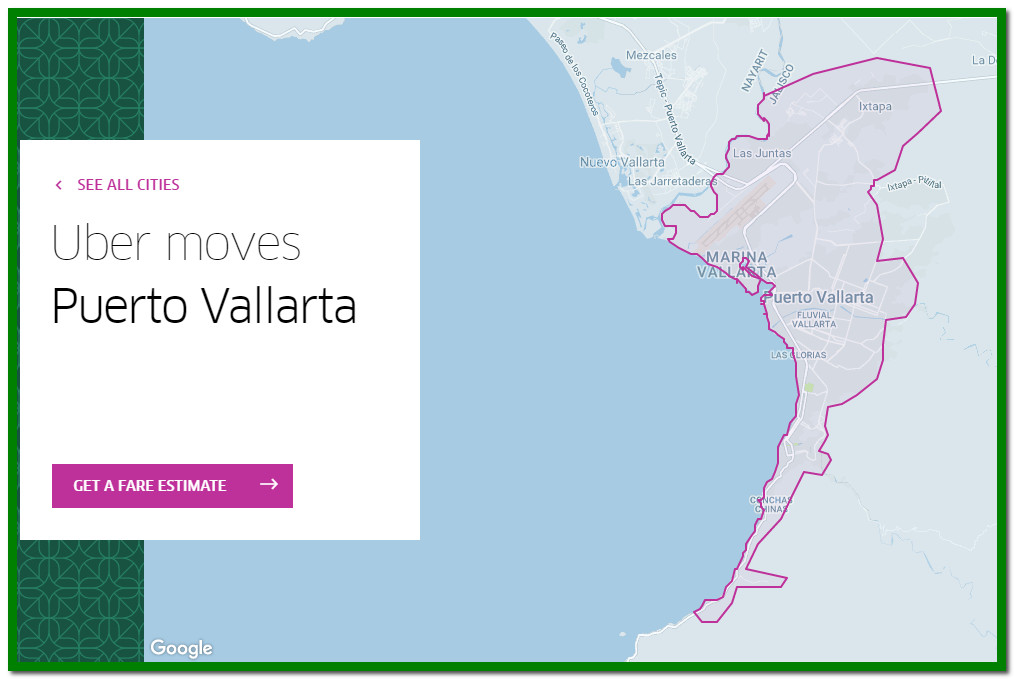 Let's get on with the show.
Listen to The Podcast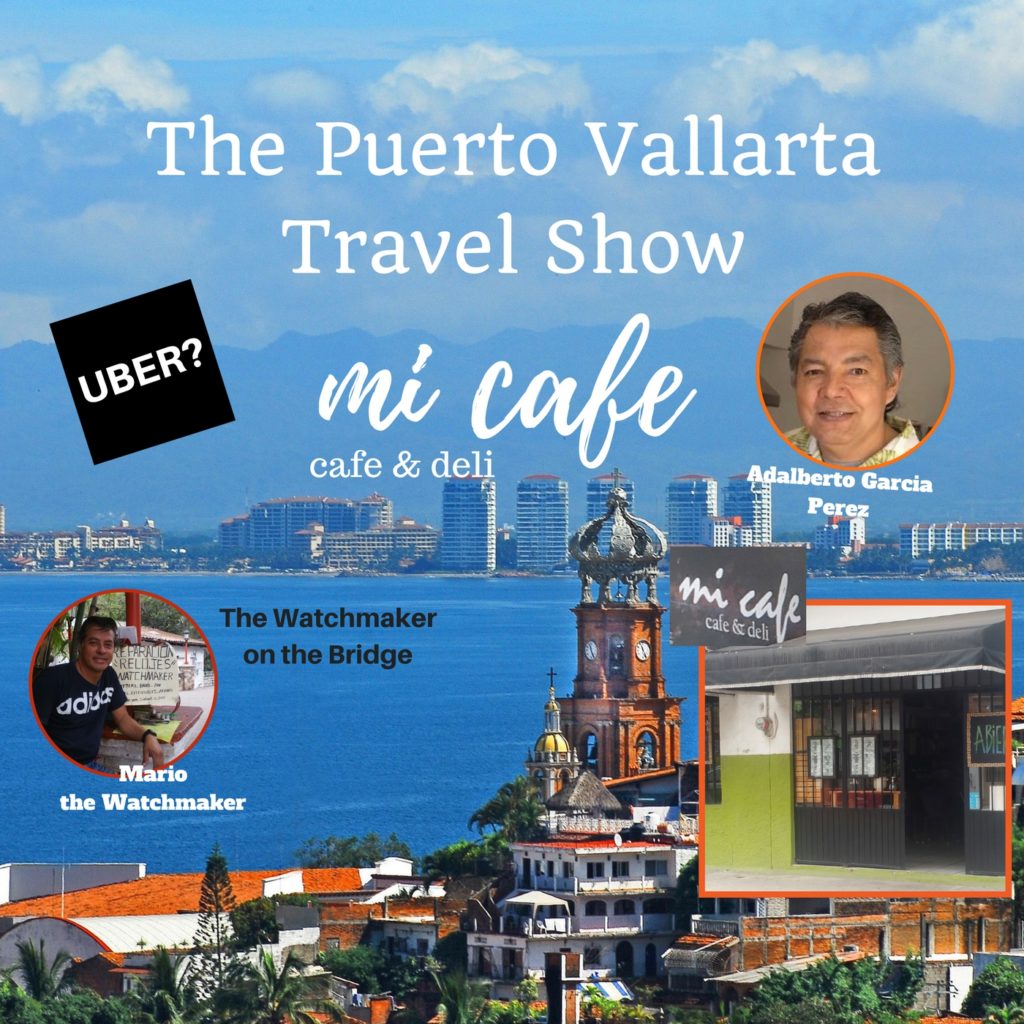 Mario The Watchmaker on The Bridge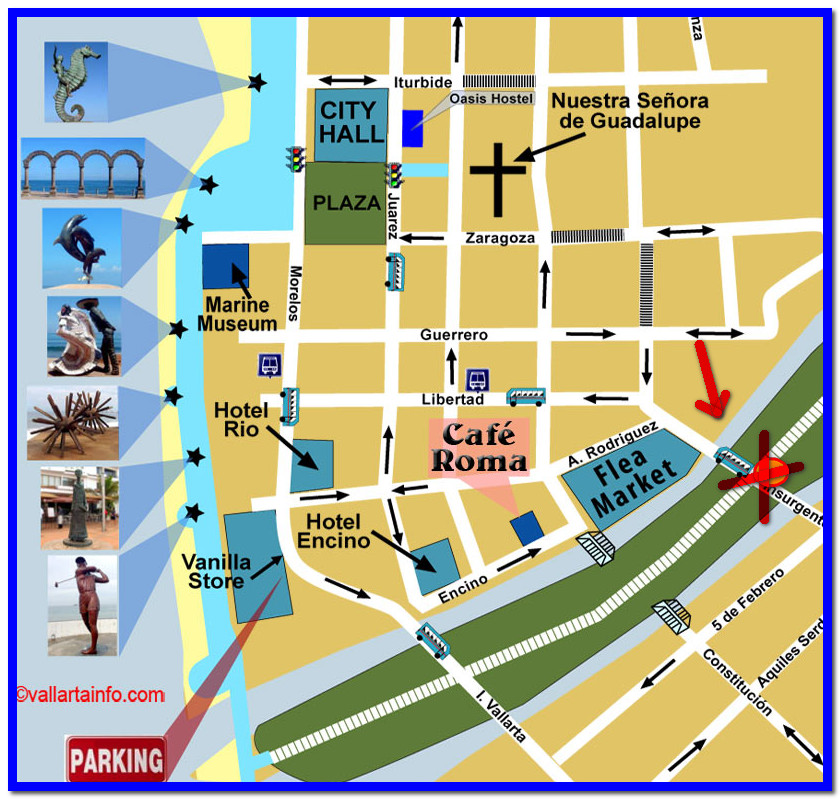 My first interview is with Mario Rosete, the watchmaker on the bridge I call him.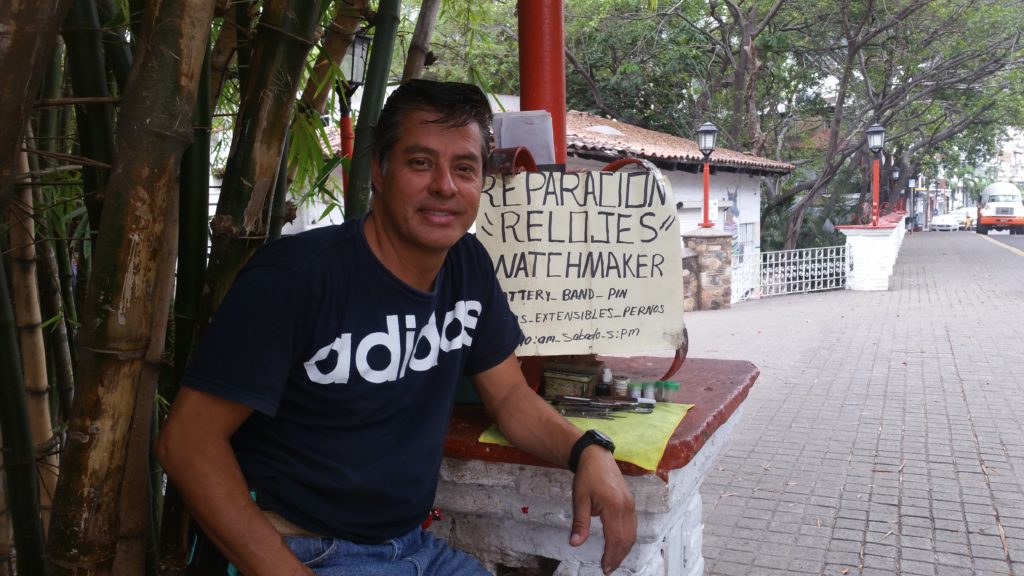 I am intrigued by Mario because he does what I used to do for like 35 years of my life. I, like many other real estate agent had a career before real estate and I was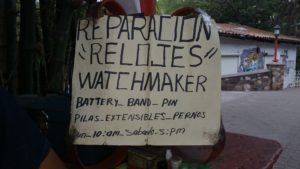 in the jewelry business for 36 years of my life. I am a gemologist, and a jewelry designer by trade and I used to change batteries in watches every day when I was in the business, from Cartier's and Movado's, to Seiko and Timex watches, I did all that stuff so naturally, I was attracted to Mario. He has been in the same spot on the bridge on the North Bound 200, Insurgents,  just on the south side of the bridge. He sits on a stool with his sign showing his prices for his services. Let's go to the bridge over the Rio Cuale, and meet Mario Rosete, the watchmaker with the nicest digs.
Okay, that was a lot of Spanish but what he said in a nutshell is, for 50 pesos, which is about $2,75 US, he will change out your dead watch battery. If you lose the pin out of your watch band and the band is falling off or if you want your watch band sized to fit your arm, 40 pesos or about $2.25 US. If you have a watch movement that is not working, he will change out your old quartz movement with a new one for 250-350 pesos which is about between $14 US and $20 US. He can clean your mechanical watch and oil it for about the same price.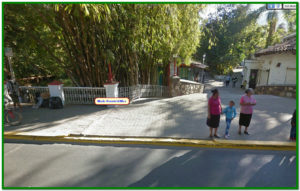 I have Mario's information and picture in my show notes along with directions on how to find him. It's Murphy's Law, when you go on vacation, your watch battery is going to die.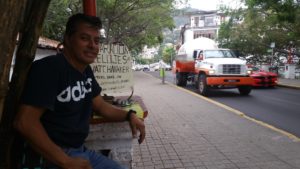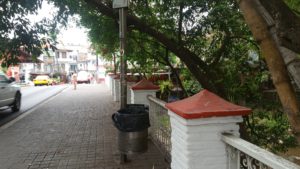 Go see Mario and tell him that you heard him on the show. He will get a kick out of that for sure.
Mi Cafe Restaurant in Puerto Vallarta, Mexico
My next interview is with a really interesting guy, Adalberto Garcia Perez. Adalberto is the owner of Mi Café, Café and Deli in the Emiliano Zapata Neighborhood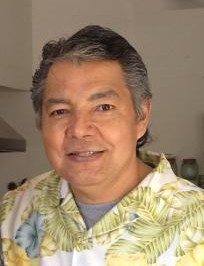 in Puerto Vallarta.
I Love Mi Cafe. I love the neighborhood is's in. Real old time Puerto Vallarta. It is mixed among remodeled Vallarta Style homes and others in need of a face lift. All seem to mix and exist seemingly here. On the corner of Naranjo and Francisco Madera, about 7 blocks from the beach so it's up in the neighborhoods. The place is big, but for some reason, it's not easy to see. Funny. The restaurant has a very good vibe. It's open, had comfortable seating. Music, usually jazz or something lite playing softly in the background. A nice place to have a coffee, a meal, a snack, and although the make some great sandwiches, I love their French Toast. It tastes like a cinnamon roll. It is so darn good. I'm drooling just thinking about it right now.
In an earlier episode of the show, when I was interviewing Gary Beck from the Vallarta Restaurant Guide, he mentioned Mi Café as one of his top restaurants for lunch. So a recommendation from Gary Beck no less.  Let's go to Mi Café in Puerto Vallarta Mexico and talk with Adalberto Garcia Perez.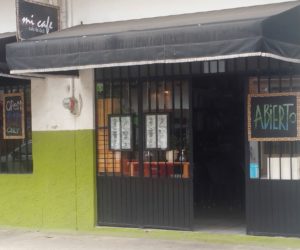 Thank you Adalberto. Now this guy is the real deal. I think he is the hardest working restaurant owner I know. He is a real hands on guy and he's right, he is a quiet,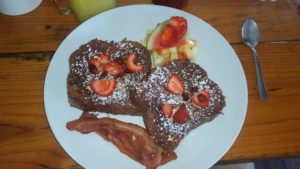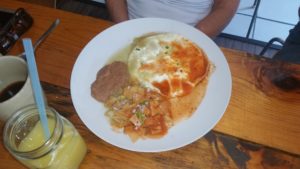 private guy, but don't let that fool you, he is passionate about what he does and his approach is a little different than some restaurateurs who shower you with compliments and this and that. He lets his food speak for itself.
Check out Mi Café. I have all the links as well as directions to the restaurant. Let me know if you agree with me and Gary that this is a great place for Breakfast or lunch or just a coffee. Again check out the show notes for this episode, number 25 of the Puerto Vallarta Travel Show.
I'll have the links for Mi Café, Uber and the pictures and directions to Mario the Watchmaker on the bridge right there.
Contact Info.
Address: Francisco I. Madero 505, Emiliano Zapata, 48380 Puerto Vallarta, Jal., Mexico
Hours: Open Monday-Saturday  8AM–4PM
Phone: +52 322 222 1584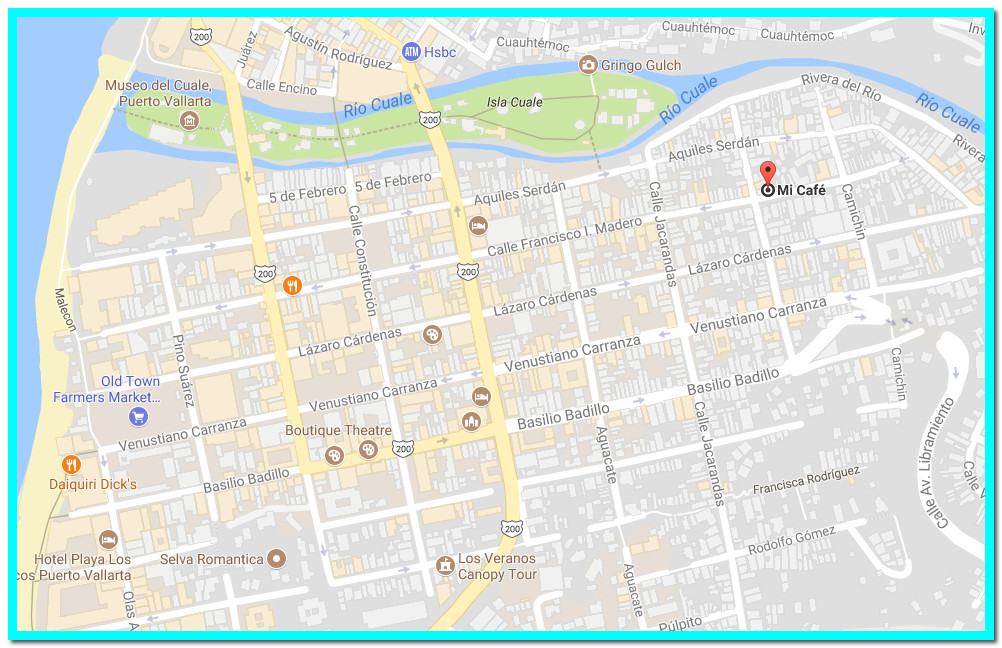 That should do it for this week's episode of the Puerto Vallarta Travel Show.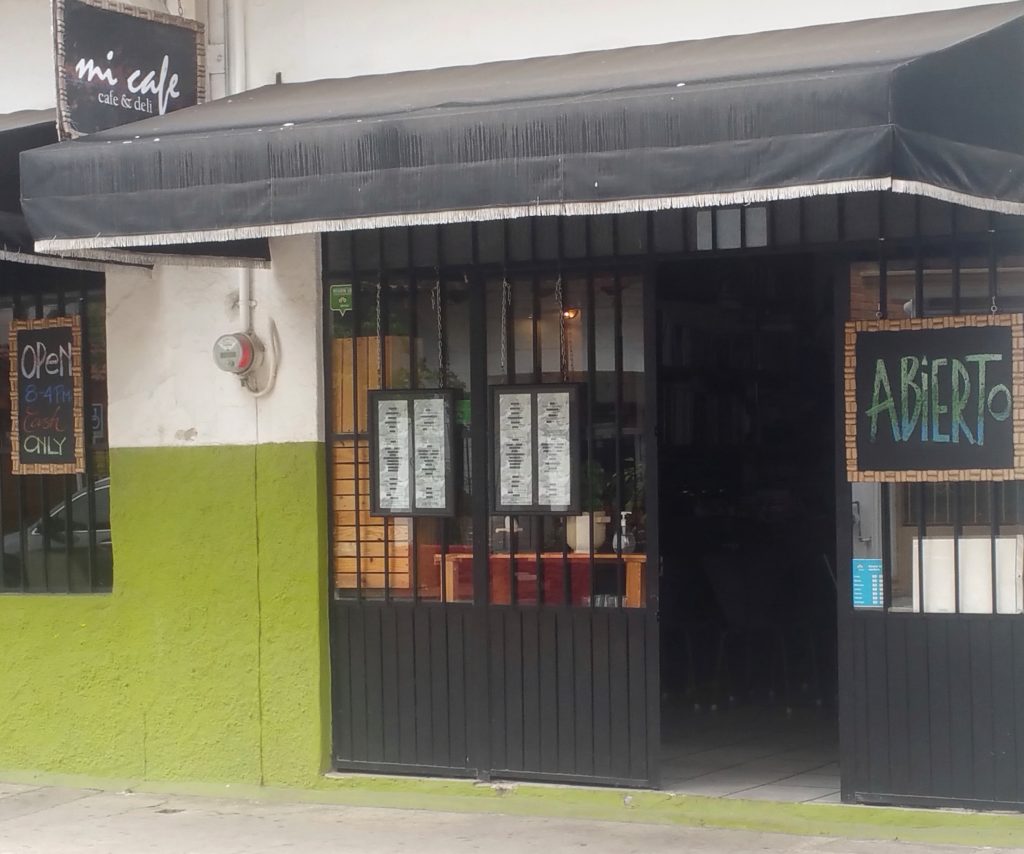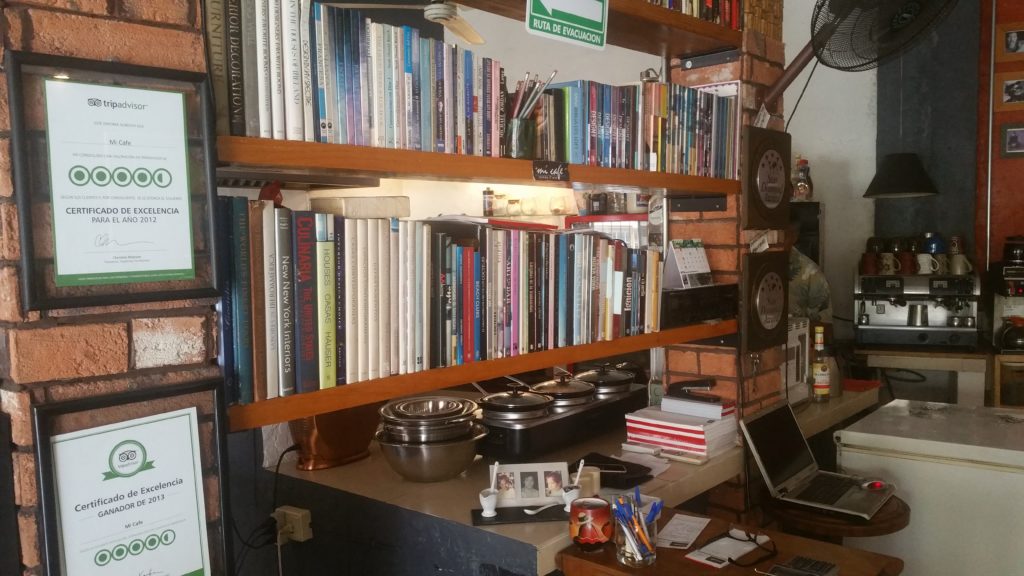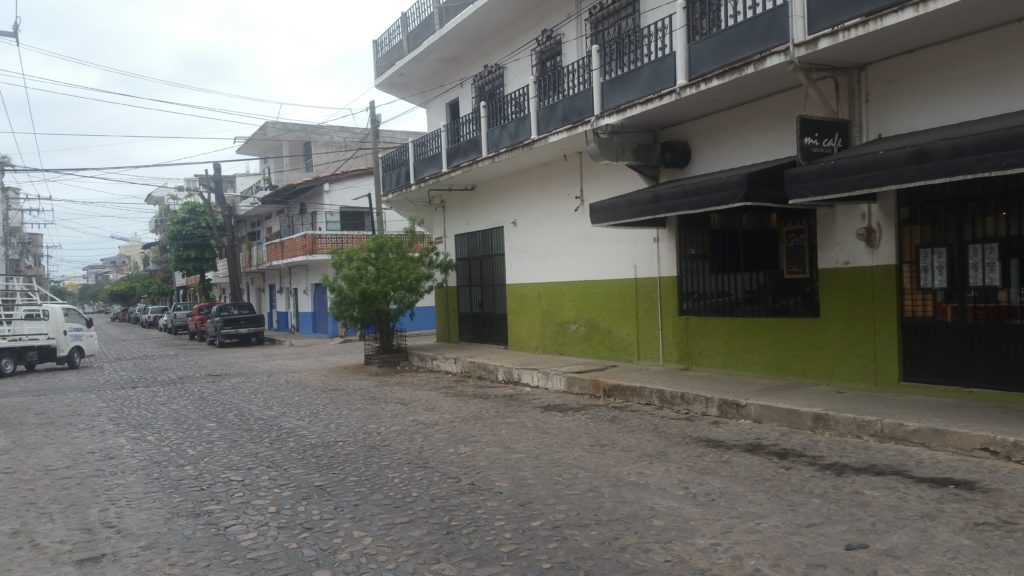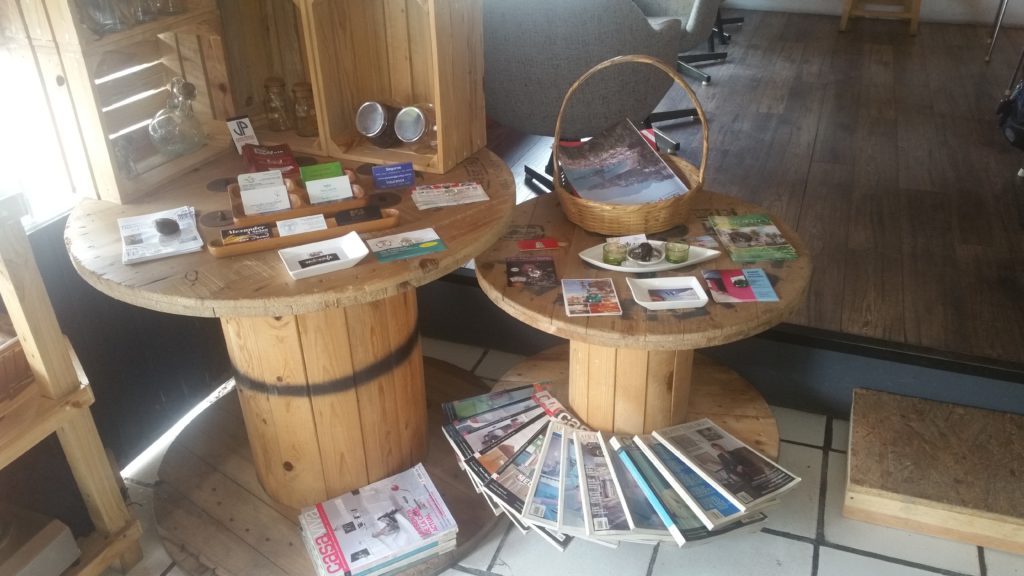 Next week stay tuned for more on the ground reports from Puerto Vallarta Mexico and other surprises and Puerto Vallarta Travel tips and ideas.  Until then, remember, this is an interactive show where I depend on your questions and suggestions about all things Puerto Vallarta. If you think of something I should be talking about, please reach out to me by clicking on the Contact us tab and sending us your message.
And remember, if you are considering booking any type of tour while you are in Puerto Vallarta, you must go to Vallartainfo.com, JR's website and reserve your tour through him, right from his website. Remember the value for value proposition. His experience and on the ground knowledge of everything Puerto Vallarta in exchange for your making a purchase of a tour that you would do anyway, you're just doing it through him as a way of saying thank you. It costs no more than if you were to use someone else so do it. Really. And when you do take one of these tours, email me about your experiences. Maybe you can come onboard and share with others what you liked or didn't like about the tour. Again contact me by clicking on the Contact us tab and sending off a message.
And once again, if you like this podcast, please take the time and subscribe and give me a good review on iTunes if you would. That way we can get the word out to more and more people about the magic of this place.
So, thanks to Adalberto Garcia Perez, check out the links to Mi Café at www.puertovallartatravelshow.com episode 25. And thanks to all of you for listening all the way through this episode of the Puerto Vallarta Travel Show. This is Barry Kessler signing off with a wish for you all to slow down, be kind and live the Vallarta lifestyle. Nos Vemos amigos!