Fun Things to do in Puerto Vallarta with Ray and Cherie, Uber in Puerto Vallarta, and the Jorullo Suspension Bridge at Canopy River Zipline Adventure Tours
Listen To The Podcast
Hello fellow travelers, welcome this episode of the Puerto Vallarta Travel show. I am your host Barry Kessler and I am just so happy to be to introducing you to my favorite vacation destination, and maybe even yours, Puerto Vallarta Mexico.
That music you were just listing to is performed by Alberto Perez, the owner of the La Palapa Group of Restaurants. Those are La Palapa, The El Dorado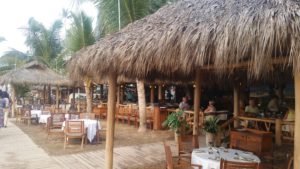 Restaurant, and at night for dinner The El Dorado transforms into The Vista Grill. That's the that we all have grown to know and love over the years, the Vista Grill that used to be up on the hill, well now it has a new vista and that is right on the beach where you get the same Vista Grill Menu, and the fantastic Vista Grill service and what's best, is it's right there on the beach with a dramatic view of the Los Muertos Pier all lit up at night with beautiful colors. You can enjoy dinner under the stars, with your toes in the sand right at the water's edge. ! It's so romantic, it's so Puerto Vallarta my friends!
Today we have a special show but first, what's happening in Puerto Vallarta this week, the 4th of July, 2017.
Uber is Here and The Battle Has Begun
Last week, just as I was recording the podcast, Uber was launching service in Puerto Vallarta and all along the Bajia de Banderas, they are now operating in Nayarit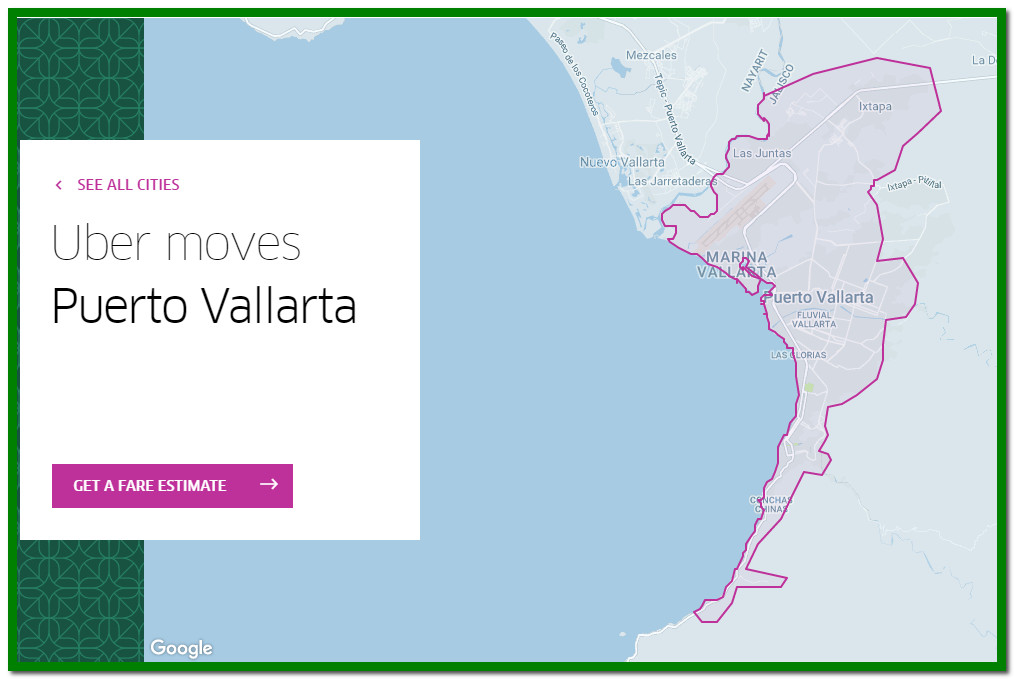 in Nuevo Vallarta and above, as well as in Puerto Vallarta, Cabo Corrientes, you know, south of the Ameca River in Jalisco, and it has been a pretty exciting week as battle lines were drawn, and tempers were on the rise along with the temperature and humidity in the air. What a combo.
Rain and Heat Listen to JR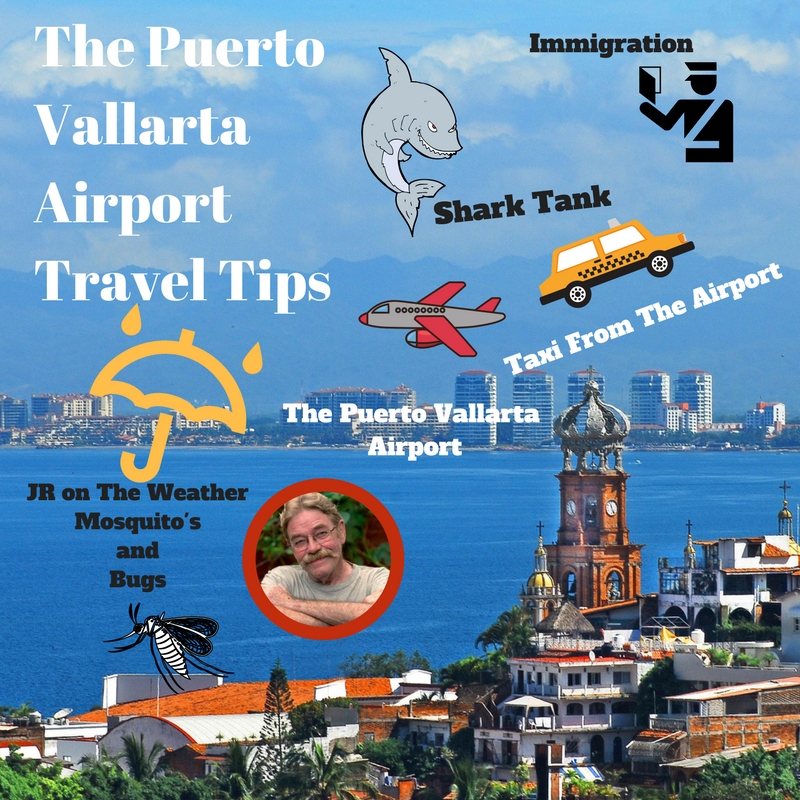 It's July and folks, if you are heading to Puerto Vallarta this time of year, be prepared for rain in the evenings and lots of heat and humidity during the daytime. I have a quick clip from JR who talked with me about how hot it can get in the tropics during the Summertime, so let's listen in….

Jorullo Suspension Bridge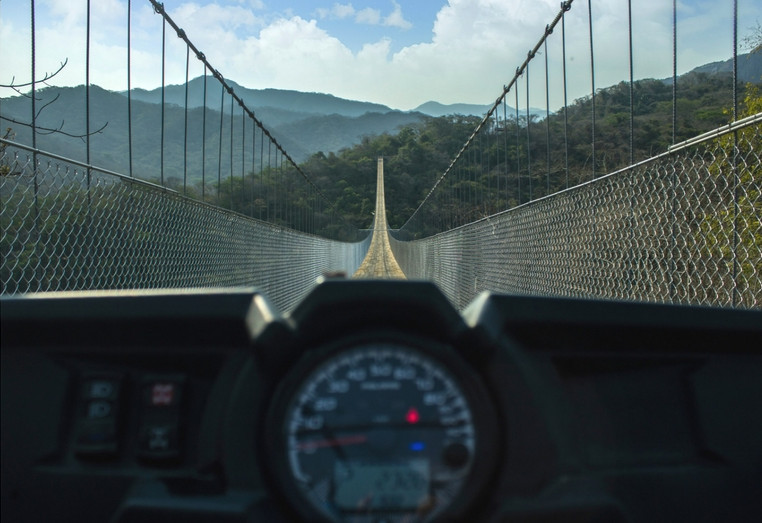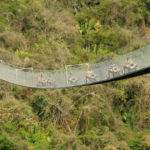 JR sent me an article a couple of months back about a suspension bridge built by the folks at the Canopy River Zipline Adventure Tours, and my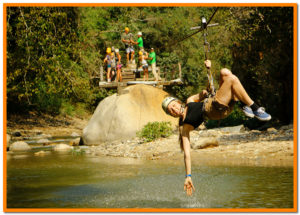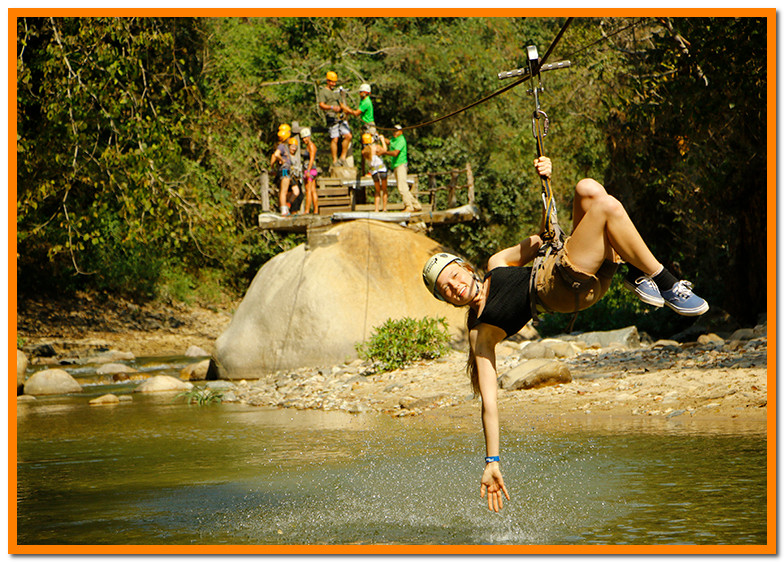 buddies Jennifer and Dee along with JR were great to to pass along the information, so I spoke with Edgar Lopez at Canopy River and we will have that episode coming up really soon. Maybe even next week. We'll see, but this bridge the Jorullo Suspension Bridge is like 4 football fields long and is suspended over the  Caule' River Gorge.  JR walked the length of it and they drive vehicles over it like their ATV's. It' really cool and I will bring Edgar and the Canopy River Tours to you like I said, soon.
I hadn't looked at the latest reviews that you guys have written up about the show on iTunes, but I looked and lo and behold, I came across this one and it really made me smile.

Wow, thanks for the great review Tommy! You like so many others have come to the same conclusion. Puerto Vallarta is a wonderful place to retire. I just wish I was at the retirement stage Tommy, we could be neighbors!
Anyway Tommy, let us know how things turn out. Maybe you can come on the show sometime and let us know what you found here in paradise. Anyway, that was really cool. I love getting good reviews and hearing from all of you, so I made it really easy to reach out to me. You can contact me by sending an email by clicking on the contact us tab at the top of the page, or do like Tommy did and write me a good review on iTunes. Just go to any of my blog posts at www.puertovallartatravelshow.com and look for the subscribe and review links in big red text, click on it and leave a good review on iTunes. I would really appreciate any kind words you want to leave for the show. Really.
And speaking of reaching out and leaving a good review, my guests this week actually did both.
Ray and Cherie Tessmann from Wisconson and Ray is a firefighter in Kenosha, and Cherie is a paralegal and I got an email from Ray a few months ago and I actually
read it on the show. It went like this…  First off let me introduce myself, my name is Ray and I'm from Wisconsin.  My wife Cherie and I feel the same way you and many others feel about Puerto Vallarta.  It was my wife and I's first trip together when dating back in 2001 and we have been coming back almost every year since.  We travel to other locations sometimes, but always make time to return to Puerto Vallarta.  Through the years we have met many friends both local and north of the boarder.  We enjoy some of our old favorites and always find new places of interest.  As time goes on we are lucky to be able to spend more time there, we are up to two weeks.  We are very lucky, but always look forward to returning after we get home.  Thank you for your shows, I enjoy listening to them.  I know you ask for suggestions so I wanted to sit down and type you up a correspondence about some of our favorite places are…..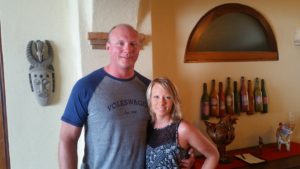 So I asked Ray if I could send him a microphone and he said he and Cherie would be in Vallarta in May, and it just so happened that hey, I was going to be there too so I said, let's meet and do the interview in PV, so, when they got into town Ray let me know that he and Cherie were going to be having drinks over at Plaza Romy at Twisted Palms after dinner and I should come on by and have a few drinks, talk PV stuff and make arrangements to get together to record our interview. So that was cool because I needed an interview with the owner of Twisted Palms Al Sellers, and you can hear that interview in the Plaza Romy podcast I did a couple of weeks back. Anyway, I get to Twisted Palms and look around the big bar Al has there, and try to decide who Ray and Cherie are. I was surprised to see that they were so young looking because they had been going to Puerto Vallarta for so long, I figured they would be my age, but Ray is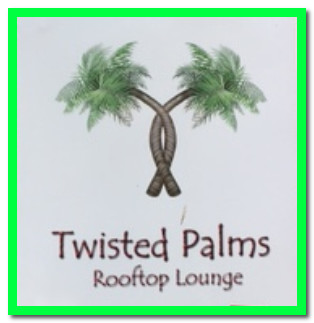 this big strapping firefighter, and Cherie is this beautiful tiny thing. They are such a great couple, you will see soon. I asked if they wanted to come up into the hood to my Airbnb and they offered to have me come to their condo at the Vista Del Sol Condo complex, right on the ocean, overlooking Playa Los Muertos, the Malecon, just a beautiful property. I'm glad they didn't come to my humble apartment looking back. They would have defiantly been unimpressed.
Okay, let's go to Puerto Vallarta Mexico, to the  7th  floor of the Vista Del Sol Condos, in Puerto Vallarta Mexico….
Listen to The Podcast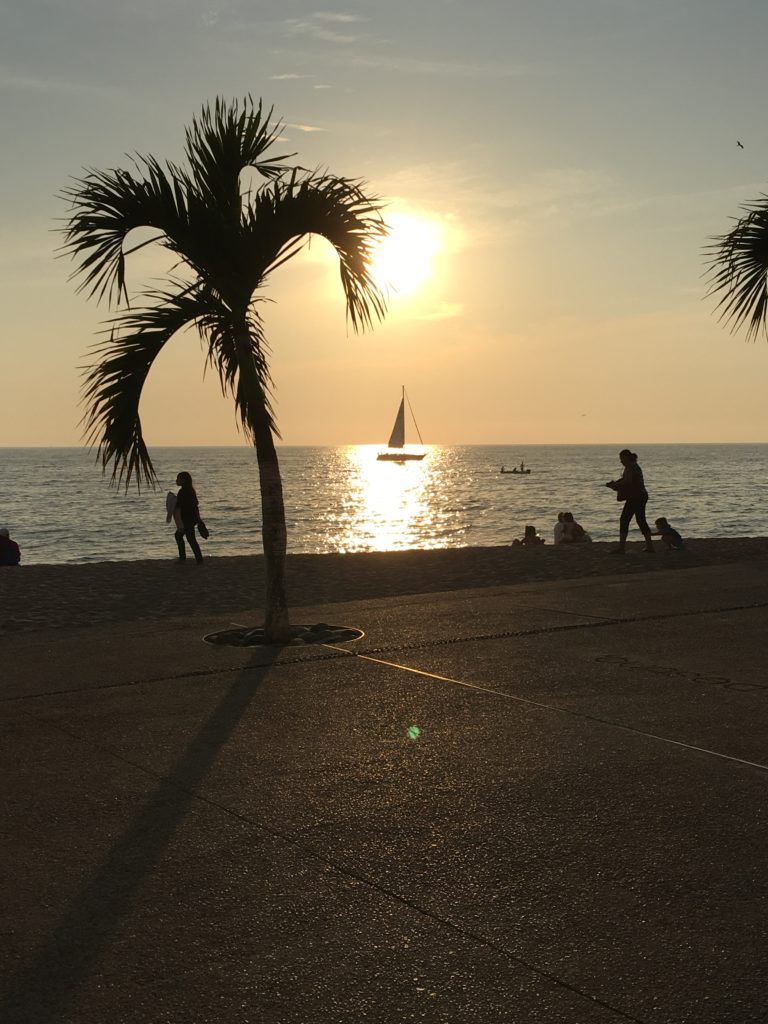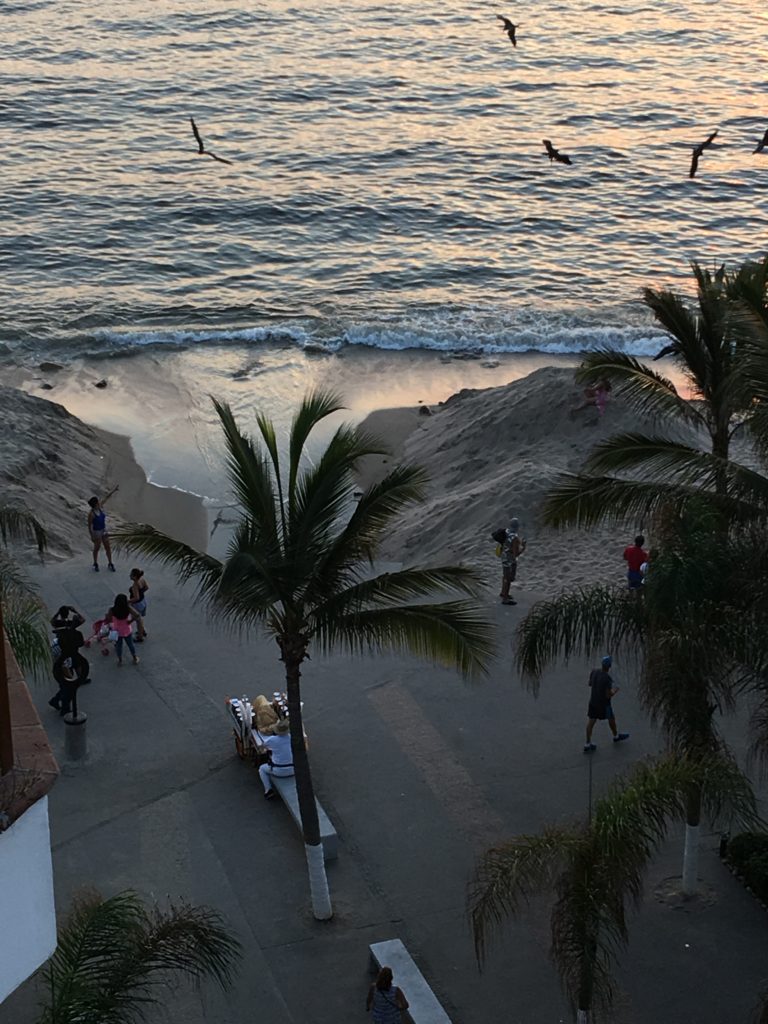 First Place they stayed in PV was at an all-inclusive 2000 Solare in Nuevo Vallarta now called Samba
Ray shared his stories about the Puerto Vallarta Fire Department.
Said many of the Firemen were lifeguards during the day and at the department at night.
Vacation Rental Info
Tours
Hike
Travel App
Galileo Pro App Helps you find where you are on a trail, streets, even on the plane on the flight over.
Interesting Things To Do
Did a car trip. Beach Hopped from Rincon de Guayabitos to Bucerias. San Pancho, Sayulita. Sayulita was the place where there was the most going on.
Adopt a Mexican Family
Make Friends with Locals
Places To Eat
Breakfast
Lunch
Likes the adobada Burrito     Ray Likes the adobada Burrito
Los Muertos Brewery  Special Slice of Pizza with beer
Derby Burger Ray likes the burger with the fried egg on top. Chocolate Shakes, Pickle Chips
Taco Stands
Dinner
Late night Poncho's Takos
.
That should do it for this week's episode of the Puerto Vallarta Travel Show.
Next week stay tuned for more on the ground reports from Puerto Vallarta Mexico, Travel tips and great restaurant and excursion ideas, we have all sorts of great shows planned for you this summer.  Until then, remember, this is an interactive show where I depend on your questions and suggestions about all things Puerto Vallarta. If you think of something I should be talking about, please reach out to me by clicking on the Contact us tab and sending us your message. For goodness sake, Ray and Cherie did and look what happened, they were on the show sharing with all of you. Pretty cool right?
And just remember, if you are considering booking any type of tour while you are in Puerto Vallarta, you must go to Vallartainfo.com, JR's website and reserve your tour through him, right from his website. You can also find the links to his website at the top of my webpage, just click on the JR's Website tab, and it will take you right there. Remember this is a value for value proposition. His experience and on the ground knowledge of everything Puerto Vallarta in exchange for your making a purchase of a tour that you would do anyway, you're just doing it through him as a way of saying thank you. It costs no more than if you were to use someone else so do it. Really. And when you do take one of these tours, email me about your experiences. Maybe you can come on board and share with others what you liked or didn't like about the tour. Again contact me by clicking on the Contact us tab and sending off a message.
And once again, if you like this podcast, please take the time and subscribe and give me a good review on iTunes if you would. That way we can get the word out to more and more people about the magic of this place. Puerto Vallarta, Mexico. Remember I made it easy for you to do just that with each episode I create. But if you haven't been to my website, I want you to know that I also have the links to the places we talk about, interesting pictures and the more contained in all of my blog-posts and show-notes for each episode of the show so check that out for sure if you haven't already all-right? All right.
So, thanks to Ray and Cherie for your time in Paradise. I'm sure my listeners got a lot of good information from both of you. And thanks for what you do for the people of…Wisconsin who are lucky to have you on the department. Check out their photos at www.puertovallartatravelshow.com episode 26. And thanks to all of you for listening all the way through this episode of the Puerto Vallarta Travel Show. This is Barry Kessler signing off with a wish for you all to slow down, be kind and live the Vallarta lifestyle. Nos Vemos amigos!