An Interview With Natasha Moraga of Tile Park, Puerto Vallarta, also known as El Parque De Los Azulejos. We talk about her Project to Restore and Tile Lazaro Cardenas Park in Puerto Vallarta, Mexico.
Listen to The Podcast
Hello fellow travelers, welcome this episode of the Puerto Vallarta Travel show. I am your host Barry Kessler and I am just so happy to be introducing you to my favorite vacation destination, and maybe even yours, Puerto Vallarta Mexico.
That music you were just listing to is performed by Alberto Perez, the owner of the La Palapa Group of Restaurants. Those are La Palapa, The El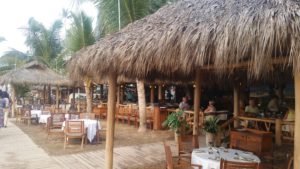 Dorado Restaurant, and at night for dinner The El Dorado transforms into the ever so romantic Vista Grill with those dramatic views of the Los Muertos Pier all lit up at night in beautiful colors. Of course, at La Palapa you can enjoy that same view of the Los Muertos Pier all day long for breakfast, lunch or dinner, seated with your toes in the sand right at the water's edge. It's so romantic, it's so Puerto Vallarta my friends!
This week I have a very important guest, and I know you will love her. She's Natasha Moraga, and she is going to tell us about her newest project, El Parque de los Azulejos, in Lazaro Cardenas Park on the Southside of town in Puerto Vallarta, but first, let's see what's happening in Puerto Vallarta, Mexico, this week the 24th of October 2017.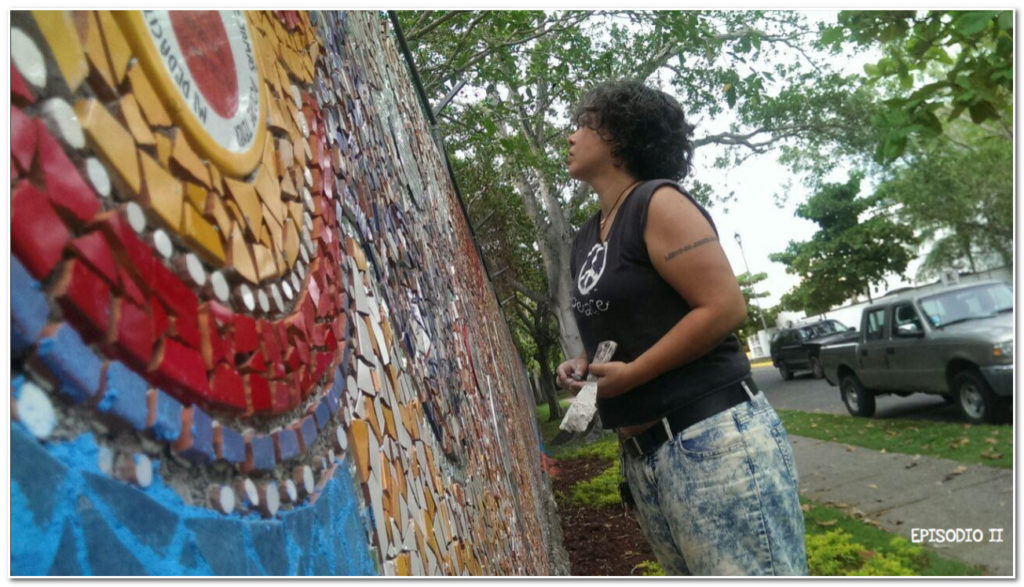 I just returned from a very quick visit to Vallarta and boy have I got some great shows for you for the rest of the year. Anyway, it seems the weather has turned. Somebody turned off the rain spigot and for the entire time I was there, not a drop of rain, and although it's still hot like in the 90's, the humidity is beginning to come down some, so, looks like mother nature is delivering on time once again, and cooler temps and lower humidity is just around the corner.
Now, last week we didn't have a show because of my travels to paradise, truly a working vacation you guys, but I did hear from one of my listeners my buddy Bob, the Photographer from Kamloops Canadia, who told me that they couldn't download my San Pancho Day Trip and Interview with Cassandra Shaw podcast, so I checked it out and low and behold, he was right, so I made the correction and fixed the audio players on the webpage, so if you happened to have missed the podcast with Cassandra and the daytrip to San Pancho, check it out again. It's up and running at Puertovallartatravelshow.com.
And by the way, I've noticed that many of you listen directly from my website, and that's cool, but you can find the show, if you have an iPhone or an iPad, using the purple Podcast application that every iPad and iPhone has built right in, and if you are an android user, you can get the Spreaker App, Stitcher, and download the show from your phone or mobile device. I'll add some links to the shownotes so you can see what I'm talking about. In fact, I'm thinking about adding a page to show how to consume the podcast. Maybe in the next few weeks so I'll tell you when that happens so you can have a look for yourselves. Okay….
Now last week at Kelly's Pour Favor Saloon and Cookhouse we had a meet and greet with microphones. JR and I were there with about 15 of you listeners and it was a great time. I got a chance to meet my buddy Debbie, Cheap Debbie from Canadia was there with her lovely daughter Tessa, and Tessa's handsome boyfriend,  Enrique, who is a great chef, a Vallartense, a Vallarta Native. They were so much fun I have to tell you. Actually, Debbie and I were so busy out-cheaping each other during the whole meet and greet. We actually determined that I was just as cheap as she is. Actually, cheaper.
I told her about the condo I stayed at via Airbnb and I have to say, I really liked the place. It was quiet, except for well, the building that is going on on the Southside, I had that to contend with during the day, but the views were great, there was airconditioning and a pool, two balconies, comfortable bed, for $65 a night. Now you all know that is kind of expensive for me, I usually stay in the 30-40 dollar a night digs, but this time I was splurging because I was bringing my Debbie along,. If you have been following along, you know of my plan to spring the trip on her just a couple of days before, just to give her time to shop and pack, and well, she didn't go! Let me explain….Anyway, those in attendance didn't want to talk on the podcast. Such shyness abounds among you listeners I swear. I did have a couple of women who stopped by to pitch their new Wine Concierge Business they just launched in Puerto Vallarta, Vanusa Pedroso and Natalia Castro, so let's go to that interview right now, just to give you the flavor of the meet and greet.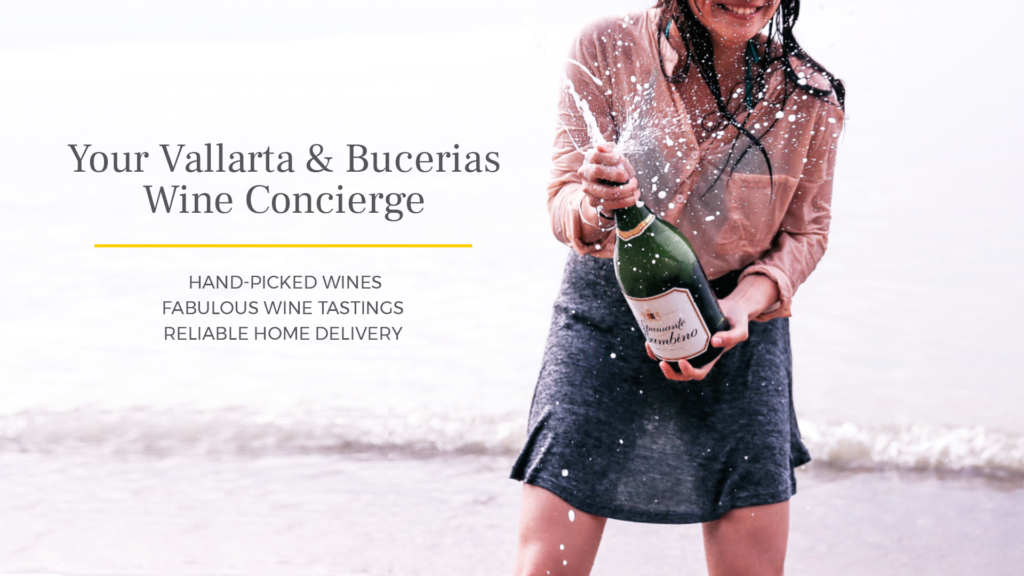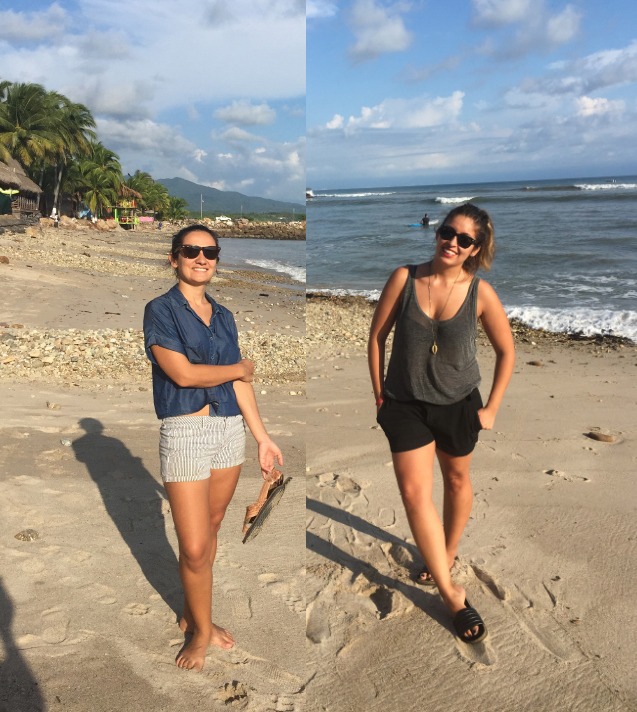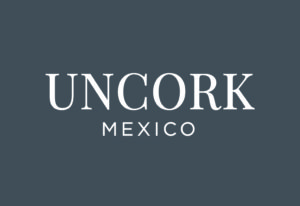 Now the band was just getting ready to kick off a set, so you are most likely going to hear some of that too, but let's get to the interview right now shall we?…
Listen to The Podcast

Nice ladies with an idea that they are hoping will take off in Paradise. I have the links and all their information in the show notes to this episode of the podcast, so check them out.
The band that was warming up was a group called the La Trez Cuatroz, and if you remember the interview I had with Miranda and Reid, from Monzon Brewing Company, they told us about the band that did the benefit concert to help in Mexican Earthquake Relief, well, they were the band warming up and they were great. I introduced myself to the guys and we have an interview planned with these three great musicians who really know the bay, really know how to have a great time and will have all kinds of suggestions for all of you listeners. That will be coming up in January just in time for the high season. So La Trez Cuartoz, spelled with a "z" at the end. They rock you guys!
That will be a great interview.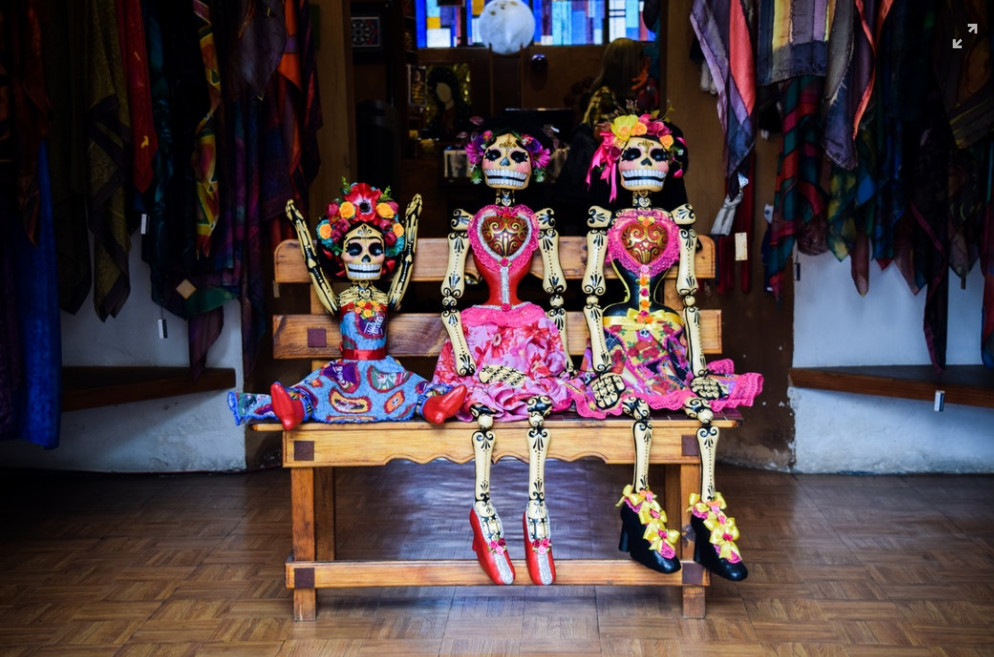 Now next week I will be talking about all the things that are planned for Dia de Los Muertos celebrations all along the bay, and there will be many so stay tuned for that, next Tuesday Halloween Day. If you want information as to what is coming up before hand, go to the show notes and I will have a link to the events planned, but if you can wait, I will be talking about that on Halloween, next week!
Let's get to the show.
Lazaro Cardenas Park in Puerto Vallarta is located on the southside of town, a block off of the beach. I have one of JR's maps in the shownotes to allow you to see where the park is.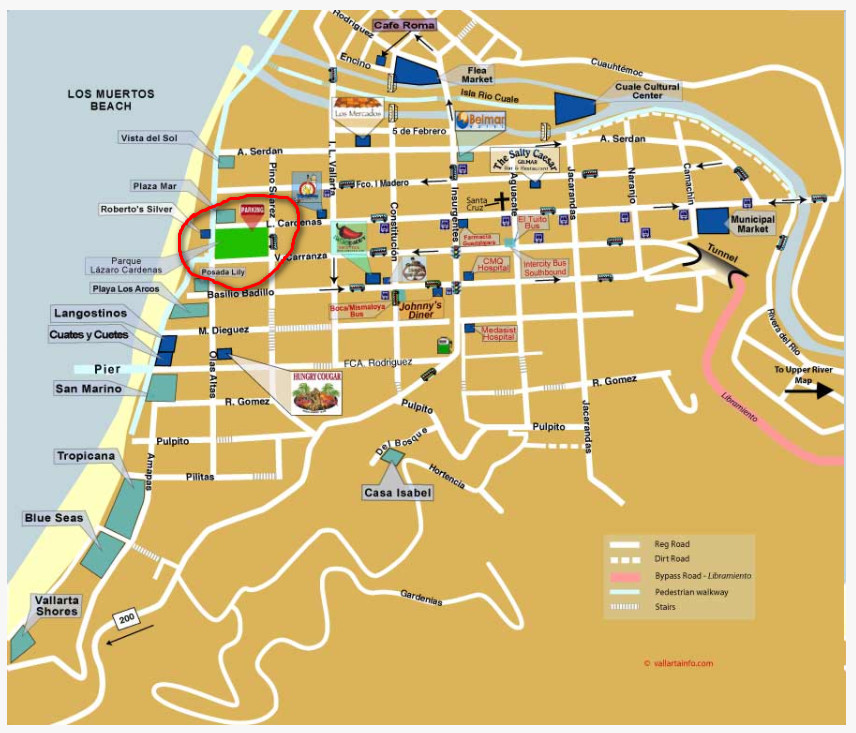 The park, actually sits atop of an underground parking structure. For a little history, that park didn't always sit on a parking structure, it was a big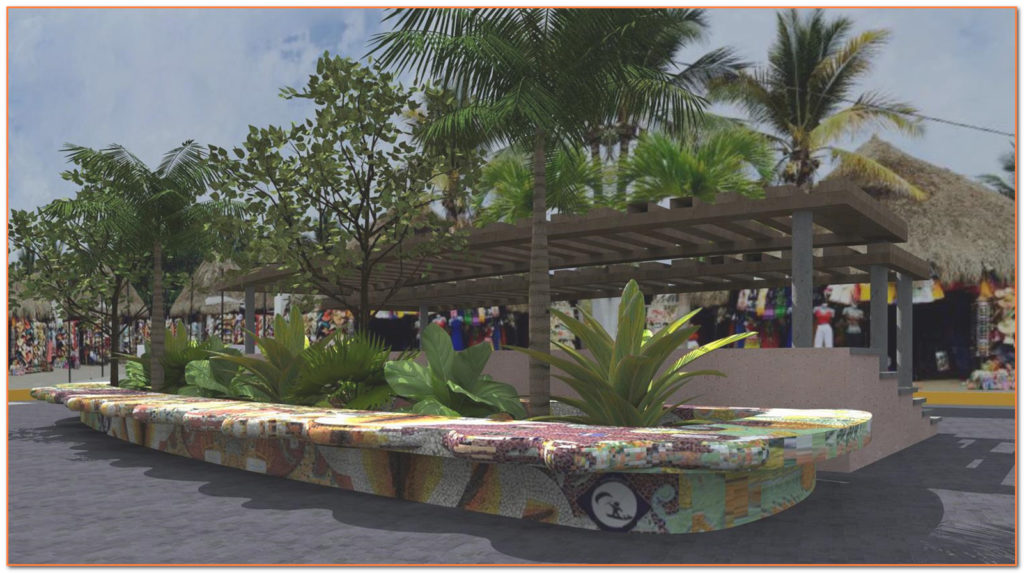 place of contention in the early 2000's. The city was looking for a place to build a parking area to relieve the massive parking issues on the south side. Actually it was finally in 2006, after many years or wrangling and negotiating and protests and ecological studies and delays and delays, the eventual removal of some large parotta trees that were growing in the park, the former Lazaro Cardenas Park, a really beautiful park was dug up, a big hole was dug and  a subterranean garage built with 178 parking spaces, then the hole was topped with a new park, complete with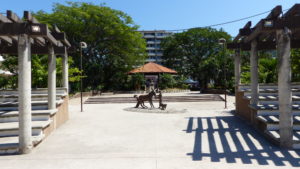 benches, a pavilion, and planters. And today, the park is used for open farmers markets, Taco festivals, Zumba Classes in the morning, it has the classic sculpture by Jim Demetrio of the boys and the Burro. It is a wonderful public space. But it has over the years, fallen into both repair and disrepair. Every once and a while The Puerto Vallarta Garden Club gets in there and spruces the place up, but those projects although welcome, are short lived. The benches are showing signs of wear and tear, They are cracking under the tropical sun with rusting rebar being exposed to the elements, ensuring even a more rapid decline and deterioration. It's a fact that Lazaro Cardenas Park is in dire need of a facelift.
Enter our next guest, Natasha Moraga.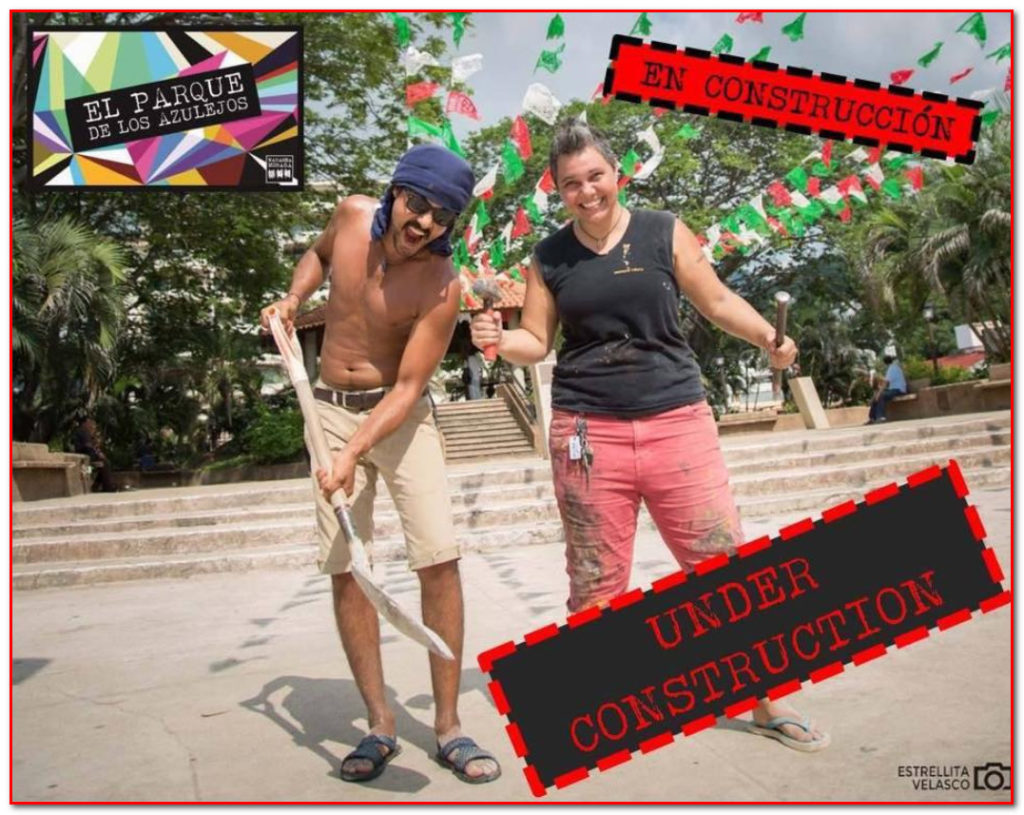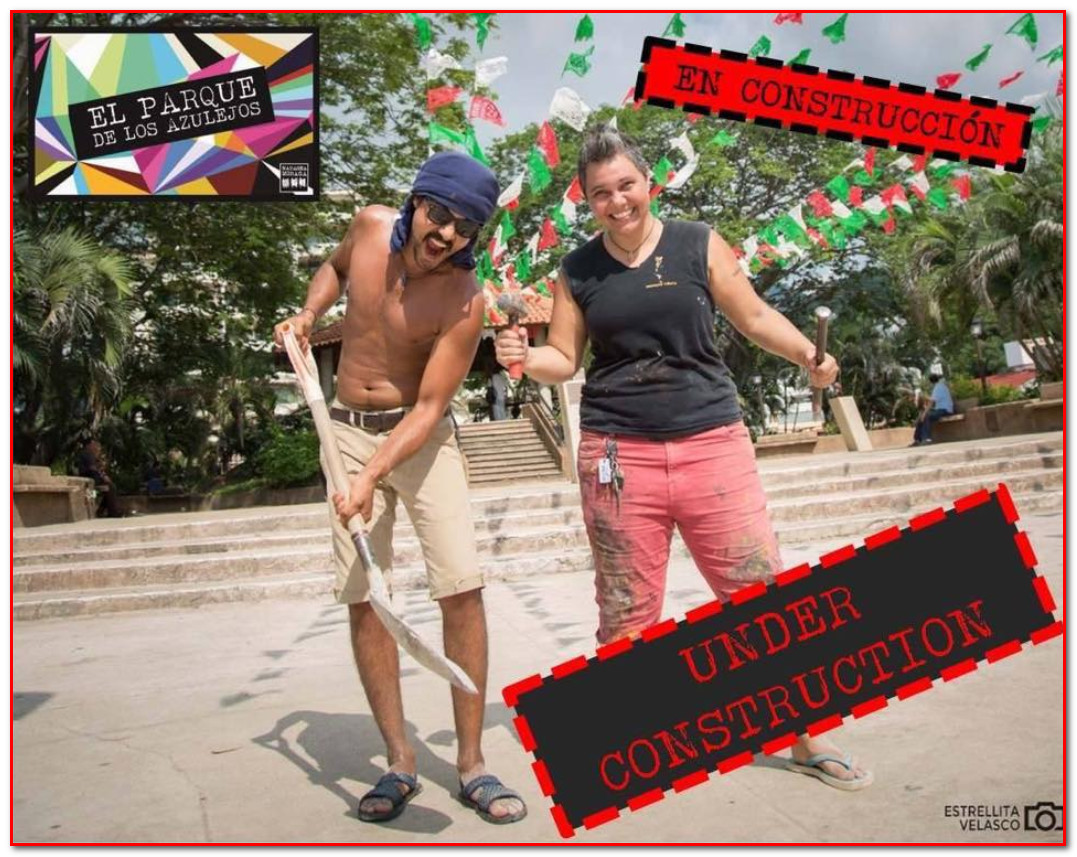 If you have walked around the Southside of Puerto Vallarta, no doubt you have seen the Tile Wall on Pino Suarez, at the school. I know that when I first saw the wall, I thought to myself, self, I wish I had a file with my name on it on a wall in Puerto Vallarta! I thought, that would be pretty cool.
I never really thought of who actually did this work, this mosaic tiling. I just took it for granted and moved on.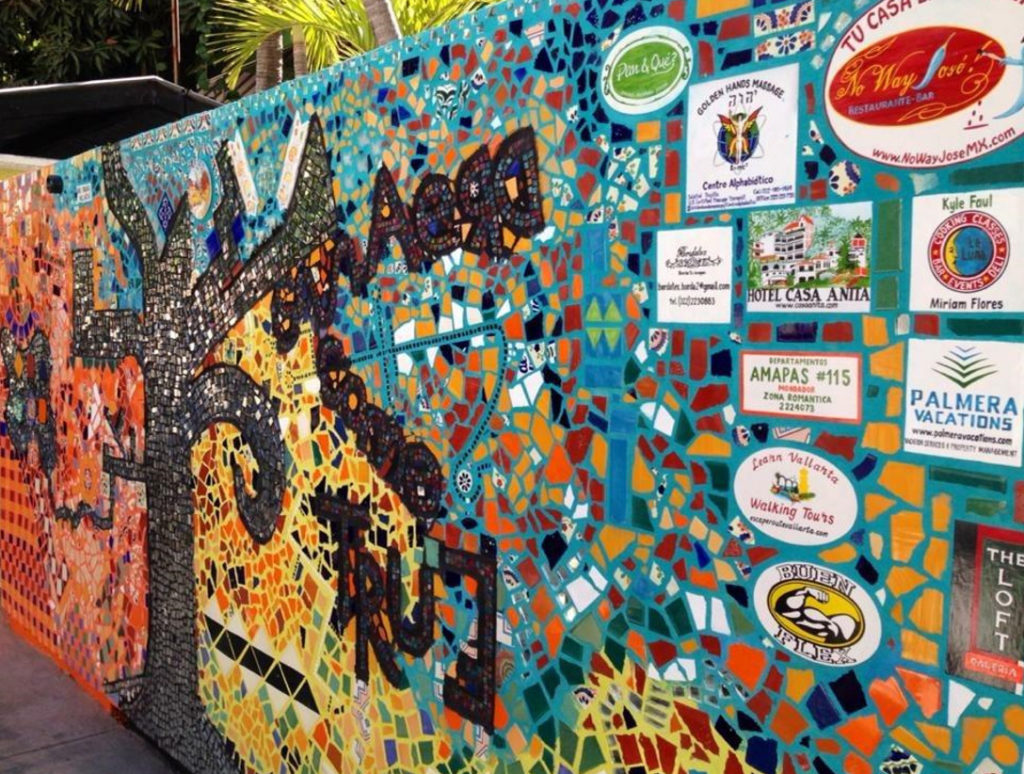 Then one day I was reading an article about this person, Natasha Moraga, and I was fascinated by her story so I just needed to bring her on to the show and have her tell us about herself and her project, El Parque de Los Azulejos, or Tile Park PV.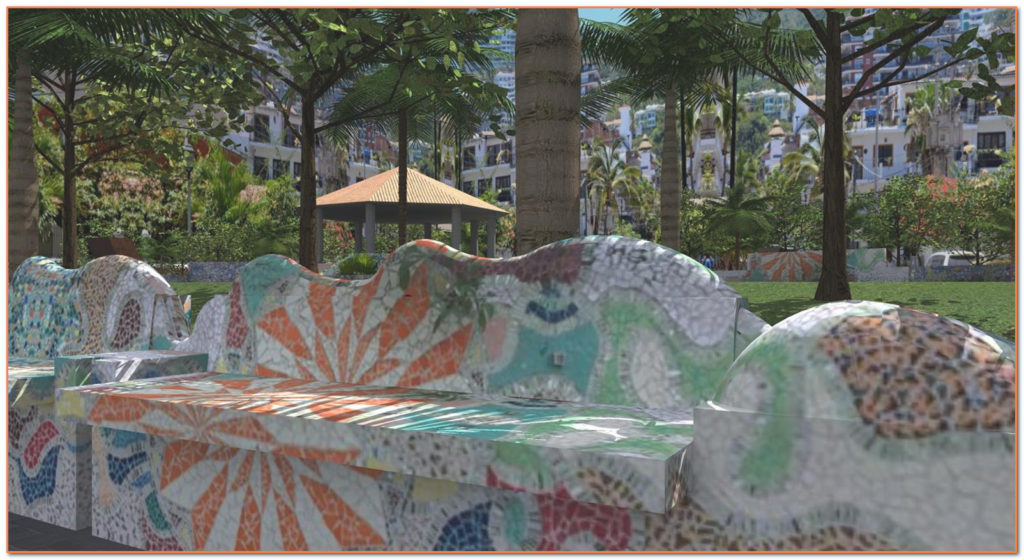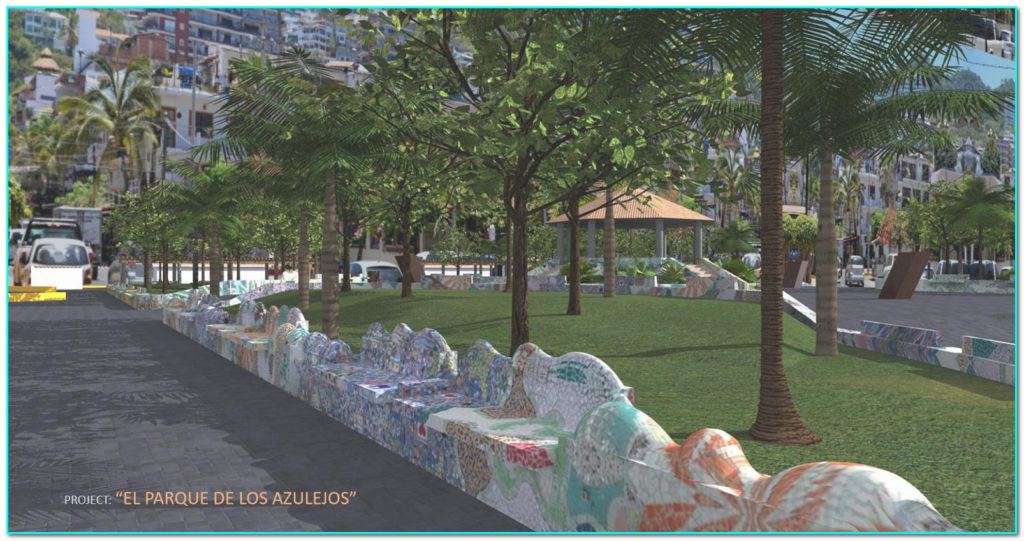 Now I was just at the park you guys, last week with Natasha, and I had a chance to see up close,  the progress they have already made there, smoothing out the angles, preparing the surfaces for the application of the tiles. But they need your help to move forward, and you can help and be a part of this incredible outdoor art project in the heart of the Southside of Puerto Vallarta, where Natasha Moraga, with Brother Daniel and a crew of hardworking folks, and you listeners too, will turn this promising piece of paradise, into a shining jewel. El Parque De Los Azulejos, Tile Park Puerto Vallarta. So let's go right now to Puerto Vallarta Mexico, and have a conversation with Natasha Moraga, Tile Park Puerto Vallarta…..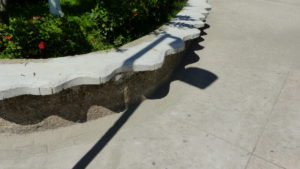 Listen to The Podcast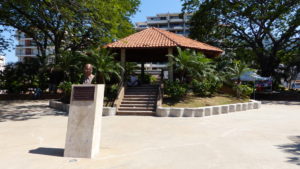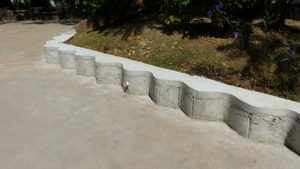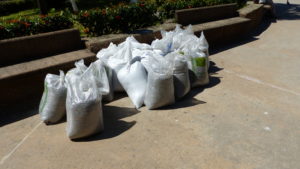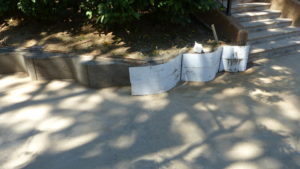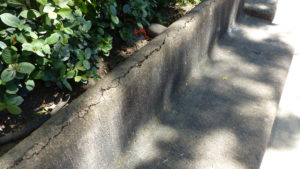 Natasha's Projects
Wall Basillio Badillo and Pino Suarez
Wall at the Marina
Letters into Vallarta
Favorite Places to Eat and Go
Breakfast
Out of town north in Bucerías.
Lunch
Dinner
Great Beach Spot
South beach beach club great day trip
Don't miss
Walk around town so much to see.
Mark where the work is.
Beaches go south in the bay smooth waters
Contact
Booth at the Saturday Farmers Market
Natasha is a wonderful person and she is determined to have this project done, hopefully in time for the 100 year anniversary of Vallarta, so we will see if that can happen. Remember, if you don't want to be kicking yourself for waiting too long, you might want to do your Holiday Shopping early and order a tile or two. I have links to their website as well as pictures of the park, to help you understand the wonderful project that is Tile Park PV. Remember just go to www.tileparkpv.com and check out the tiles, the activities and workshops and more.
Well, that should do it for this episode of the Puerto Vallarta Travel Show.
Next week stay tuned for more on the ground reports from Puerto Vallarta Mexico, with travel tips, great restaurant and excursion ideas and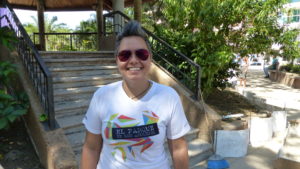 more.  Until then, remember, this is an interactive show where I depend on your questions and suggestions about all things Puerto Vallarta. If you think of something I should be talking about, please reach out to me by clicking on the Contact us tab and sending us your message.
And remember, if you are considering booking any type of tour while you are in Puerto Vallarta, you must go to Vallartainfo.com, JR's website and reserve your tour through him, right from his website. Remember the value for value proposition. His experience and on the ground knowledge of everything Puerto Vallarta in exchange for your making a purchase of a tour that you would do anyway, you're just doing it through him as a way of saying thank you. It costs no more than if you were to use someone else so do it. Really. And when you do take one of these tours, email me about your experiences. Maybe you can come on-board and share with others what you liked or didn't like about the tour. Again, contact me by clicking on the Contact us tab and sending off a message.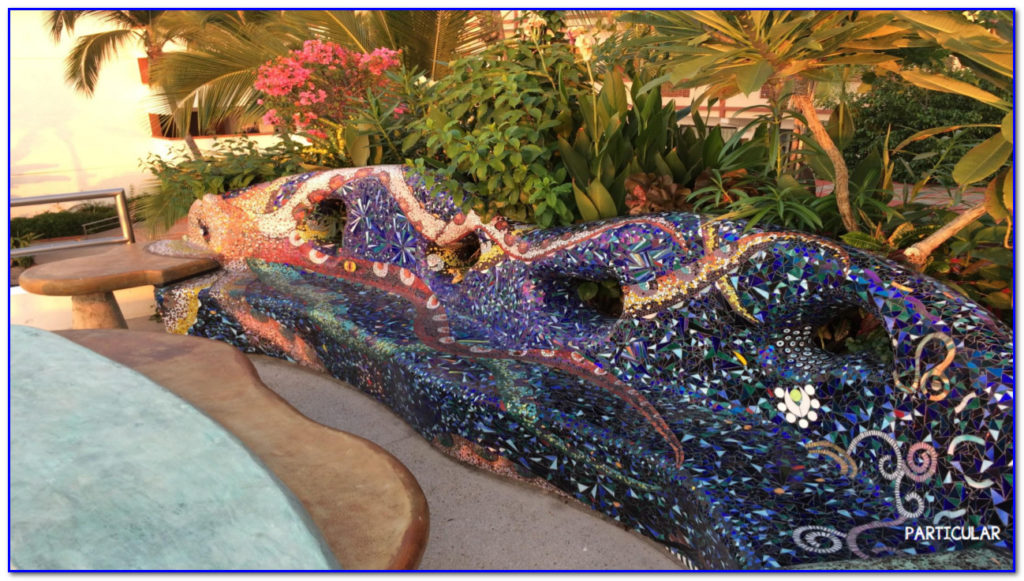 And once again, if you like this podcast, please take the time and subscribe and give me a good review on iTunes if you would. That way we can get the word out to more and more people about the magic of this place. Puerto Vallarta, Mexico. Remember I made it easy for you to do just that with each episode I create. But if you haven't been to my website, you really need to have a look there.  I have the links to the places we talk about, interesting pictures and the more all right there in my blog-posts and show-notes for each episode of the show so check them out for sure if you haven't already all-right? All right.
So, thanks to Natasha Moraga, from El Parque de Los Azulejos, Tile Park Puerto Vallarta, Go to www.tileparkpv.com and see what she has there for you. There are planned events scheduled so go to the website and see when they are having the workshops where you can learn the art of Mosaic tiling, and take home the talent and the skill to do it yourself. You will see the pictures of the renderings of the park, you will see the pictures that I took of the park as it is now, and the work being done as the project moves forward. They are in the shownotes of  this episode of the show at puertovallartatravelshow.com
So thanks to all of you for listening all the way through this episode of the Puerto Vallarta Travel Show. This is Barry Kessler signing off with a wish for you all to slow down, be kind and live the Vallarta lifestyle. Nos Vemos amigos!